Mrs Thomason of Rathdonnell and Evesham
By JOL Admin | 23 December 2015
Mrs Thomason and friends in Ceylon. The Week, 26 February 1926. Image from http://trove.nla.gov.au/
It is a universal truth, whether or not acknowledged, that a woman, married or not, should be in possession of her own income. In the early part of the 20th Century there were limited reputable options available to females. Mrs Thomason was, however, very enterprising.
Evelyn Horsman had an interesting background. Her grandfather, Louis Loewe, arrived from Berlin into Melbourne, and gold fever, on the Moselle in 1852 with his brother Osias. In 1853 he married Fanny Lippman in a Jewish ceremony in Sydney. He was involved in a range of business interests: candle making, wine and spirit merchandising, selling guano and hiring out a schooner, to name a few. These enterprises frequently seemed to result in court actions and insolvency as he moved from Victoria to New South Wales and, eventually in 1873, to Queensland, where he died in 1874. His daughter, Gertha, was Evelyn's mother.
Evelyn Thomason's background
Evelyn's parents married in Cooktown on 5 April 1879. The Brisbane Courier notice read, "George, the oldest son of George Horsman, Esq., of Evesham Park, Evesham, and Gertha Agusta, youngest daughter of the late Louis Loewe". In 1880 the Brisbane Courier announced the birth of Evelyn Horsman in Cooktown on 29 March.
Evelyn Horsman grew up in Rockhampton, where her father was licensee of the Dunmore Arms, but there were problems. The Rockhampton Morning Bulletin of 26 October 1899 recorded that George Horsman's licence was transferred to his wife for three months. He regained his licence, but was reported as unwell at later dates. Evelyn was a talented violinist whose performances were regularly noted and celebrated. In 1900 she gained a position as violin teacher at the Rockhampton Technical College, but in 1901 resigned to go to England.
In 1904 the Horsmans left the Dunmore Arms. Tragedy struck the family. In March 1906 Evelyn's sister, Edith, died tragically in Sydney. A nurse associated with the case faced a manslaughter charge, but a judge later quashed it. In 1907 Evelyn's father, George, now described as an unwell, unemployed clerk, was found shot dead at the Gap, Watson's Bay, having suicided.
Evelyn returned from England to Brisbane where she married Henry Williams Thomason in St Andrew's at South Brisbane in November 1906. He was a chemist and a widower with two sons. They eventually had three children.
Evesham and Rathdonnell, Auchenflower 1907-1937
In 1907 Figaro announced that the Thomasons had "bought a pretty villa at Auchenflower". It was an additional house on the Rathdonnell Estate, and they named it Evesham, from where George Horsman, Evelyn's father, originated in Worcestershire.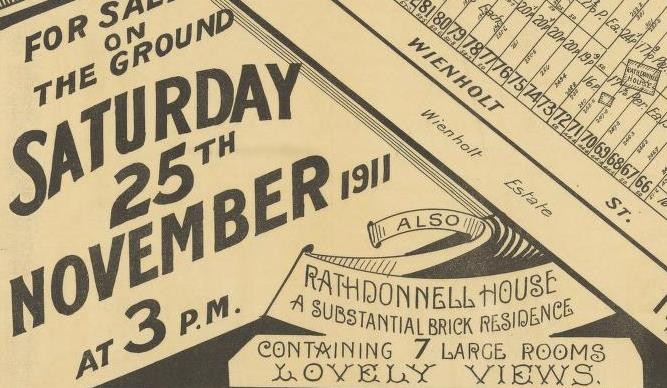 The two residences on the Rathdonnell Estate: Evesham and Rathdonnell House, John Oxley Library, State Library of Queensland.
In November 1911 the Rathdonnell Estate was available for sale for the first time. Evelyn Thomason purchased it, subdivided the land and sold off her original home there, retaining Rathdonnell House, designed by Benjamin Backhouse, on approximately an acre of land.
Telegraph, 20 December 1911, p.12.
She modified the lower level of Rathdonnell House and built flats on the upper part. F E Lord, on 8 October 1931, in her series 'Brisbane's Historic Homes' in the Queenslander, provides a history of Rathdonnell, the house, land and its occupants at the time of Mrs Thomason's renovations, in an engaging, conversational way. She also uses photographs to show the changes Evelyn Thomason made.

The original Rathdonnell House at Auchenflower, Brisbane. State Library of Queensland.
Rathdonnell as it had been "modernised". Queenslander, 8 October 1931, p.28.
Rathdonnell was a hub of musical and social activity. Music from the Thomasons' period is said to echo in the home at times, despite their departure. All members of the family played an instrument. Sally, Evelyn's daughter, in particular, studied the piano, entered eisteddfods, played at social and fundraising functions, and pursued further piano skills abroad.
The Thomasons were involved in a range of fundraising, sports and war effort events. Card games, private dances, pre-wedding parties, farewells, welcomes, concerts and the theatre filled a busy schedule at Rathdonnell. In addition, holidays at Southport or Tamborine, visits to the southern capitals or overseas holidays saw them listed in the Brisbane papers often.
Evesham, Hamilton 1937-1970
The interwar period was a time for flat building. Evelyn Thomason seized the opportunity to build four flats named Evesham in Quarry Street, Hamilton. The architect was Mervyn Rylance. The building was designed in the Spanish Mediterranean style, popular at the time, and took advantage of the river views. It could be mistaken for one large home, but each flat had its separate entry hall, garage and laundry.
Evesham. Truth, 11 July 1937, p.28.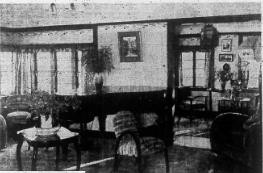 Mrs Thomason's living room, Evesham. Truth, 11 July 1937, p.28.
The Truth featured a page on Spacious Evesham, including an image of Evelyn Thomason's living room, the focal point of which, unsurprisingly, was the piano. The Thomason flat was particularly impressive in size, design and decoration. Vases of flowers were generously spread throughout the living area, reflecting a time when an account of a social occasion noted not only the event, but also the "choice" floral decorations, "delightful" entertainment, "dainty" food, a list of guests and the "frocking".
Evelyn Thomason continued to support musical and social activites in Brisbane as well as the fundraising efforts of another war. She remained at Evesham, Hamilton until her death in 1970. She was a woman of energy and enterprise who lived a varied and interesting life. The homes she named Evesham link her to the origins of her father and an element of tragedy that did not defeat her.
Stephanie Ryan
Senior Librarian, Information Services
Comments
Your email address will not be published.
We welcome relevant, respectful comments.