Mooloolaba Surf Carnival (1959)
By R. Hillier - Librarian, State Library of Queensland | 1 February 2016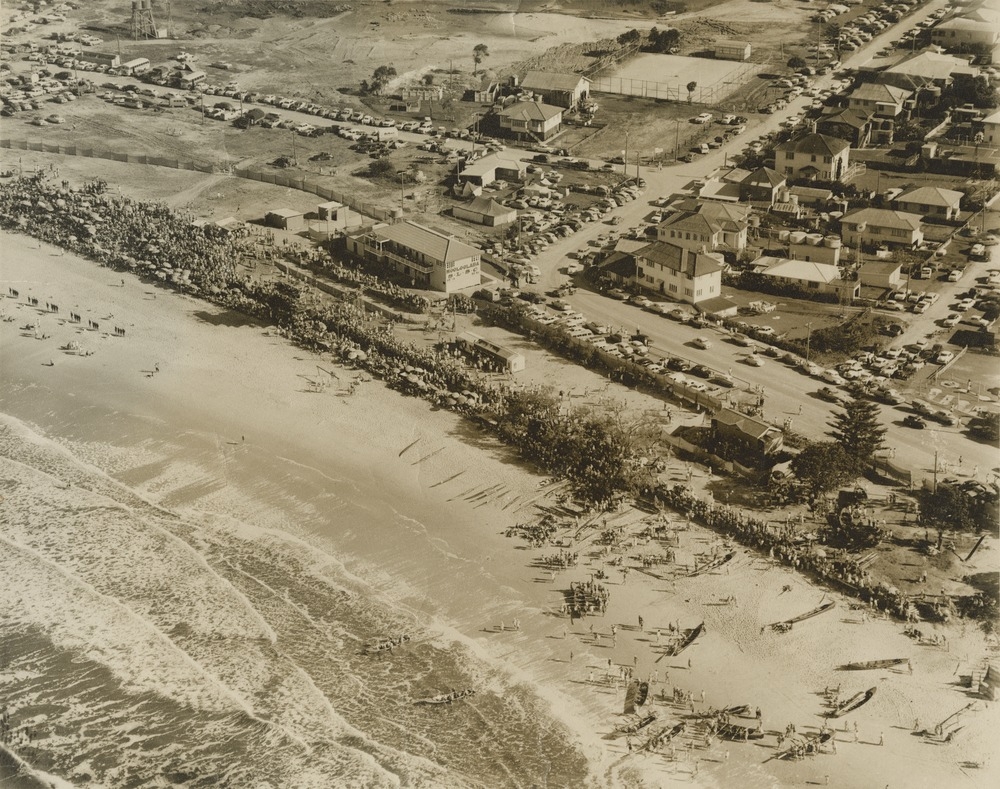 Aerial photograph of a surf carnival at Mooloolaba Queensland March 1959. John Oxley Library, State Library of Queensland. Image 30044-0001-0001
Aerial photograph of a surf carnival at Mooloolaba Queensland March 1959. John Oxley Library, State Library of Queensland. Image 30044-0001-0001
Given the more than one million images held by the State Library of Queensland, it is not surprising that many amazing images don't always get the attention they deserve. Important photographs are constantly being 'rediscovered' and when possible given a chance to reach a broader audience. This fascinating 1950s aerial image is one such photograph. Depicting a bird's eye view over Mooloolaba Beach and foreshore during a major surf carnival, this photo is not only a snapshot of an iconic Queensland pursuit, but it serves as a window through which to catch an intriguing glimpse of an as-yet very under-developed Sunshine Coast beach town.
It is most likely that this photograph was taken on the weekend of 28th/29th March 1959, when Mooloolaba Surf Club hosted the Australian National Titles. That weekend 35 competing teams and an estimated 20 000 spectators descended on the town and cars were reportedly parked up to a mile away. The carnival was opened by Queensland's then premier, Frank Nicklin, and was the first Australian Titles to be held north of Brisbane.
On the beach the surf carnival is in full swing. To the left teams line up for beach events while on the right surf boats are being prepared and entering the water. Thousands cram the foreshore trying to view the activities and their cars line every nearby street. A hessian perimeter fence, cordoning off the event, stretches the entire width of the photograph. This carnival was also the first to boast a liquor license and the resulting liquor tents are clearly visible.
Beyond the action there is little in the way of major development. Simple two storey blocks of wooden flats and humble Queenslanders line one side of River Esplanade, tanks and windmills in their sprawling back yards. Very little at all is seen along Parkyn Parade, today straddled by the Holiday Park and Underwater World. The courts of the Mooloolaba Tennis Club, long since relocated, are visible further back on River Esplanade. It all seems a far cry from the bustling tourist town it is today.
R. Hillier - Original Materials Librarian, State Library of Queensland
Comments
Your email address will not be published.
We welcome relevant, respectful comments.