Michael Gannon's Pirates
By JOL Admin | 14 December 2017
Guest blogger: Conor Feehely - Archivist, Queensland Rugby Union.
The skull and crossbones emblazoned across his team's jersey may not have been to Michael Gannon's liking, but it did characterise the buccaneering spirit with which he established himself at the helm of a raft of burgeoning sporting communities across South-East Queensland.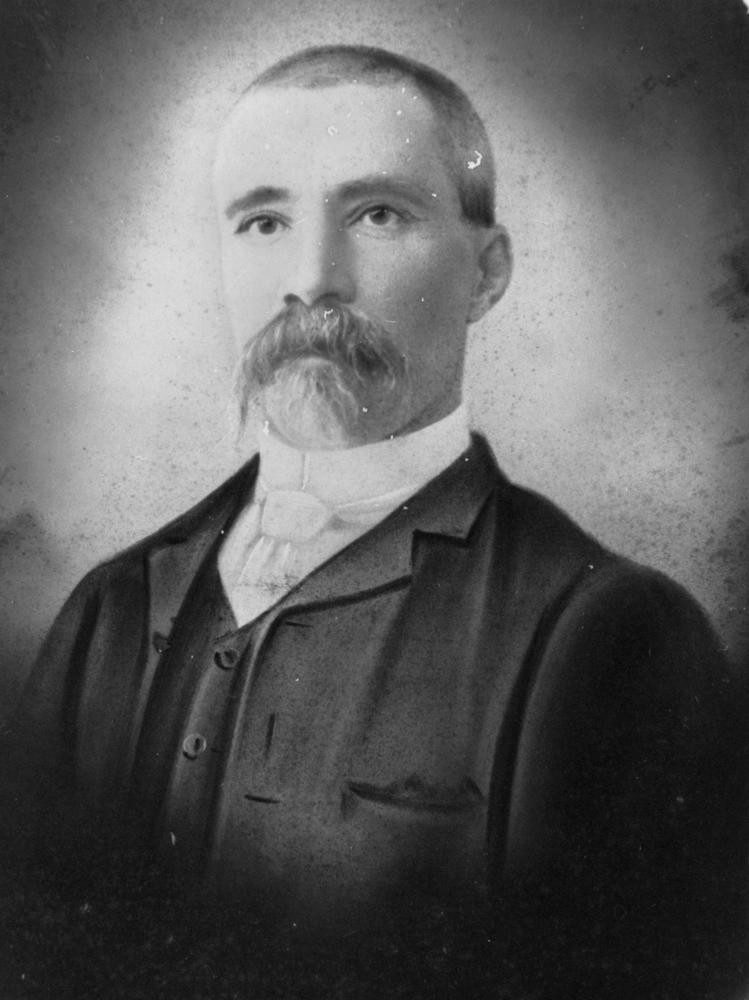 Michael Brennan Gannon. John Oxley Library, State Library of Queensland. Neg 68322
Mr Gannon relocated to Brisbane from Sydney in 1868, aged 21. His fortune, which proved instrumental throughout Queensland's sporting codes, began to build after he became an accredited auctioneer in 1880.
Just two years later Gannon purchased auctioneering company Arthur Martin along with business partner R. A. Ryan, and began making large investments in real estate and grazing – extensive and lucrative markets in the colonial North.
He married Amy England Peace on June 6, 1884 in Brisbane. There is no record of the couple having children and, with the exception of their heritage listed holiday house on the Bayside, their legacy can now only be seen in the Brisbane's continued passion for the sports they patronised.
Rugby, rowing, bicycling and rifle associations across the South-East owe their establishment and perpetuation to the generosity of the pioneering Gannons. Although Mr Gannon's sporting interests were diverse, his patronage was most celebrated within the young Rugby community.
Melbourne, or 'Australian' rules football was, in the late 1870s and early 1880s, poised to become Queensland's prevailing code. The 1882 football season saw just two representative Rugby games, the fabled first inter-colonial clashes between Queensland and New South Wales, and a dominant nineteen Melbourne Rules fixtures.
However, the following seasons saw clubs including the Ipswich Rangers, Union Harriers, Arformas and Gannon's Pirates added to the Northern Rugby Union, swelling and galvanising its ranks before officially becoming Queensland Rugby Union in 1893.
His Pirates defeated Sandgate 6-2 in the 1890 Northern Rugby Union Cup Final, but Gannon and his men were presented with the cup. Gannon's personal role in fostering the competition and the side's success was celebrated with the fine trophy and its inscription.
The roguish pioneers surrounding their prize actively evolved the code and foreshadowed the impending success of the sport. Gannon takes pride of place, seated among the tall forwards of the Pirates. Photograph courtesy of the Queensland Rugby Union Archives
Image of the Northern Rugby Union Junior Challenge Cup from the 1890 season. State Library of Queensland collection
Rugby Union Junior Challenge Cup presented by D.J. Wilkins and won by the Pirates, who then presented it to their patron M.B. Gannon, MLA. State Library of Queensland collection
With Queensland Rugby Union hosting Great Britain and the New Zealand Maori for the first time in the late 1880s, the code's participation and popularity was soaring. Gannon entered politics in 1888, becoming the first Member of the Queensland Legislative Assembly for Toombul, an office he held until a protracted illness forced him to retire in 1893.
His health continued to decline until his death in 1898, aged 51. Michael Brennan Gannon was buried in Toowong cemetery to modest ceremony. His obituary describes a man who was, "most happy when sharing his bounty with others less prosperous. Everybody respected him, everybody trusted him. In politics, too, he was known as the 'straight man' whose first consideration was others."
Amy Gannon lived until 1945, seeing the passionate couple's sports and city thrive. Michael Gannon and his Pirates are gone, but their legacy is celebrated every day across Brisbane's Rugby Clubs and at the home of Queensland Rugby, Ballymore.
Conor Feehely - Archivist, Queensland Rugby Union
Comments
Your email address will not be published.
We welcome relevant, respectful comments.