Mary Walker Embroidery
By JOL Admin | 2 July 2009
An interesting new acquisition in the John Oxley Library is a framed embroidered sampler created by Mary Walker and bearing the address of Bourne House, Wiveliscombe, Somerset, with the date 18 October 1830. Mary Walker went on to become the mother of Queensland chief justice and premier Sir Samuel Griffith.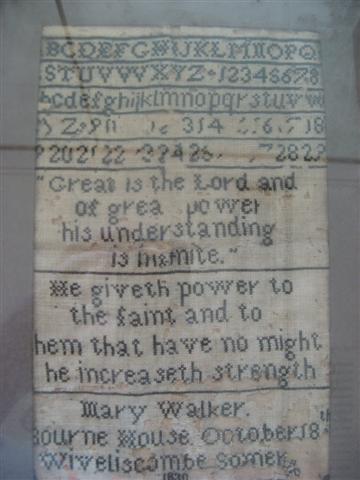 Mary Walker embroidery
The sampler was acquired by the donor at a jumble sale at St Andrew's Church, Creek Street, Brisbane ca. 1999-2000. It features quotations from Psalm 147:5 and Isaiah 40:29: "Great is the Lord and of great power his understanding in infinite; He giveth power to the faint and to them that have no might he increaseth strength."
Mary Walker was the second daughter of Peter Walker, a draper. She married Edward Griffith, a minister of the English Independent Church at Castle Street Chapel, Swansea on 18 October 1842.
According to Roger Joyce's biography of Samuel Griffith, Mary Walker had been living in Swansea, Wales at the time of her marriage. Mary Walker's early link with Somerset, as revealed by the sampler has not been explained or investigated by her son's biographers. Interestingly, Edward Griffith served as a pastor at Wiveliscombe in Somerset 1849-53.
Comments
Your email address will not be published.
We welcome relevant, respectful comments.