Maria Queen of Childers
By Tania Schafer, Librarian, Queensland Memory | 16 November 2021
Cultural Care statement (disclaimer)
Users are advised that this article contains Aboriginal and/or Torres Strait Islander material that may be culturally sensitive where annotations and terminology have been used from an era at time of creation and may be considered inappropriate today. Material may also contain images, voices or names of deceased persons.
This article is an introduction to the history of "Queen Maria" as detailed in related collections from the John Oxley Library. It is not a definitive family history and does not support any native title claims. State Library encourages the sharing of further information from family and community members to broaden our understanding of Queen Maria and other First Nations leaders in Queensland.
In the early 1900's Maria "Queen of Childers" was an iconic Aboriginal woman living in the Childers community. Maria has been associated with the language groups of Badtjala (Butchullaopen_in_new), Dundubara and Kabi Kabi (Gubbi Gubbi), but a definitive link to her tribal affiliations is still unresolved with many differing accounts.
Maria, Queen of Childers, 1917. Negative number 22517. Copy Prints - Aboriginals - Childers, John Oxley Library, State Library of Queensland.
European settlers in the area of Childers called Maria "Queen", an awkward term sometimes awarded to Aboriginal leaders in pre-federation times.
European colonial settlers presented breastplatesopen_in_new (also called 'kingplates' or regalia) to Aboriginal men and women who were perceived as tribal leaders who were seen as useful, knowledgeable or respected in the area. The breastplate was often a metallic crescent-shaped plaque worn around the neck of Aboriginal 'kings' or 'queens' in the community; although . it was rare for an Aboriginal woman to receive this acknowledgement. It is believed James Butler, a local solicitor, gifted Maria a breastplate that simply stated "'Maria, Queen of Childers", which allowed her a certain status within the Childers community and afforded her lots of attention and notoriety during her life.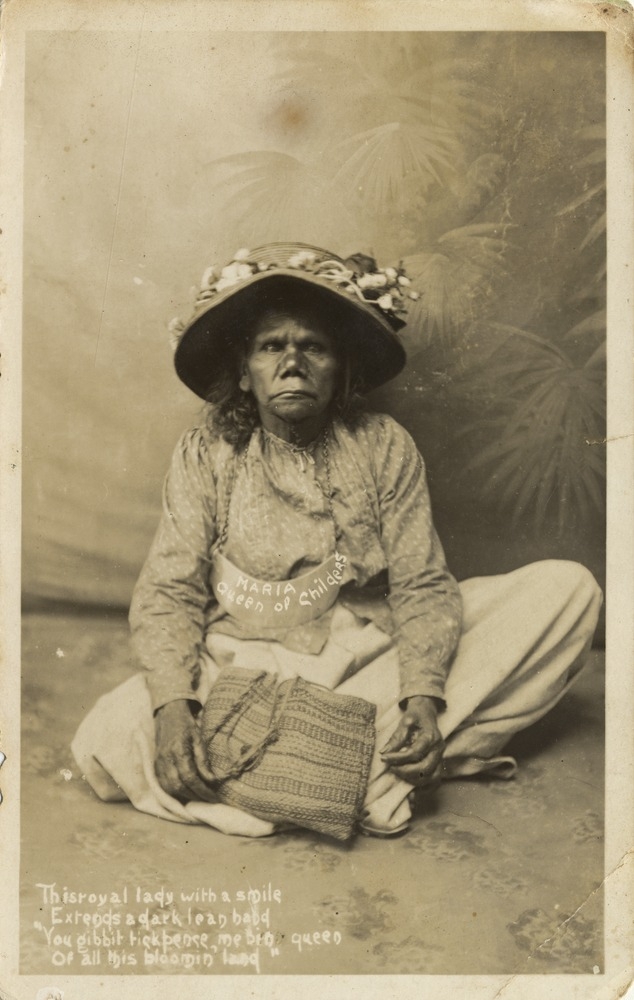 Maria, "Queen of Childers", Queensland, ca. 1908. 4831 Postcard Collection. Image number 4831-0001-0028. John Oxley Library, State Library of Queensland.
Maria appears wearing a breastplate in a postcard upon which has been written 'Maria, Queen of Childers' and the words:
"
This royal lady with a smile, Extends a dark lean hand, "You gibbet tickpense, me bin queen, Of all this bloomin land".
Interpreted as derogatory by many, the postcard alludes to Maria asking for compensation for the rent or purchase of her land. From a modern perspective, Maria may have been seeking acknowledgement of Aboriginal land rights in 1908, an issue that did not gain momentum until the 1976 Aboriginal Land Rights Act.open_in_new
At the same time, from 1847 to 1853, Kabi Kabi and Badtjala warriors fought together to drive the new European settlers from their land possibly forming closer ties between the two groups. The movement of many Aboriginal people in the region in the late 1800s was largely undocumented due in part to acts by the Protector of Aborigines for Southern Queensland, Archibald Meston, to round up Aboriginal people as was the case for Badtjala people who were gathered to be sent to the Bogimbah Creek Mission on K'gari (Fraser Island). Many Aboriginal people fled to neigbouring regions to avoid capture. By 1904 the population of Badtjala people, had been devastated on K'gari (Fraser Island) with an estimated reduction from 2,000 to 168. Those remaining people were then removed north to Yarrabah mission or south to Durundur near Caboolture. Interestingly, the records reveal that around 20 people were left to 'find their own way'.
Maria's life in Childers has been documented though in parts. Other names associated with Maria in historical records are Towcha, Lucy, Cobbo, and Woppi as well as Louisa, Thomas, and Alfred. However, clear links to Maria are still unconfirmed. It is believed that Maria had three children which she traditionally adopted.
Cobbo and Woppi were understood to be excellent horsemen and great runners, competing in local sports carnivals. Cobbo also played cricket, which could explain in the photograph below why Maria was photographed with the local Childers Cricket team.
Childers 1910 cricket team. Negative number 155911. Copy Prints - Cricket - Childers. John Oxley Library, State Library of Queensland.
Maria lived in a shack by the Childers Court House and occasionally camped on Noakes Lookout near the Childers Hospital with other Aboriginal people.
Even though Maria was referred to as a 'Queen', she was not seen as a citizen of Australia at the time and could not access a pension or government support, she could also at any time be evicted and sent to a mission far from her traditional country.
Maria, "Queen of Childers"
Right: Copy Prints - Aboriginals - Childers. Negative number 49492, John Oxley Library, State Library of Queensland.
Maria was also mentioned in relation to a cattle stealing case when she was asked to attend a court trial as a witness, mentioned in Horses and Riders of Yesterdayopen_in_new, Maryborough Chronicle, 13 March 1945 on page 2, quoting:
"
Maria (Queen of Childers), who was no mean horse woman. Maria was once a chief witness in a cattle stealing case and when the Sergeant of Police put her on the train at Childers, the train shunted and Maria jumped off, and nothing would persuade her to get on the train again. She remarked. "Me be there at Bundaberg to-morrow. Yarraman (Aboriginal Wakka Wakka word for horse), he take him me." She was there all right.
Horses and Riders of Yesterday, Maryborough Chronicle, 13th March 1945, pg 2
This was amazing horsemanship as the journey was around 50 kilometres and undertaken during the night over rough terrain.
Maria "Queen of Childers" is still very much of interest to the public and many photos and stories about her are shared amongst community and extended family members.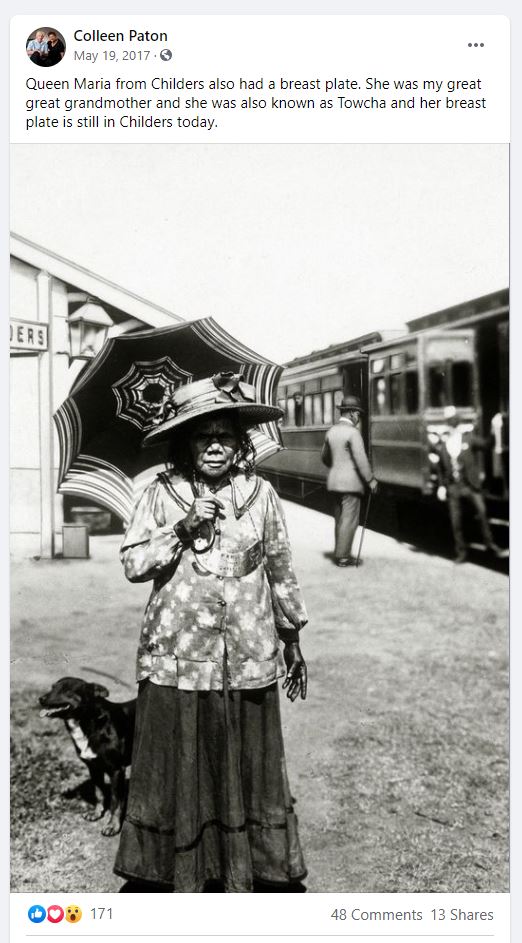 Facebook post by Colleen Paton shared on the Cherbourg Aboriginal Community Facebook group May 2017.
Maria's death was reported as "Queen Maria" deadopen_in_new in the Bundaberg Mail and Burnett Advertiser on 29 March1917, page 3. It was rare for an Aboriginal woman to have an obituary printed in the papers at the time. The article states that Maria passed away on 26 March 1917 at the Childers Hospital, at least 70 years old, and also mentions Maria's meeting with the iconic escaped convict "Durrumboi" (James Davis 1808-1889) when she was a young girl living with her tribe on the Noosa River. The obituary reads:
To residents of Isis, as well as visitors from the neighbouring towns, "Queen Maria of Childers" for such was the proud designation she laid claims to on her much-prized and highly-burnished name plate, has for years been a familiar figure about the streets of Childers, and not a few will be sorry to learn that the cheery old aboriginal woman has passed to the happy hunting grounds. She claimed to have known "Durrumboi" an escaped convict, when she was only a piccaninny with her tribe, on the Noosa River, and at the time of her death Maria must have exceeded in length of years the allotted span of threescore and ten, although until quite recently remarkably active. She was of abstemious habits, eschewing "fire water"altogether, but was an ardent devotee of the soothing weed, of which she was always sure of a pipeful from one or other of her many white friends. For some months past the old "Queen" had been rapidly failing, and the end came quietly on Sunday last from a general break-up of the system – "Isis Recorder".
Maria has a grave stone at Apple Tree Creek Cemetery near Maryborough in Queensland, photograph below.
Bibliography
Aird, Michael (1993), Portraits of our Elders. Queensland Museum.
Bottom, Timothy (2013) Conspiracy of Silence: Queensland's Frontier Killing Time. NSW Allen & Unwin. Book available via Google Books.
Original Poetry, Maria Queen Childers, Maryborough Chronicle, Wide Bay and Burnett Advertiser , Monday 7 October 1912, page 6
Queen Maria dead, Bundaberg Mail and Burnett Advertiser, Thursday 29 March 1917, page 3.
O'Neill B.W. (1987) Taming the Isis. Isis Shire Council.
Steele, J. G. (1984) Aboriginal Pathways : In Southeast Queensland and the Richmond River. University of Queensland Press.
Stephens, S. E. Meston, Archibald (1851–1924), Australian Dictionary of Biography, National Centre of Biography, Australian National University, published first in hardcopy 1974, accessed online 22 September 2021.
Web, Richard (2009) The Life and Time of Richie Webb. Artxdesign.
Comments
Your email address will not be published.
We welcome relevant, respectful comments.