Margaret Lawrie images available through One Search
By JOL Admin | 25 March 2010
More than one hundred photographs and artworks from the Margaret Lawrie Collection of Torres Strait Islands are now available through our One Search Catalogue.
Margaret Lawrie Portrait, ca. 1940
Margaret Lawrie Portrait, ca. 1940
In the 1960s, Margaret Lawrie was invited by the Queensland Government to travel with Oodgeroo Noonuckal and a Queensland Health worker to Cape York and Torres Strait Island communities to report on children's health and other issues. She returned to the Torres Strait each year in January from 1964 until 1970, to conduct training seminars for Torres Strait Islander teachers.
During this time she became friends with many Torres Strait Islanders and was approached by some Islanders to record and write down their stories and family histories, as they felt that these might otherwise be lost. Margaret also conducted research into the cultural history of the Torres Strait, as well as historical research on Somerset and Thursday Island.
The Margaret Lawrie Collection of Torres Strait Islands Material, held in the John Oxley Library Queensland, consists of material recorded and collected by Margaret Lawrie on the Torres Strait Islands between 1964 and 1973, and other material collected and produced to 1998.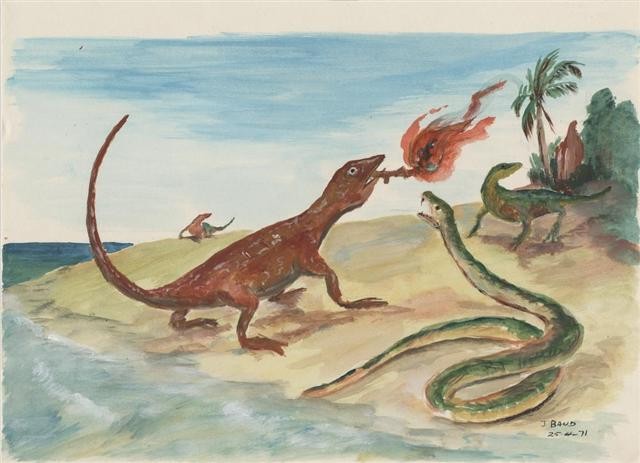 Walek emerging from the water carrying a fire stick in its mouth. J. Baud, 1971.
View details of the entire collection through our online finding aid available via One Search. View 100+ images from the collection on One Search by clicking here.
Serena Coates
Manager, Original Materials
Heritage Collections
Comments
Your email address will not be published.
We welcome relevant, respectful comments.