Lutwyche Domain, [Kedron], 1889 (Map of the Week)
By JOL Admin | 3 February 2017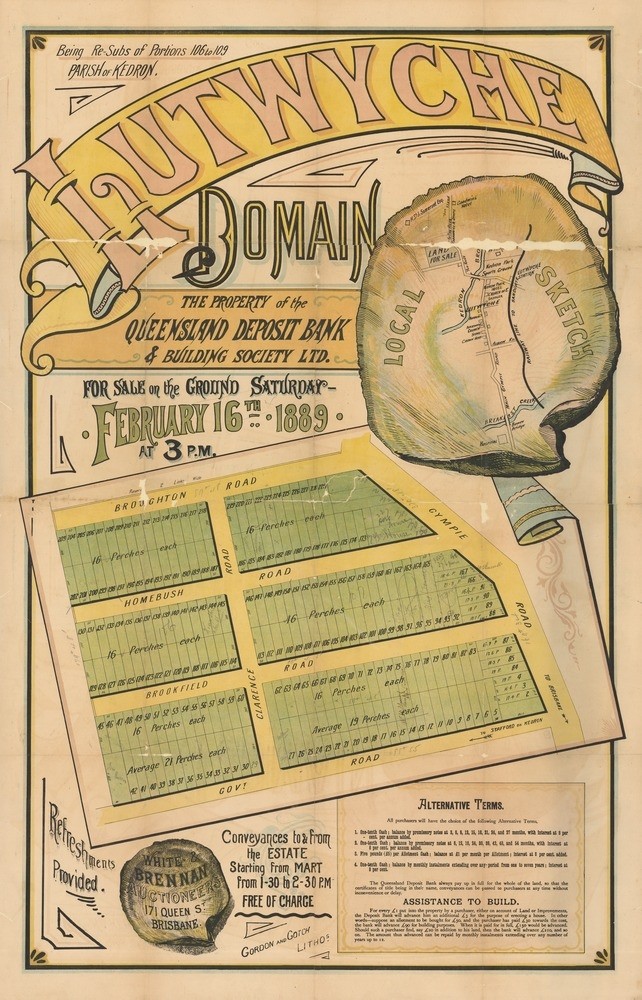 Lutwyche Domain Estate, Kedron, 1889. John Oxley Library, State Library of Queensland
State Library of Queensland has an extensive collection of historical maps of Queensland, some of which have been digitised and can be viewed online.
Lutwyche Domain Estate, Kedron, 1889. John Oxley Library, State Library of Queensland
This Brisbane real estate map from 1889 advertises over 200 allotments of land for sale at the Lutwyche Domain (located in present day Kedron). The allotments were situated along Broughton Road, Homebush Road, Brookfield Road, Clarence Road, Gympie Road and an unnamed road (now Stafford Road).
Prior to the sale extensive publicity was published in Brisbane newspapers.
"This valuable property is situate only four miles from Queen Street, on the Gympie Road, and consists of the finest soil in the district. The land rises gently from the road to the farthest limits of the estate, and embraces some of the most charming views of the surrounding country that can be imagined. Population is rapidly increasing in the district, and before many months are past purchasers will be able to sell out, if so disposed, at double the price now asked for the land." (Queensland Figaro and Punch, February 16, 1889).
Advertisement from Queensland Figaro and Punch, February 16, 1889
A public auction was held at the site on the afternoon of February 16, 1889. The Telegraph newspaper reported the results of the sale.
"Messrs White and Brennan report having sold, for and on account of the Queensland Deposit Bank and Building Society Limited, at their Lutwyche Domain sale, on Saturday, February 16, 174 allotments for £3,062 10s., showing an average of £18 per allotment. The unsold balance will be for private sale for one week only, at reserves about the above average." (The Telegraph, February 18, 1889)
A higher resolution image of this map can be viewed through our One Search catalogue.
Prints of this map are also available through the Library Shop.
You can browse a compendium of our previous maps of the week on our blog.
Myles Sinnamon – Project Coordinator, State Library of Queensland
Comments
Your email address will not be published.
We welcome relevant, respectful comments.