Loris Williams Indigenous Scholarship
By JOL Admin | 15 April 2009
The Australian Society of Archivists' Loris Williams Scholarship winners for 2009 are State Library of Queensland's Tania Schafer and Sue Newman from the State Records Office of NSW.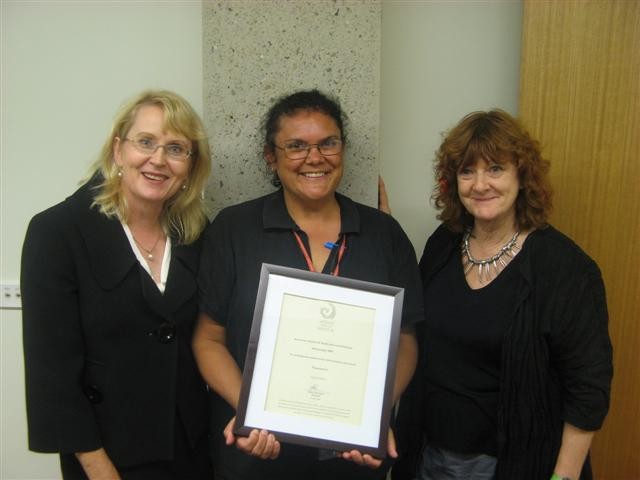 Tania Schafer with the State Librarian Lea Giles-Peters and the State Archivist Janet Prowse
The scholarship is named in memory of Loris Williams (1949-2005) who after completing her fieldwork at the State Library of Queensland became the first Aboriginal person from Queensland to gain professional archival qualifications, and only the second in Australia to do so.
Loris was a well respected colleague and a tireless advocate for the rights of Indigenous people to access archival collections and for the importance of educating Indigenous professionals.
In Queensland an award presentation was held for Tania Schafer in the State Library of Queensland's Loris Williams Room on 8 April.
Tania is a qualified librarian and has worked at the State Library of Queensland for 15 years. She is now the Indigenous Resource Officer with responsibility for providing access to the resources of the Heritage Collections to Aboriginal and Torres Strait Islanders researching their family history.
Tania is a friend of the Williams family and remembers Loris with great affection as a mentor who encouraged her to become an advocate for Aboriginal and Torres Strait Islander people in their quest to gain equality of access to archives.
Tania is studying for her Masters of Information Management and Systems at Monash University. She will use the ASA Loris Williams Scholarship to purchase books and a computer and hopes to complete the remaining units of her course by 2010.
Sue Newman works at the State Records Office of NSW as Project Officer - Aboriginal Liaison. Like Tania she is passionate about assisting Indigenous people to access records and re-establish links with families and communities. She is studying for the Graduate Diploma in Science (Information Services) at Edith Cowan University.
Congratulations to Tania and Sue as very deserving ASA Loris Williams Scholarship holders for 2009.
Comments
Your email address will not be published.
We welcome relevant, respectful comments.