A long ride on a tall bicycle : Sydney to Rockhampton in 1884
By Simon Miller, Library Technician, State Library of Queensland | 7 August 2014
No doubt many readers have been following the recent Tour de France but the impressive performances of the riders in that classic event in many ways pale to insignificance when compared to the epic ride of George E. C. Timewell in 1884. The 'road' from Sydney to Brisbane and on towards Rockhampton was dreadful enough in the 1930's, as described in Blue Coast Caravan. That trip being undertaken by car. How much more difficult must the journey have been in 1884, travelling by penny-farthing bicycle?
Long distance cyclist, G. E. B. Timewell, 1885, John Oxley Library, State Library of Queensland Neg: 41581
Timewell was an 18 year old Englishman, originally from Bristol, and a member of the Suburban Bicycle Club in Sydney. It seems that a number of Sydney cyclists were planning to go to Brisbane for a competition against the Queenslanders. Most would travel by the usual means and board a steamer for the journey by sea but Timewell and his friend E. C. Hughes decided to attempt the overland journey on their trusty bicycles. Timewell set off from George Street, Sydney on Saturday, 30th August, 1884 but his friend Hughes was delayed and then suffered a broken bearing in his rear wheel which required him to return for a spare machine. He then took a steamer to Newcastle and caught up with his friend at Singleton, from which point the two traveled together as far as Brisbane.
The Brisbane Courier covered the long trek in some detail in an article published on 15 September 1884, shortly after the arrival of the adventurers in Brisbane. This section picks up the riders as they approach the Queensland border.
The men were in excellent spirits, but Timewell was suffering from a cough and cold, contracted a few days before. The dust of Tenterfield was shaken off at 7:15, and along bad roads they went on their way anything but rejoicing. Bonoo-Bonoo was passed at 10.30, London Bridge, Tenterfield Gap, was crossed about noon, and Bookookoorara was reached at 1.30. Whilst at dinner they hear the pleasant news that several teams were on ahead cutting up the track. The knowledge that the Queensland border was two and a half miles away bore down everything else. A race to the border line now took place, and at 3 p.m. they passed over the invisible line which separates New South Wales from Queensland. Timewell being about half-a-dozen yards ahead of Hughes. They appear to have rather astonished the teamsters on the way, and one or two of the "oldest inhabitants" stared blankly at the "'new-fangled machines," for it was the first time a bicycle bell had ever wakened the echoes in the bush thereabouts. Having carved the rough initials of their names on one of the border posts, they made tracks for the Hawkesbury Hotel, Sugar Loaf, and their "first drink in Queensland." Stanthorpe was reached at 4.45 p.m. on Wednesday last, and that evening the first news of their progress reached Brisbane. The last four miles to Stanthorpe were covered during a heavy shower which made the cyclists wet through. Warwick was reached on Thursday afternoon at 3.30, and Allora at night, but not the latter until the trials of travelling through black soil had been experienced. In consequence of this pleasant road they had to walk for four and a quarter hours, and it was pitch dark before they reached the town.
Once in Brisbane the intrepid travellers took part in the annual sports day of the Brisbane Bicycle Club, on this occasion taking the form of an inter-colonial competition. Hughes took out several handicap events and subsequently returned to Sydney by steamer, Timewell continuing his journey in the direction of Rockhampton. The Rockhampton Capricornian has a description of the event.
The annual sports of the Brisbane Bicycle Club, held here on Saturday last, were by far the most successful of the kind which have ever taken place in Brisbane. They were witnessed by between three and four thousand people. The unusual interest taken in these sports was due in a great measure to the presence of six or seven cyclists from Sydney, two of whom — Timewell and Hughes — have accomplished the unprecedented feat of travelling overland on their machines, the former from Sydney, and the latter from Newcastle. Mr.Bennet, the New South Wales champion, won all the principal events with comparative ease, and his clever and graceful riding was greatly admired. There is, however, a fly in the ointment. Amongst the prizes contested for, was the St. Jacob's Oil Trophy, which has to be won three times in succession, each event to take place within six months of the other. Mr. Johnson, the Brisbane champion, has already won this trophy once ; and as the New South Wales men are not at all likely to comply with the conditions and win it three times it was thought that it would have been a graceful act on their part to stand out. But they are the guests of the Brisbane Club, the members of which have "a down" on Johnson, who is a seceeder from their ranks ; and in consequence of the pressure brought to bear by that club, Bennet started in the race, and of course won it. This morning Timewell started from Brisbane on an overland ride to Rockhampton.
Queensland cyclists G. H. Perry and J. E. Harris with friends posing with a penny-farthing, ca. 1884, John Oxley Library, State Library of Queensland Neg: 41542
George Timewell continued his journey north in the company of the president of the Brisbane Bicycle Club, J. E. Harris, who accompanied him as far as Maryborough. The Maryborough Chronicle, Wide Bay and Burnett Advertiser reported their arrival on October 1.
Messrs. G. E. B. Timewell (Sydney) and J. E. Harris (Brisbane), amateur bicyclists of considerable repute in the respective southern cities to which they belong, arrived in Maryborough last night. The first-named gentleman has pedalled overland all the way from Sydney, and was met in Brisbane by Mr. J. E. Harris, who accompanied him to this town via Gympie. Although they had been 'pegging away' continuously all the day from Gympie they appeared not to be in the least fatigued, which speaks well for their powers of endurance and skill. They have kindly furnished us with a copy of their log from Gympie, and also a statement of their future plans, as follows Left Gympie at 6 o'clock ; made 7 mile gate (railway crossing), at 7-10, and arrived at Gunalda for breakfast at 9-25, distance 20 miles ; left again at 10.15 and made Gundiah at 12-30 for dinner, distance 31 miles ; left at 1.45 , reached Tiaro 3 o'clock, had a refresher and some fruit at Victoria Hotel, and left again at 3.30 and reached Maryborough 6.30. Were met about 3 miles from town by several local cyclists, and escorted to Melbourne Hotel. Mr. Waller, a Gympie cyclist, accompanied them all the way. The roads throughout were quite a treat after the very hilly and stony country between Brisbane and Gympie. The machine ridden by Mr. J. E. Harris is a 56 inch club roadster, and Mr. Timewell's a 52 inch special club, both from Messrs. James Martin and Co., George street, Sydney. We must not forget to mention that before leaving Gympie the cyclists were presented with a splendid specimen of gold at the Theatre on Monday 30th inst. Mr. J. E. Harris will not be able to travel farther north than Maryborough as he is obliged to get back to business ; however, we are pleased to state that Mr. Godson will accompany Mr. Timewell as far as Bundaberg rather than allow the Sydney cyclist to travel alone. Mr. Timewell intends starting hence to-morrow (Thursday) morning, and is due at Bundaberg that evening.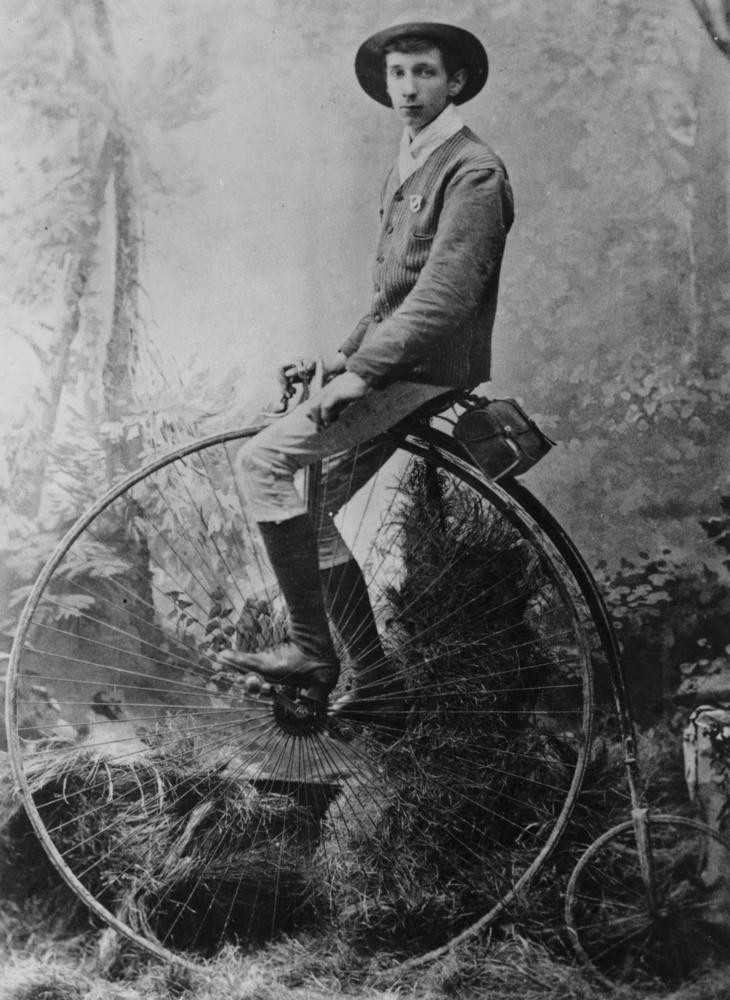 Overland rider, Mr Timewell posing on a penny farthing at a photographic studio, Brisbane, 1884, John Oxley Library, State Library of Queensland Neg: 7610
Timewell's arrival in Rockhampton at the end of his epic ride appears to have be somewhat anticlimactic according to this article by a Rockhampton reporter in the Brisbane Courier.
Timewell, the bicyclist, arrived here on Friday afternoon, and owing to local cyclists not being apprised of the hour or probable time of his arrival, they did not turn out to meet him, as it was their intention to have done. He arrived here unannounced, but soon the news spread that he had at last reached the end of his long over- land journey from Sydney. On Friday evening he was interviewed by several prominent supporters of sport, and on Saturday evening was entertained at a luncheon in the Belmore Arms. There were about twenty-five gentlemen present, the mayor in the chair, and the evening was passed pleasantly. The mayor was not backward in eulogising the youthful adventurer, and he congratulated him on the accomplishment of a feat that had been unknown hitherto in the annals of cycling. The evening was most enjoyable, and the reception accorded Mr. Timewell was most cordial. His visit to Rockhampton will give an impetus to wheeling in Rockhampton, and as a track has been formed at the Cremorne Gardens I have very little doubt a club will be formed at an early date. The first sports on wheels open here to-morrow afternoon, the proprietors of the gardens having offered a five-guinea prize for a five-mile race. Timewell will remain here a few days longer, and will probably take passage by steamer for Sydney. It is rumoured he is willing to reside here for a few months if a situation is offered him, and if such is brought about cycling will become as popular almost as any other sport.
Timewell had traveled over 1300 miles (2100 km) in 22 riding days, averaging 57 miles per day (92 km) over rough tracks and barely formed roads still having the energy to win the 5 mile race in Rockhampton as reported in the Brisbane Courier during a stopover in Brisbane while returning to Sydney by steamer. Timewell's feat was certainly an Australian record for distance cycling but not a world record as an American cyclist had previously ridden from San Francisco to New York although you could certainly argue that Timewell's was the tougher journey.
MR.G. E. B. Timewell returned from Rockhampton by the steamer Eurimbla, en route for Sydney. He completed his long overland ride of 1360 miles from Sydney to Rockhampton on Friday, the 10th instant. The average for twenty-two days' actual travelling was about fifty-seven miles. Mr. Timewell speaks highly of the hospitality he met with in Gympie, Maryborough, Bundaberg, Rockhampton, and indeed at every township and station along the road. Notably among the latter he refers to a hearty reception he met with at Rodd's Bay Station (Mr. A. Norton's, M.L.A.), in the Gladstone district, where his arrival had been anticipated in consequence of special instructions from Mr. Norton. Before reaching Rockhampton he had to wade the Boyne River. At a bicycle sports gathering at Rockhampton last Wednesday, Mr. Timewell won the five miles race, and was second in a mile handicap, in which he gave Letsom - an English medal bicyclist-about 200 yards start. He leaves for Sydney on Wednesday.
G. E. B. Timewell with a penny-farthing, 1885, John Oxley Library, State Library of Queensland Neg: 41582
George Timewell returned to Sydney and out of Queensland history but not before visiting a Brisbane photographic studio where he was immortalized in the portraits that inspired this article.
You have the opportunity to get on your own bike and learn more about Queensland history and shop for retro outfits by joining one of the library's Retro Rides events in September. These events are part of the Hot Modernism exhibition currently showing at the Library.
Simon Miller - Library Technician, State Library of Queensland
Comments
Your email address will not be published.
We welcome relevant, respectful comments.