Last night at Her Majesty's
By Simon Miller, Library Technician, State Library of Queensland | 16 October 2012
The State Library holds a large collection of ephemera, containing documents of everyday life generally covering publications of fewer than ten pages. These may include: advertising material, booklets, brochures, postcards, programs, stickers, tickets, menus, tourist guides, trade catalogues and government fact sheets. One of the largest sections of ephemera consists of theatre programs dating from 1866 up to the present day. Our earliest program is from the Ipswich Elocution Class for their Nineteenth Entertainment at Helidon, Dec. 3rd, 1866. The Entertainment consisted of a varied program beginning with an operatic burlesque, Bombastes Furioso, followed by the grand scena, Hamlet, Prince of Denmark. Following the interval was a violin solo by a Lady Amateur and a serio-comic song from Herr Yaatz, the whole concluding with the screaming farce Box and Cox.
Her Majesty's Theatre programs 1901-1983 State Library of Queensland
The spur for this article was the program for The Lord Mayor's 18th Command Performance, billed as The last night at Her Majesty's Theatre, from Sunday, October 16, 1983. Her Majesty's Theatre, also known, when appropriate, as His Majesty's Theatre, was originally opened as Her Imperial Majesty's Opera House on 2 April, 1888 and served the Brisbane public for 95 years until it was demolished just a week after the Lord Mayor's Command Performance, on October 23, 1983, to make way for the Hilton Hotel and Wintergarden shopping centre.
Her Majestys Theatre Queen Street Brisbane 1973 State Library of Queensland Negative number: 166135
The theatre was designed by Italian born architect Andrea Stombuco. Stombuco made a significant contribution to Brisbane's built environment. Many of Stombuco's original plans for buildings such as Her Majesty's Theatre, or St Andrew's Anglican Church in South Brisbane, are housed in the State Library. The library has produced a short video on Andrea Stombuco.
http://youtu.be/RUzxzkO9l3Y
The Library's earliest program from His Majesty's Theatre, Xmas Programme Souvenir, comes from December 1901. The program on that occasion was Auber's romantic opera Fra Diavolo presented by The Josephine Stanton Comic Opera Company and we are fortunate that the program includes a complete 'Diary of events for 1901'. During that year a Brisbane resident could have been entertained by five different opera companies presenting 29 different opera productions including operas by Verdi, Wagner and Gounod as well as Pucini's La Boheme which was first performed only 5 years earlier, in 1896. They could have attended performances by four theatre companies presenting some 20 plays including School for Scandal by Sheridan, Ibsen's Hedda Gabler and A Message from Mars performed by the Hawtrey Comedy Company. There were also two seasons of moving pictures from J.C. Williamson's Bio-Tableau and Wyld and Freedman's British Biograph.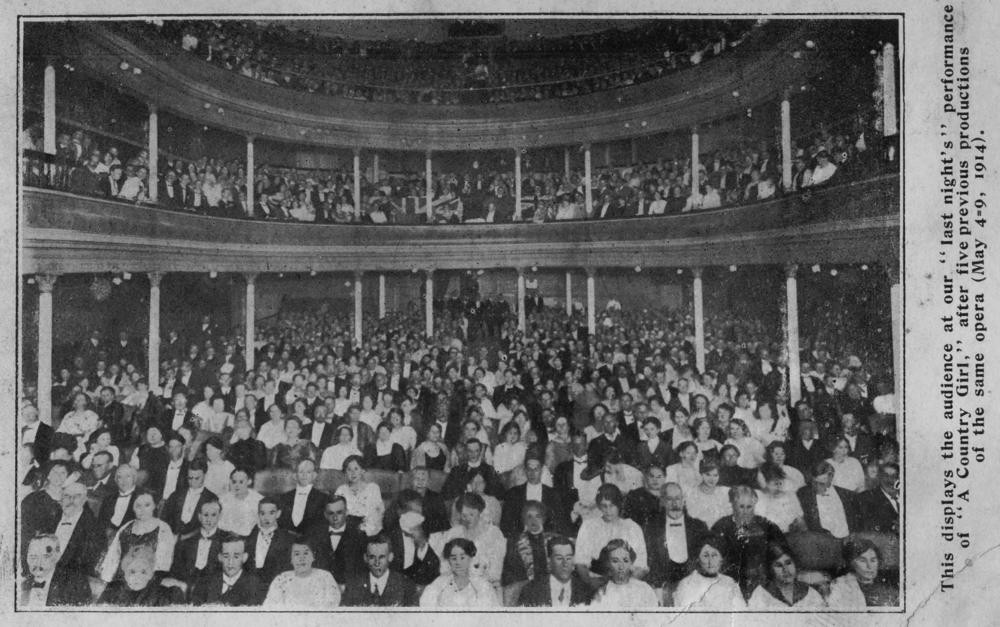 Audience inside His Majesty's Theatre watching a performance by the Brisbane Amateur Operatic Society, Brisbane, 1914 State Library of Queensland Negative number: 33490
The Theatre had been recently renovated and the program proudly extols the virtues of the auditorium.
The auditorium of His Majesty's Theatre is one of the handsomest in Australia. Since the present proprietor Mr. Harold Ashton, took over the lease, £3,000 have been spent in alterations and decoration, and the system of ventilation is as perfect as the ingenuity of man and modern science can make it. At a cost of £1,000 what is known as a sliding roof has been put in, which, during fine weather, is thrown right open, revealing the sky and causing a most exhilarating current of fresh cool air to rush in from the numerous windows, doors, and large air shafts below the stage. It is doubtful whether a better ventilated theatre is to be found anywhere – certainly not in the Southern Hemisphere. …
The acoustic properties of this house are unequalled in Australia. The weakest voice can be heard in all parts.
The Auditorium will seat 1,911 people. Total made up as follows:- Dress Circle, 248 ; Private Boxes, 15 ; Stalls, 650 ; Gallery, 1,000. … Everything possible in the time has been done to make His Majesty's Theatre one of the most up-to date houses of amusement in Australia.
Stage hands at His Majestys Theatre Brisbane QPAC Collections Image number: 2000_038_221
His Majesty's Theatre saw many famous stars grace its stage over the years. Dame Clara Butt, the world famous British contralto, visited in 1921 and the audience was promised that 'in response to numerous requests Dame Clara Butt will sing during to-night's concert "Land of Hope and Glory". The Dame could be temperamental and reportedly caused her talented young pianist to be fired because the girl received applause at a recital. Another highlight of the 1920s was the visit of Anna Pavlova and her ballet company. Enthusiastic ballet fans could obtain the autograph of Madam Pavlova on the covers of the Special Pavlova boxes of De-luxe Old Gold Chocolates. Nellie Melba and Gladys Moncrieff were also among the star attractions.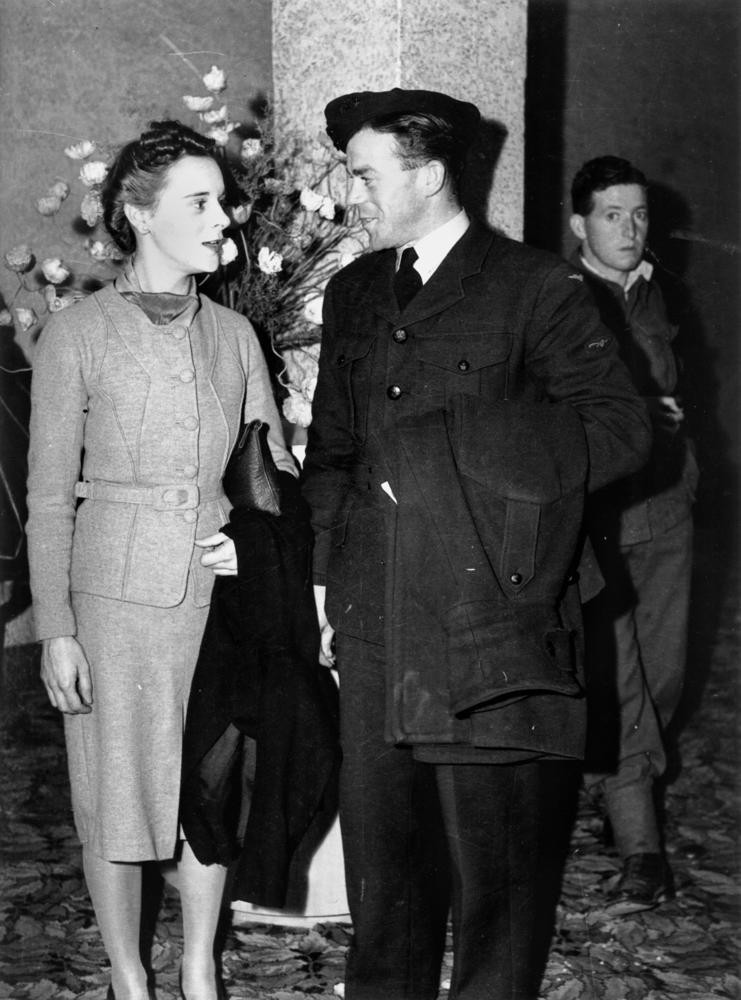 Airman and his young lady chatting in the foyer of His Majestys Theatre Brisbane late July 1942 State Library of Queensland Negative number: 195101
The last night at Her Majesty's was compered by Bobby Limb with an orchestra directed by Bob Gibson. Featured performers included Margaret Noonan, Brian Doyle, Barry Crocker, Reg Varney "all the way from London" as well as Johnny Young and the Young Talent Team and the Rythmaires. Absent due to a hand injury, but contributing a painting of the Theatre to be auctioned, was Rolf Harris.
Simon Miller - Library Technician, State Library of Queensland
Comments
Your email address will not be published.
We welcome relevant, respectful comments.