Land ballots in Queensland
By JOL Admin | 16 January 2019
Guest blogger: Dr Jennifer Moffatt, 2018 John Oxley Library Fellow.
Over almost 100 years1, thousands of Queenslanders won millions of hectares of agricultural land by ballot. This resulted from long standing national and state policies encouraging the more intensive use of agricultural land to increase food production2. In the 1950s more than half of the government owned agricultural land in Queensland was distributed by ballot3 - almost three million hectares.
Agricultural land became available through government purchase or existing lessees surrendering their land. It was re-distributed either as it became available or through land development schemes.
Recent schemes include the Fitzroy Basin (Brigalow) Development Scheme (beef)4, the Emerald Irrigation Scheme (drought fodder)5, the distribution of land following the collapse of the British-Queensland Food Corporation (grain)6 and the Wandoan War Service and Group Lands Schemes (repatriation)7.
If there was more than one applicant when land was made available, a ballot was held8. A description of the ballot procedure is in this video clip from ABC Open.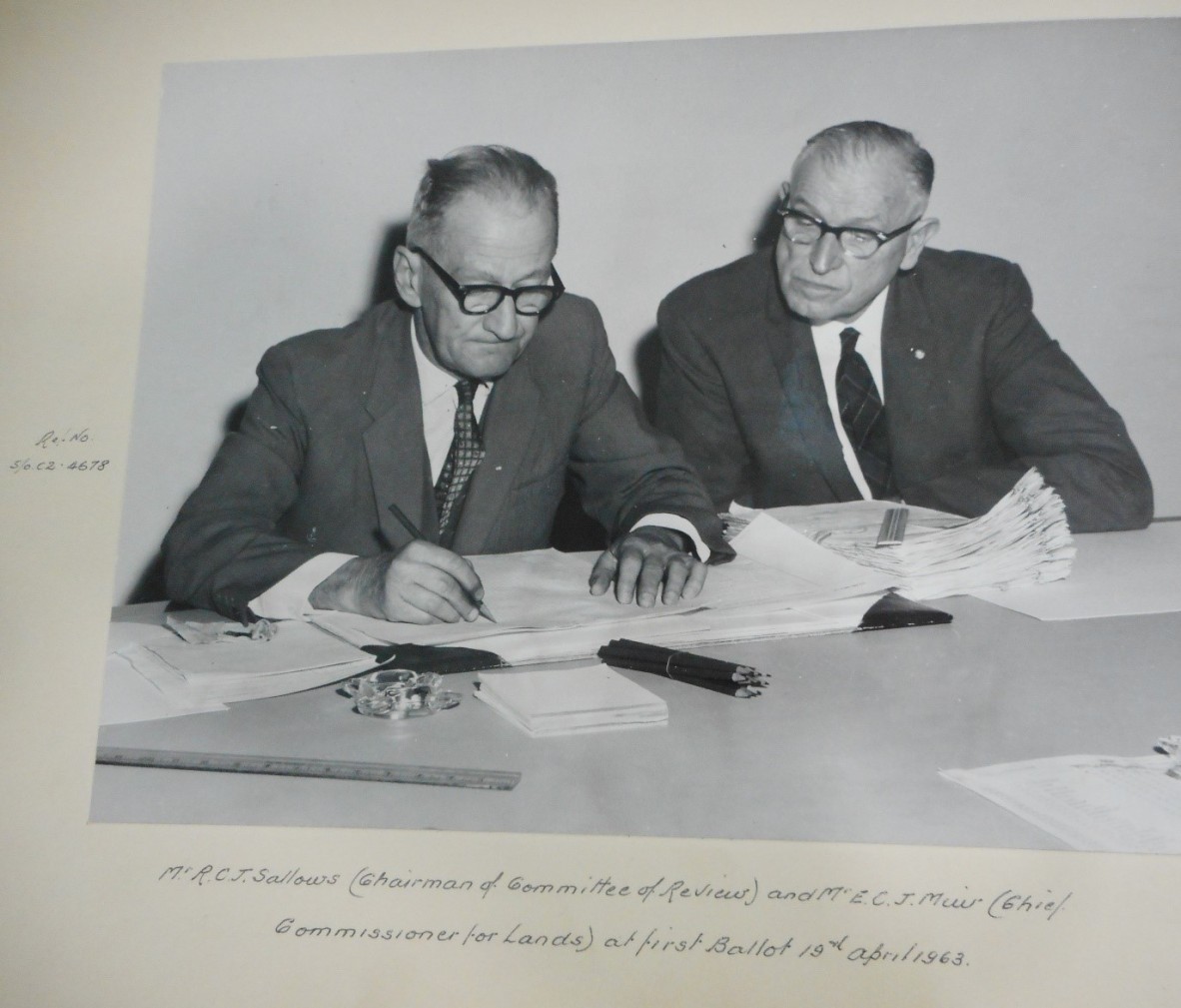 Mr R.C.J. Sallows (Chairman of the Committee of Review) and Mr E.C.J Muir (Chief Commissioner for Lands) at first (Fitzroy Development Brigalow Scheme) ballot, 19 April 1963. From 31287, Department of Lands Brigalow Development Scheme photographs, John Oxley Library, State Library of Queensland.
Those successful in ballots won the right to rent the land from the government. This involved on-going compliance with conditions such as fencing and the removal of trees. For the many who yearned for land but had insufficient capital to purchase, a ballot was their only chance to realise the dream of owning their own land.
For resources about land ballots search on the tag 'land ballots' under 'tags' on State Library's One Search catalogue. To contribute to the project contact the State Library of Queensland at qldmemory@slq.qld.gov.au or via jennifermoffattconsulting.com.au
Jennifer's project is titled: The story of Queensland's selectors. How those who won land in a ballot contributed to Queensland's social, economic and political development. The aim is to fill a knowledge gap in Queensland's history and complement the history of pioneers, squatters and land development.
1 Moffat, A. G. (1987). The Longreach Story. Longreach, Longreach Shire Council. Cameron, D. (1999). Battling The Brigalow: a contextual thematic overview history of the forested areas of the Southern Brigalow Belt Bioregion 1827-1999. Brisbane, Queensland Environmental Protection Agency, Biodiversity Planning Unit.
2 Roberts, S. H. (1968). History of Australian land settlement, 1788-1920. Melbourne, Macmillan.
3 Queensland State Archives, Item ID896002, Register - selections 1/7/1950 - 30/6/1960. Brisbane, Queensland State Archives.
4 Queensland Land Administration Commission. Fitzroy Basin (1979). The brigalow scheme in Central Queensland 1962-1978. Brisbane, Land Administration Commission, Department of Lands.
5 Queensland Department of Primary Industries (1967). Emerald Irrigation Scheme: a Project to Stabilise and Increase Production in Queensland. Brisbane, Queensland Department of Primary Industries.
6 Hoch, I. and A. Plunkett (2000). Tractors under the sky / by Isabel Hoch & Andy Plunkett. Capella, Qld, Capella, Qld : Capella Pioneer Village Inc.
7 Ryan, L. and M. Harper (1983). Wandoan Closer Settlement 1952-1954. Wandoan.
8 Department of Public Lands Queensland (1917). Annual Report of the Department of Public Lands for the year 1916. Brisbane, Government Printer.
Comments
Your email address will not be published.
We welcome relevant, respectful comments.