La Fetts - 'SEQEB Scabs'
By R. Hillier - Librarian, State Library of Queensland | 17 March 2017
In the year 2000, radio station 4ZZZ celebrated 25 eventful years of existence. To commemorate this milestone, a 2xCD compilation – 'Behind the Banana Curtain' – was released, documenting the musical highlights of these tumultuous two and a half decades. Many of the tracks included were known worldwide, others were very localised classics, never before released commercially. Each track however, had played an essential part in 4ZZZ's history and in the underground musical heritage of Queensland.
Cover of 4ZZZ's Behind the Banana Curtain compilation CD.
In putting the compilation together, countless hours were spent tracking down band members and master tapes, especially for some of the more obscure bands, and the one that proved most elusive was 'SEQEB Scabs' by La Fetts. The track was an essential inclusion, but it was a long, winding trail of rumour and hazy memories that eventually led to the tapes, buried, but in great condition, deep in the archives of the State Library of Queensland. The story of 'SEQEB Scabs' and its journey is well worth telling.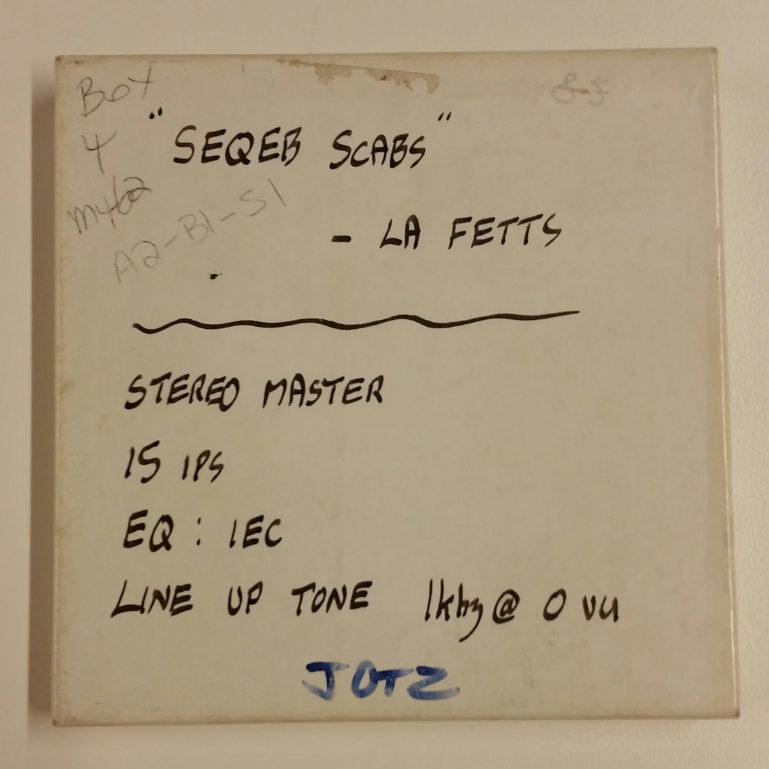 Master reel for La Fetts - 'SEQEB Scabs'. John Oxley Library, State Library of Queensland.
The Fits formed in 1980 from the ashes of earlier bands Bondage Cowboys and Immortal Corpses in the fertile punk scene of Goodna, a working class suburb between Brisbane and Ipswich. Largely made up of migrant kids who had come through the nearby Wacol Immigration Centre, the lively scene was based around local pubs including the Redbank Tavern, The Cecil and The Royal Mail. The Fits were a central part of this poorly documented scene. Not financial enough to release their own records, and largely ignored by the broader music scene, whose interest in punk had been fleeting, the scene thrived on D.I.Y. shows and self released demo tapes.
La Fetts performing at the Aussie Nash Hotel in Woolloongabba, 1983, shortly after changing from The Fits. (L to R): Peter Bosgra, George Seymour, Budge Page, Peter de Hesse. From Acc. 28624 Brisbane Punk Bands. John Oxley Library, State Library of Queensland.
Due to a few other punk bands called The Fits, the band changed their name to La Fetts around 1983. That same year Peter de Hesse joined the band on guitar. Pete was an electrician for the South East Queensland Electricity Board (SEQEB). This job would soon see him and the band involved in one of the most notorious industrial conflicts in Australian history.
And so forces joined as one for this unholiest of nights Friday 13th poster. John Oxley Library, State Library of Queensland.
Early in 1985, a dispute between the Electrical Trades Union (ETU) and SEQEB over contract labour lead to strike action. The state government intervened, sacking 1002 striking ETU members, including Peter de Hesse. This escalated into one of Queensland's largest, most bitter industrial disputes, resulting in further strikes, blackouts, more mass sackings, protests and eventually a government declared state of emergency.
La Fetts performing at 4ZZZ radiothon, St Lucia, 1985. From: Acc. 28536 Peter de Hesse Photographs. John Oxley Library, State Library of Queensland.
At the time of Peter's dismissal, La Fetts had an hour or two of studio time available, donated by a studio where they had recently recorded demo tapes. They went almost immediately into the studio and, channeling anger over the sackings, re-worded one of their existing live tracks 'We Hate Relatives' into 'SEQEB Scabs': one minute, thirty seconds of rage against injustice. Such was the fear of repercussions under the government's SEQEB anti-harassment laws, the studio time was only given on the condition that the studio's identity was not disclosed.
Young Socialists 1 year of struggle : Rally, dance poster. John Oxley Library, State Library of Queensland.
As was the done thing in those days, the band took the tape straight up to 4ZZZ and it was dubbed off onto a reel for airplay. 'SEQEB Scabs' became the theme song of the 1985 strikes and with constant rotation on Triple Zed, it was soon a local underground classic. The master tape had to be returned to 4ZZZ a couple of times to run off new dubs as the station played them until they wore out. Within a week or two the band were asked to play at the 'Festival of Electric Lights' rally at King George Square in support of the sacked workers. Cautious of the police reaction to 'SEQEB Scabs', they saved it to the end of the set.
La Fetts performing at the 'Festival of Electric Lights' rally in King George Square, Brisbane, 1985. (L to R): Peter de Hesse, George Seymour (drums), Budge Page, Vlado Sebez. From: Acc. 28536 Peter de Hesse Photographs. John Oxley Library, State Library of Queensland.
In 1987, the original reel was loaned to filmmaker Tom Zubrycki for inclusion on the soundtrack of 'Friends and Enemies', his documentary on the SEQEB dispute. This was the last the band ever saw of it. By the late 1990s, La Fetts were long finished, band members had gone their separate ways, and the reel had been missing for more than a decade.
Master reel for La Fetts - 'SEQEB Scabs'. John Oxley Library, State Library of Queensland.
Pure dogged determination eventually tracked the reel down. As it turned out, Tom Zubriycki had donated an extensive collection of audio recordings and interviews relating to the dispute to the State Library, and mixed in among them was the master reel for SEQEB Scabs, still with the original letter from the band to the filmmaker. Finally found, the track was digitised and took its rightful place on the CD representing a crucial slice of Brisbane musical history.
If you have any old gig flyers, photographs or recordings, that you would be interested in depositing at the State Library of Queensland, please contact us.
Thanks to Budge Page, Pete de Hesse and Phil Parker.
R. Hillier - Librarian, State Library of Queensland
Comments
Your email address will not be published.
We welcome relevant, respectful comments.