KISS deafens Lang Park (1980)
By Myles Sinnamon - Project Coordinator, State Library of Queensland | 27 September 2015
Are Queenslanders wowsers when it comes to loud concerts?
The resulting political grandstanding from David Bowie's loud performance at Lang Park (now Suncorp Stadium) in 1978 led to US rock band KISS causing consternation over their 1980 concert.
KISS meet Brisbane competition winners backstage. Telegraph 26 November 1980. (Image in copyright)
On November 25, 1980, a crowd of about 19,000 excited fans attended the Lang Park concert. The flamboyant four-piece were dressed in black and silver costumes with their trademark face paint, and their stage show consisted of fireworks and confetti explosions. Pop critic Barton Green gave his impression of the gig, saying "a fascinating stage and special effects show, but the music, so-so ... was too loud to hear clearly", while a reporter from The Courier-Mail stated the sound was often distorted and the view from the grandstand disappointing.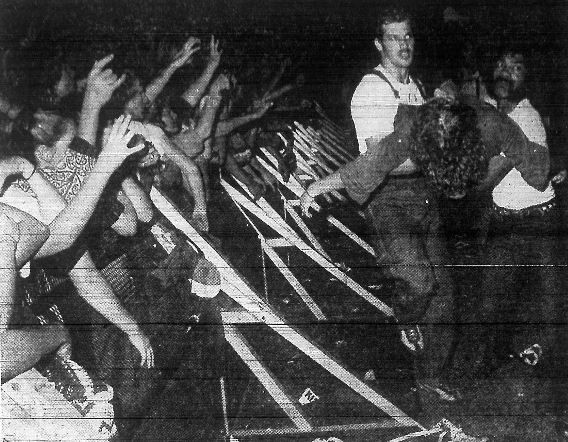 KISS concert at Lang Park, 1980. Image taken from The Courier-Mail 26 November 1980 (Image in copyright)
The music was reportedly loud - very loud. According to The Courier-Mail, a noise expert who was a physics lecturer from Queensland Institute of Technology (now QUT) described the volume at the concert venue as comparable with an airliner taking off, or "like sitting on top of a pneumatic drill".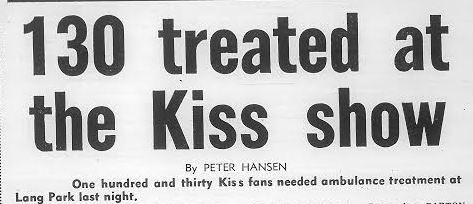 Headline from The Telegraph, 26 November 1980
While the overwhelming noise didn't bother the true fans, at the first-aid tent, police officers requested cotton wool to stick in their ears. "We had to say no in the end because we were running out", said a woman from St John Ambulance, whose workers were kept busy. The Brisbane Telegraph reported about 130 fans needed assistance, the majority suffering from "overemotionalism and hyperventilation".
"Husky types recruited to keep adoring teenagers from mobbing the band had fingers stuck in their ears when they did not have hands full of limp girl, in state of ecstatic collapse, on her way to the first-aid tent", the newspaper reported.
Several months earlier the KISS concert made news when Brisbane fans caused problems for police as they queued impatiently all night to secure tickets from the ticket office at Festival Hall, as some brawled, threw beer bottles and graffiti-ed walls. Fans queuing in other states were reportedly well behaved.
Headline from The Sydney Morning Herald, 27 July 1980
KISS aren't the only loud rockers to visit Brisbane. Draw your own comparisons with that other infamous "loud" Lang Park concert given by David Bowie in 1978 featured previously on the blog - David Bowie, Russ Hinze and the 'Intolerable' Brisbane Concert.
Myles Sinnamon - Project Coordinator, State Library of Queensland
Comments
Your email address will not be published.
We welcome relevant, respectful comments.