Kawana Island, Sunshine Coast
By JOL Admin | 12 March 2015
Guest Blogger – Sunshine Coast Heritage Library
Series: Changing Landscapes
Kawana, a beachside suburb of the Sunshine Coast is situated 94 kilometres north of Brisbane.
Prior to the 1960s Kawana was undeveloped wallum country consisting of ti-tree, banksia, swamp grasses and mangroves with tidal sand and mud flats. The only access to this land was by boat via the Mooloolah River or along the ocean beach after crossing the Mooloolah River or Currimundi Lake.
Aerial view of coastline looking north from Shelly Beach, Caloundra towards the undeveloped Kawana Waters area, 1956
The undeveloped areas further northward were later named Currimundi, Warana and Buddina. The Kawana Waters area was undeveloped at this stage, with just a sandy track winding off into the wallum bushland. Development in the Kawana Waters area commenced after the Kawana Development Lease was signed in July 1960 by the Governor of Queensland, Sir Henry Abel Smith, with assigners Caloundra - Mooloolaba Development Corporation Ltd., a company wholly or partly owned by Alfred Grant. Grant was a land developer and the 3,986 acres of land covered by the lease included 160 acres of freehold land held by C. R. & Arthur B. Parkyn, which was locally referred to as Parkyn's Croc Farm. Before the lease could be granted, the developer was obliged to purchase this freehold land from the Parkyn brothers, which was done in 1959. The remaining area was divided between the Crown and Landsborough Shire Council land. In return for handing over some 1,400 acres of Council land, Landsborough Shire Council was guaranteed 2.5% of the proceeds of all land sales.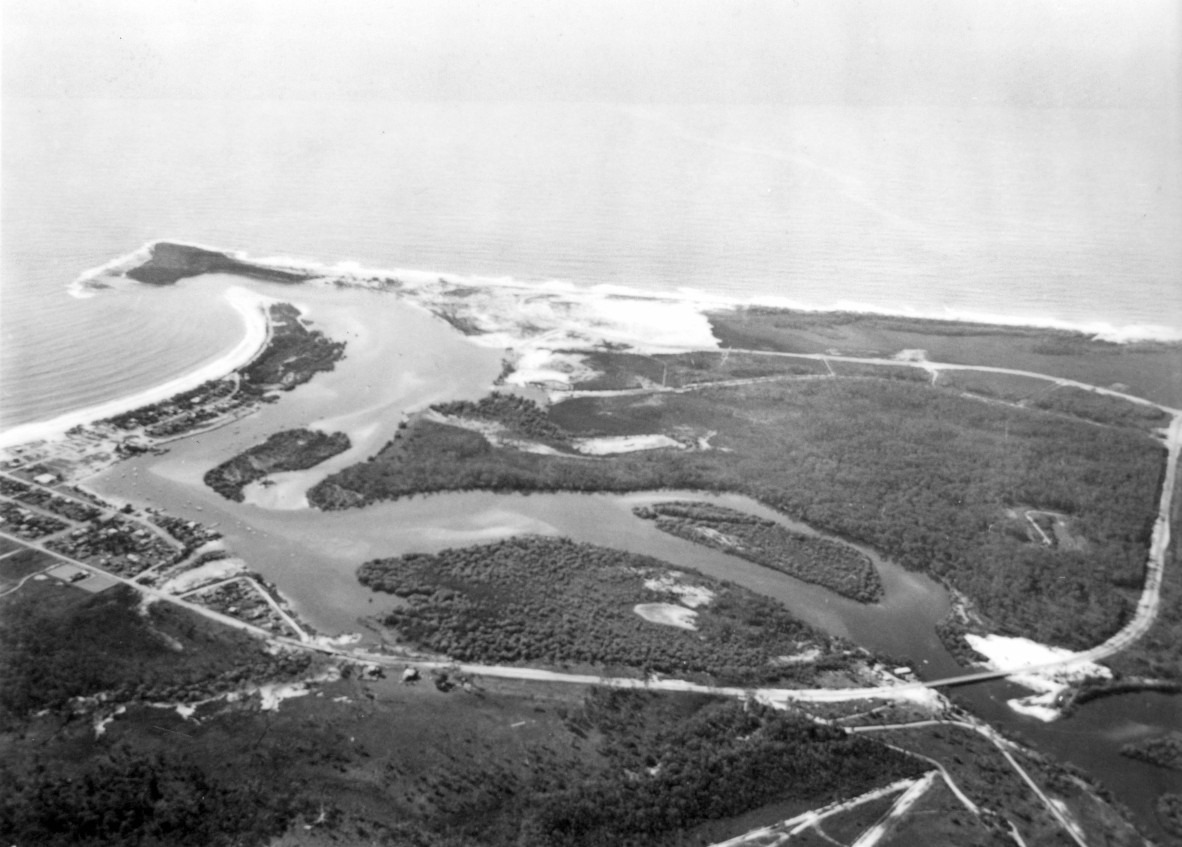 Aerial view of Kawana Waters, Bundilla and Minyama areas, developed by Kawana Estates. Pty. Ltd. from the mid-1960s
Point Cartwright was originally named Point Raper by Lieutenant Heath of the Royal Navy in 1861. No record exists as to who changed the name or why it was changed.
Aerial view of Point Cartwright, Kawana, 29 February, 1960
The 10.4 km Nicklin Way which linked Caloundra to Mooloolaba along the coastal strip, was officially opened by the Queensland Premier Hon. G.F.R. Nicklin on 5 June 1965. The project included the construction of two concrete bridges spanning the Mooloolah River and Currimundi Lake and a third bridge, taking the traffic over Tucker's Creek at Mooloolaba.
The bridge spanning the Mooloolah River was named McKenzies Bridge after the family who started the adjacent Bridge Seafood shop and built their home and a boat wharf nearby in 1965. The bridge can be seen under construction (Image 2). McKenzie Bridge was officially opened on 5 June 1965. A bridge further south, spanning Lake Currimundi on Nicklin Way was opened 18 January 1964 and later named the Ahern Bridge.
Construction on the present day rock groyne walls at the mouth of the Mooloolah River commenced in September 1965, and the Port of Brisbane Pilot Station was built nearby. Mooloolaba Boat Harbour and Pilot Station were officially opened 9 August, 1968.
Canal estate housing development at Bundilla Lakes Mooloolaba, 1968 Contributor: Queensland Newspapers Pty Ltd. In copyright.
The first house constructed at Kawana was built in 1969 for Kawana Estates Pty. Ltd. It was a lowset brick house located at number 4 Bandalong Street, Buddina, near the corner of Yaringa Avenue. In 1971, home sites for sale in the Kawana development were priced from $1,980, with deposits on land from as low as $50.
Mooloolaba Waters Estate was opened for sale in August 1971, with Tuckers Creek being the first canal development.
Point Cartwright Lighthouse was completed in 1978 and stands at 32.4 metres high.
Kern Konstruction Pty. Ltd. commenced construction of the Kawana Regional Shopping town at an estimated building cost of $10.5 million. The Kern Kawana Shoppingtown complex was opened 22 October 1979 by the Premier of Queensland, the Hon. Joh Bjelke -Petersen M.L.A.
For more on Kawana Waters history listen to Alfred L Johnson oral history on our website.
The b/w images for this blog were provided by Sunshine Coast Libraries - Picture Sunshine Coast.
Sunshine Coast Heritage Library
Comments
Your email address will not be published.
We welcome relevant, respectful comments.