Journeys through Queensland's History: landscape, place and society
By JOL Admin | 16 September 2009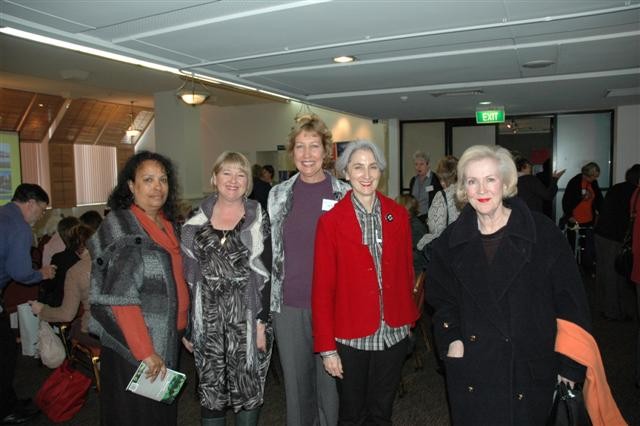 Attendees from the John Oxley Library. From left Elisabeth Faaoso, Janette Whitehead, Dr Leanne Day, Dr Judith Mckay(JOL Fellow) and Dianne Byrne.
Following on from my colleague Leanne Day's comments posted on the John Oxley Library Blog on 8 September I would like to offer some more observations about the wonderful two-day conference organised by the Professional Historian's Association titled Journeys through Queensland's history: landscape, place and society held in Brisbane, on 3-4 September 2009.
It was difficult to choose a paper to highlight as all were pertinent to my role as a service provider engaged in helping clients access our John Oxley Library Queensland history resources. The conference was one of the best I have ever attended and I found the enthusiasm and knowledge of all the speakers to be exceptional with each providing a fascinating insight into Queensland's history. I will restrict my comments to the paper presented by Dr Brian Sinclair:
Tracking heritage and guaging the significance: assessing heritage significance of the Etheridge Railway
Dr Sinclair spoke about the Etheridge Railway which was constructed from Almaden to Charleston (Forsayth) between 1907 and 1910 as a private railway. It was managed and later purchased by the Queensland Government. The line was constucted cheaply as a branch of the Chillagoe Railway to supply the Chillagoe Company's underutilised smelters with copper ore.
Although the railway's mining use was short lived its value to communities and pastoralists in the Etheridge district persuaded the government to maintain the line.
Today the Savannahlander, a tourist railmotor, is the only commercial traffic on the Etheridge Railway. It travels westwards from Cairns to Almaden before leaving the Chillagoe Railway and heading south on the Etheridge line.
In August 2008 Dr Brian Sinclair of the Cultural Heritage Branch of the Environmental Protection Agency (EPA) journeyed aboard the Savannahlander as part of the process of assessing the Etheridge Railway for inclusion in the Queensland Heritage Register.
  Derailed locomotive on the Chillagoe to Forsayth railway. Negative No: 31994
In the John Oxley Library we have a lot of materials documenting the history of railways in Queensland. From John Kerr's classic text Triumph of the Narrow Gauge to a range of books, pamphlets, ephemera and photographs.
Dr Sinclair's paper has furthered my knowledge in this area and I thank him and all the other presenters for their fabulous insights into aspects of Queensland's unique history.
Janette Whitehead
Comments
Your email address will not be published.
We welcome relevant, respectful comments.