John Oxley Library visits Cairns
By JOL Admin | 16 June 2009
The White Gloves Tours of Queensland regional centres continues with the latest tour to Cairns and region. The first two presentations were held at the Cairns City Library with participants viewing a range of treasures from the John Oxley Library's collections.
The beautifully restored former Cairns Council building, dating from the 1880s and now the home of the library, was a charming and highly suitable venue for the viewing of these historic materials.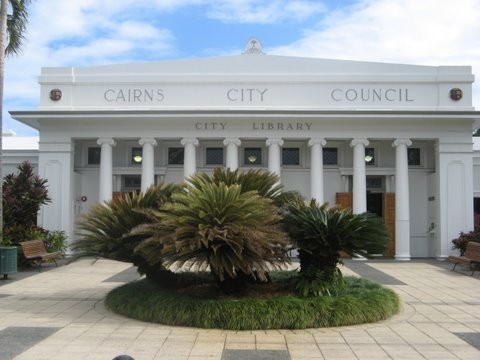 Cairns City Library building, Abbott Street
The reception was very positive with discussion of the items extending on and enjoyed by all. Local resident, Mr Dave Bowles said "It is marvelous to see these wonderful objects here in Cairns...thank you for bringing them."
Brian Randall of the John Oxley Library (right) with participants at the Cairns presentation
The tour continues this week to Mossman and the Atherton Tablelands.
Comments
Your email address will not be published.
We welcome relevant, respectful comments.