John (Jack) JONES #9622
By Marg Powel & Des Crump | 19 March 2018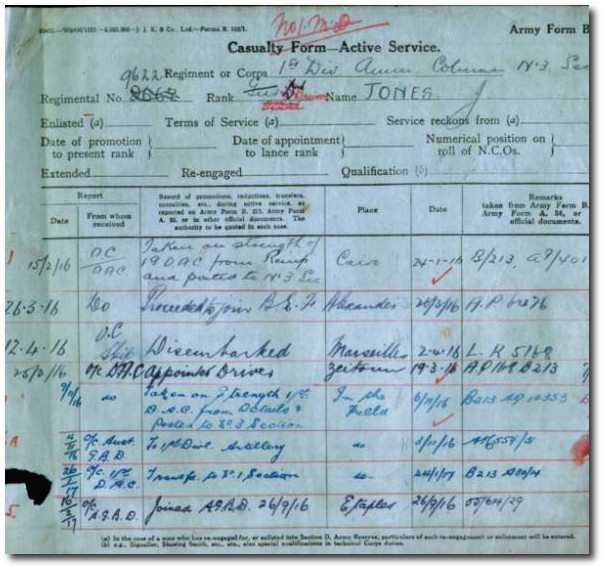 Extract from service record for John Jones, National Archives of Australia
Indigenous Australian, John (Jack) JONES, 3rd Artillery Brigade, 1st Divisional Ammunition Column
Jack Jones was born at Bullo Downs Station near Thargomindah, on the traditional lands of the Bitjara people in 1891. His father Thomas Crann Jones, from Victoria worked as a stockman on the station as a young man, where he most likely met Mary 'Sullivan' an Aboriginal woman from Bullo Downs, together they raised 10 children.
In September 1915 Jack was living with this family at Highland Plains near Oakey on the Darling Downs, when he volunteered to serve with the first AIF. He was assigned to the 13th Reinforcements for the 3rd Artillery Brigade and embarked aboard HMAT Berrima from Sydney in December, bound for Egypt.
Whilst at sea Jack escaped from the ship's isolation ward, where he had been admitted suffering from a 'contagious disease' most likely mumps, and for which he was later fined for his efforts.
By the time Jack arrived in the Middle East, allied troops had been evacuated from the Gallipoli Peninsula. Units were being reorganised and men transferred to where they were now most needed. Jack was transferred to the 1st Divisional Ammunition Column and appointed Driver, before embarking for France.
They left Egypt in April arriving at the port of Marseilles where they boarded a troop-train, which took them on a 2-day journey north. Having reached Le Havre they camped for 5 days before being transported once again north to Godewaersvelde on the Belgium border. From here they marched 8 miles to Three Farms; their next camp being Doulieu where they commenced supply operations.
This was to be the life Jack Jones knew while he served with the Artillery Division, always travelling towards the front lines where supplies were required. For a short period he was appointed temporary Bombardier in November 1917, but reverted to his role as a Driver at his own request.
Jack's older sister Alice wrote to District Headquarters from her residence in Victoria, querying why her letter to Jack had been returned 'Not 1st A.D.C.' As was sometimes the case when men changed units, the field post office had difficulties tracking some men down, however considering the huge flow of mail they must have had to deal with everyday they responded very apologetically and ensuring that action had been taken to ensure that it would reoccur.
Drivers and their teams at rest, Menin Road, Ypres, 1917 (Australian War Memorial Collection)
Jack survived the war without serious injury and returned to Australia aboard HMAT Suffolk in June 1919, he returned to live and work at Highland Plains, north of Goombungee. It wasn't until New Years eve 1938 that Jack married Rose Irene Dillon, after which they moved north to Rockhampton. Jack Jones died in July 1957 aged 66, one month after his brother Alf.
Alfred Jones served with the 41st Infantry Battalion, from June 1916 to January 1919, he was awarded the Military Medal for his courageous actions in August 1918, the same day he was wounded in action.
Many thanks to Christine Cramer for her meticulous research into the Jones family.
Read more ...
The information in this blog post has been researched by State Library staff and volunteers, it is based on available information at this time. If you have more information that you would like to share or further research uncovers new findings, this post will be updated.
Comments
Your email address will not be published.
We welcome relevant, respectful comments.