Alfred JONES #2333
By Marg Powel & Des Crump | 19 March 2018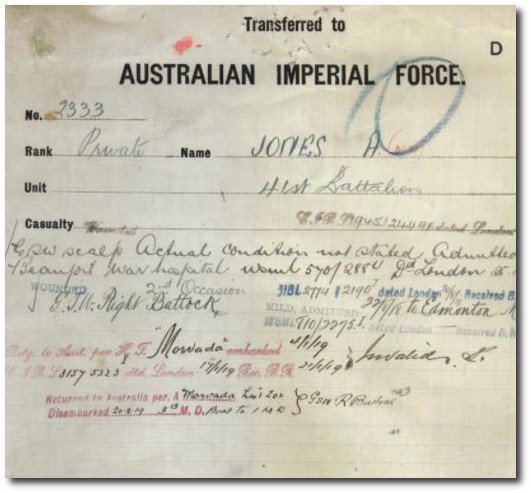 Extract from AIF service record for Alfred Jones. National Archives of Australia.
Indigenous Australian, Alfred (Alf) JONES, 41st Infantry Battalion
Alfred (Alf) Jones was born at Bullo Downs Station near Thargomindah, in 1889. His father Thomas Crann Jones, from Victoria worked as a stockman on the station as a young man, where he most likely met Mary 'Sullivan' an Aboriginal woman from Bullo Downs, together they raised 10 children. The station lies on the traditional lands of the Bidjara people, also spelt Bitjara or Bithara.
In July 1916 Alf was living with this family at Highland Plains near Oakey on the Darling Downs, when he volunteered to serve with the first AIF. He was assigned to the 4th Reinforcements for the 41st Infantry Battalion and embarked from Brisbane on board HMAT Boonah, bound for England.
After several months in camp, Alf was admitted to Parkhouse Military Hospital with mumps, but eight weeks later was considered fit enough to sail for France where he joined the battalion in the field.
In October 1917 when the battalion was under heavy fire while assisting in operations in the Ypres - Passchendaele offensive, Alf Jones was wounded in action, received a gun shot wound to the scalp. Alf was evacuated for treatment to England and admitted to the Beaufort Military Hospital in Bristol. He was soon fit enough to be granted leave while still in England after which he rejoined his comrades in France.
The next few months of his service saw Alf admitted to hospital several times suffering from skin irritations caused by the unsanitary conditions in the front lines. However in August 1918, during operations on the Somme near Proyart, he was again wounded. He refused to be evacuated and continued to carry the Lewis Gun he was charged with, to their final objective. Unable to go on due to exhaustion and loss of blood, he was evacuated from front lines and admitted to hospital.
For his action he was recommended and subsequently awarded with the Military Medal.
Having been wounded for a second time Alf Jones was returned home in January 1919 on one of the first troop ships to leave England bound for Australia. That year he married Friederike Sophie Schefe in Murra Murra and they settled on a property in Kilburnie; they had 5 children, Joyce Mary Sophie, Jim Clifford, Blanche Ada, Sam Thomas and Mavis Jessie. Alf died in June 1957, age 68 just one month before his brother John (Jack) Jones #9622 who also served, passed away; he is buried in the Goombungee Cemetery.
Read more ...
The information in this blog post has been researched by State Library staff and volunteers, it is based on available information at this time. If you have more information that you would like to share or further research uncovers new findings, this post will be updated.
Comments
Your email address will not be published.
We welcome relevant, respectful comments.