James Brunton Stephens : scholar poet of early Queensland
By Simon Miller, Library Technician, State Library of Queensland | 16 May 2016
James Brunton Stephens was regarded, in the late 19th and early 20th centuries, as one of the most important literary figures to emerge in Australia. He was considered by many to be the most significant poet in the country. His work has not stood the test of time, however, and his work is absent from recent important anthologies and his poetry is all but forgotten.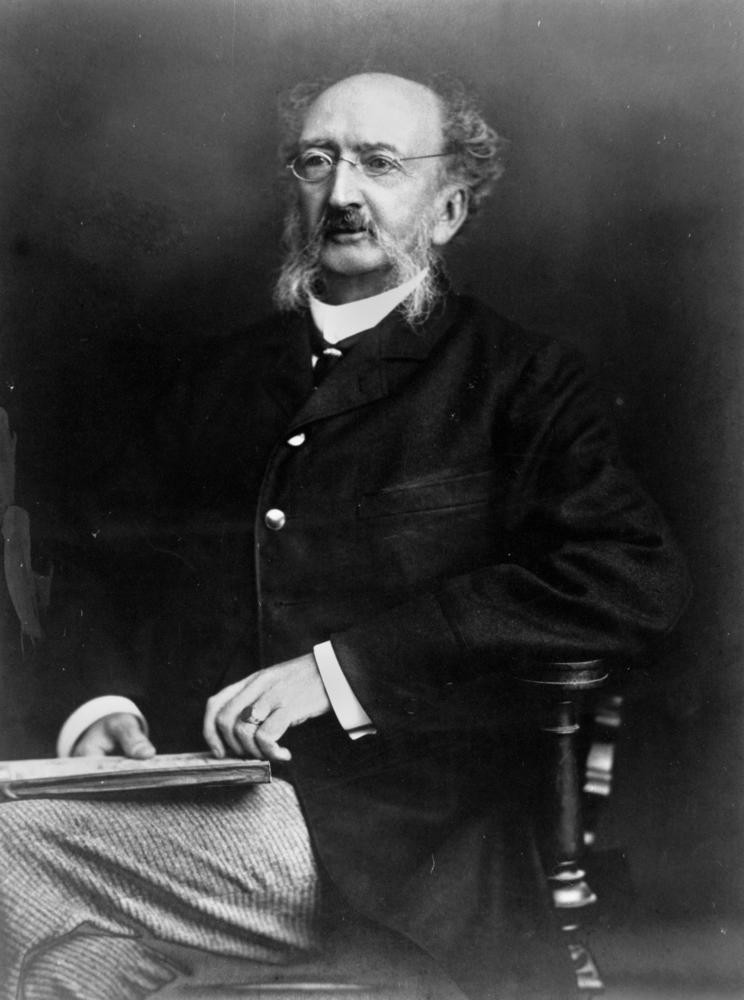 James Brunton Stephens
Stephens was born in Scotland in 1835. He was the tenth of eleven children of a parish teacher and received his early education at his father's school before attending a free boarding school and studying at Edinburgh University. He left the university before he obtained a degree but took work as a private tutor for wealthy families which enabled him to travel extensively through Europe and the Middle East. Returning to London, he worked as a teacher and published two short novels.
He came to Queensland in 1866, possibly for health reasons, and stayed, at first, with his cousin, who was married to Walter Hill, Colonial Botanist and Director of the Botanical Gardens. After a stint teaching French at Tollerton House Academy he was appointed as tutor for the Barker family at Tamrookum Station on the Logan River.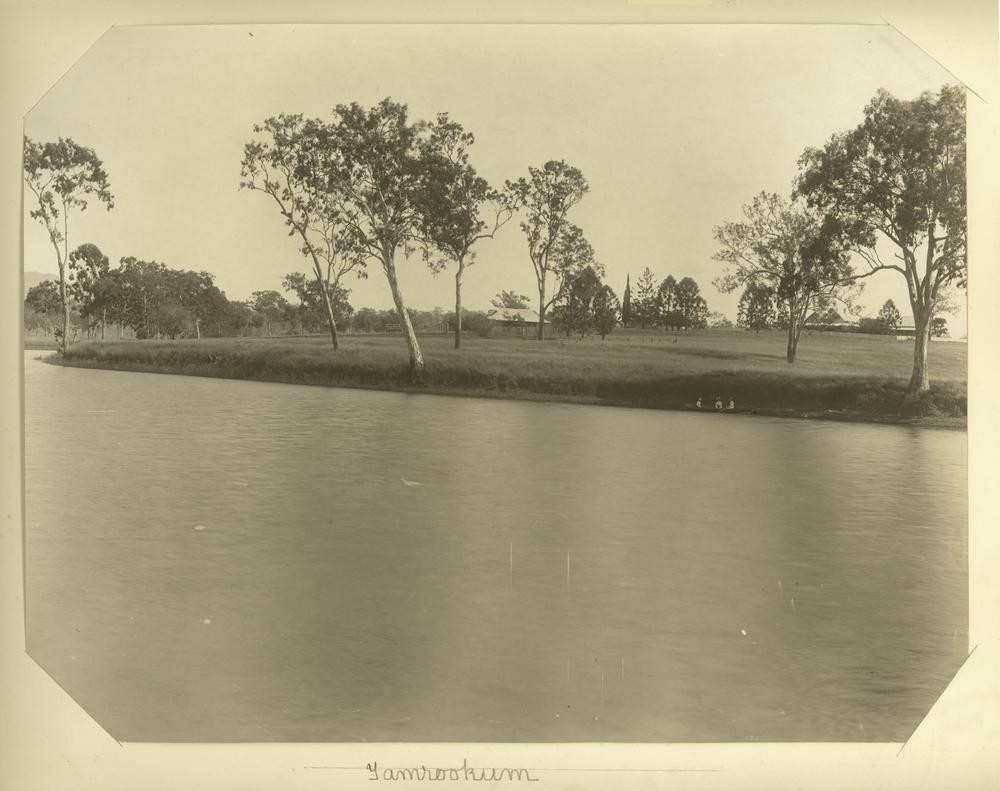 Bend in the Logan River at Tamrookum homestead, 1903
Bend in the Logan River at Tamrookum homestead, 1903
He found station life tedious but the lack of social interaction drove him to writing and this was the start of his most productive period as a poet. His best known poem Convict Once was written here and he got the poem published in London in 1871. It is a very long poem of 261 stanzas and written in a difficult style of rhyme and metre with consummate technical skill. The poem received substantial critical acclaim but failed to reach a wide readership. The poem tells the story of a woman who is a former convict but who conceals her identity and becomes a governess to a family with three daughters and while it is nominally set in Australia there is little local colour and the poem could, for the most part, be set anywhere.
Stephens applied to the Board of Education and in 1870 began teaching at the Normal School in Brisbane. In December 1871 he resigned and returned to Tamrookum. In 1873 he returned to the Normal School but left in April to work as a tutor for Captain Sherwood on Unumgar station and then in 1874 he returned to teaching at Stanthorpe school.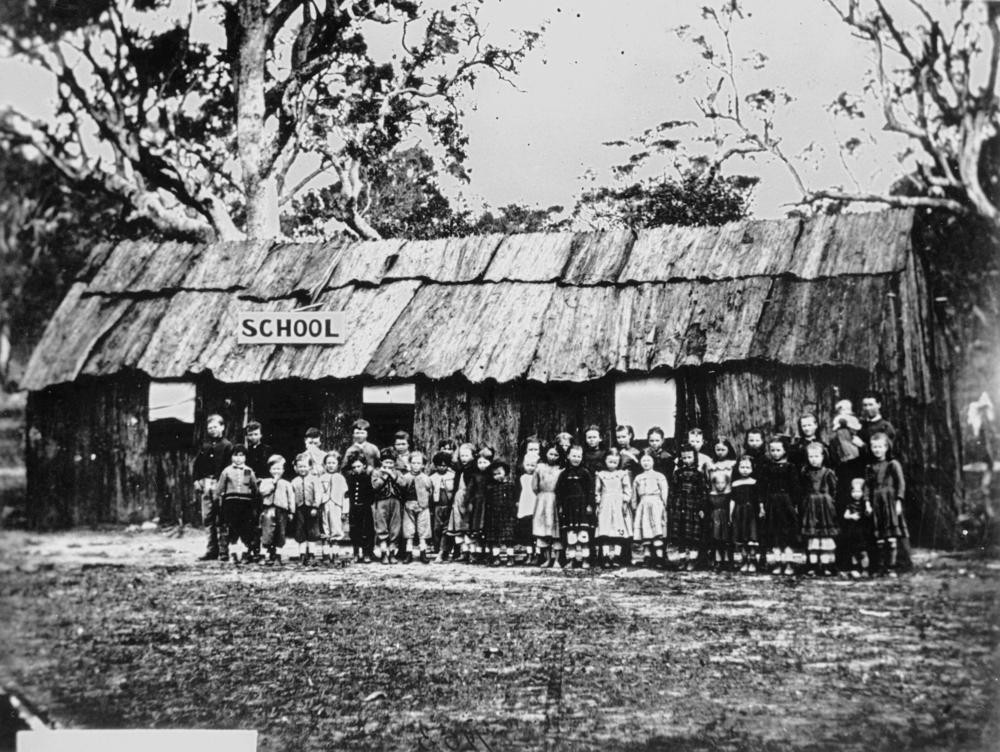 Stanthorpe's first school, ca. 1872
Stanthorpe's first school, ca. 1872
Cecil Hadgraft, in his biography of Brunton Stephens, suggests that this somewhat erratic career path may have been due to overindulgence in drink and that he went back to the bush to avoid temptation and indeed may have been forced to resign in 1873 due to his drinking. Despite these difficulties he was quite productive during these years with another long poem, The Godolphin Arabian, published in 1873 as well as a volume of shorter poems, The Black Gin and Other Poems. The unfortunate title of this last volume hints at a problem for the modern reader of Brunton Stephens in the entrenched racism of many of the poems. A number of his more humorous poems such as To a Black Gin, A Piccaninny and My Chinee Cook have overtly racist themes that raised no eyebrows at the time and indeed remained popular some decades into the 20th Century.
Stephens seems to have had a happy time in Stanthorpe and left behind the problems that had troubled him in Brisbane. Cecil Hadgraft quotes a letter from Stephens written in Stanthorpe in December 1875.
... I have now been fourteen months a Good Templar and considering that by heaven's help I have accomplished this without any aid of bush-seclusion or other than the solemn determination to piece together and make the most of the fragments of a broken life, I think I have good reason to believe that the enemy has lost hold of me, and that I am no longer a miserable exception among my fellows. I must confess that this closing year has been by far the happiest I have spent since I came to Australia. Not that I have done anything brilliant, or that I mean to bother my head about trying to do so. I have simply been carrying out the determination to be a respectable man, and now that I have accomplished it, both in reality and in repute, I would not exchange that result for the laureate's crown.
In 1876 Stephens returned to Brisbane to take up the position of headmaster at Ashgrove School and marry Rosalie Donaldson. His years at Ashgrove were relatively uneventful. He continued to write, and it was during this period that he wrote the first of his patriotic poems The Dominion of Australia (A Forecast) in which he looks forward to a united Australia. Indeed Stephens was an early champion of federation and wrote a number of poems on the theme including this Australian Anthem in 1890, for which State Library holds a score with music by R.T. Jefferies.
Australian anthem words by Brunton Stephens ; music by R. T. Jefferies
Australian anthem words by Brunton Stephens ; music by R. T. Jefferies
In 1883, apparently through the influence of the Governor's daughter, who was something of a fan, Brunton Stephens was appointed as a dispatch writer in the Colonial Secretary's Office and for the next 19 years worked as a devoted public servant. By 1898 he had risen to be Chief Clerk with an annual salary of £500. This was a considerable advance on what he had earned as a teacher. Even when he was headmaster his salary was only £150. With his new prosperity and respectability he bought a house in Water Street, South Brisbane (now Dorchester Street). After his death in 1902, his wife Rosalie continued to live in the house until her death in 1932. The Library holds a photograph of the house from around 1960 but sadly it has since been demolished.
House of James Brunton Stephens in Dorchester Street, Highgate Hill, ca. 1960
House of James Brunton Stephens in Dorchester Street, Highgate Hill, ca. 1960
Brunton Stephens was one of the founders of the Johnsonian Club in 1878. Formed in imitation of the The Literary Club established by Dr Samuel Johnson and Sir Joshua Reynolds in London in 1764, Brisbane's Johnsonian Club was the first of a number of such clubs established around the world. Established initially as a club for journalists and men of letters, in later years the club lost its literary connection and was dominated by the legal profession. In the early years the club had no permanent premises but operated in a succession of hired spaces. When a purpose built club was constructed, Stephens' Johnsonian Address was read at the inaugural dinner in 1899 and subsequently incorporated in the club rules. The poem refers to the club's former wandering status.
We, too, from shifting stage to shifting stage
Have plodded through our thirsty pilgrimage,
A tabernacular existence led,
(As our sonorous godsire would have said);
From well to well - at least from pub to pub-
we've humped the sacred Lares of the Club
Interior view of the Johnsonian Club, Brisbane, ca. 1910
Interior view of the Johnsonian Club, Brisbane, ca. 1910
James Brunton Stephens died in 1902 after suffering for some time with a heart condition. He had recently returned to work and seemed to be recovering well from his latest attack when he died suddenly. He left four daughters and a son who was at the time on active service in the South African war. His death was widely covered in the press around the country, such as this notice in the Brisbane Courier, 30 June 1902.
Australia suffers a great loss by the death of Brunton Stephens. It is not the departmental official who will be so much lamented, though he was in that sphere of much service to this State. It is not the man, even though he was whole-hearted in his charity and of sweet disposition. It is as the poet that he is known throughout Australia, the Australian poet of the widest appeal, and as such his death will be mourned.
The Johnsonian Club erected a handsome tombstone at the South Brisbane Cemetery for him.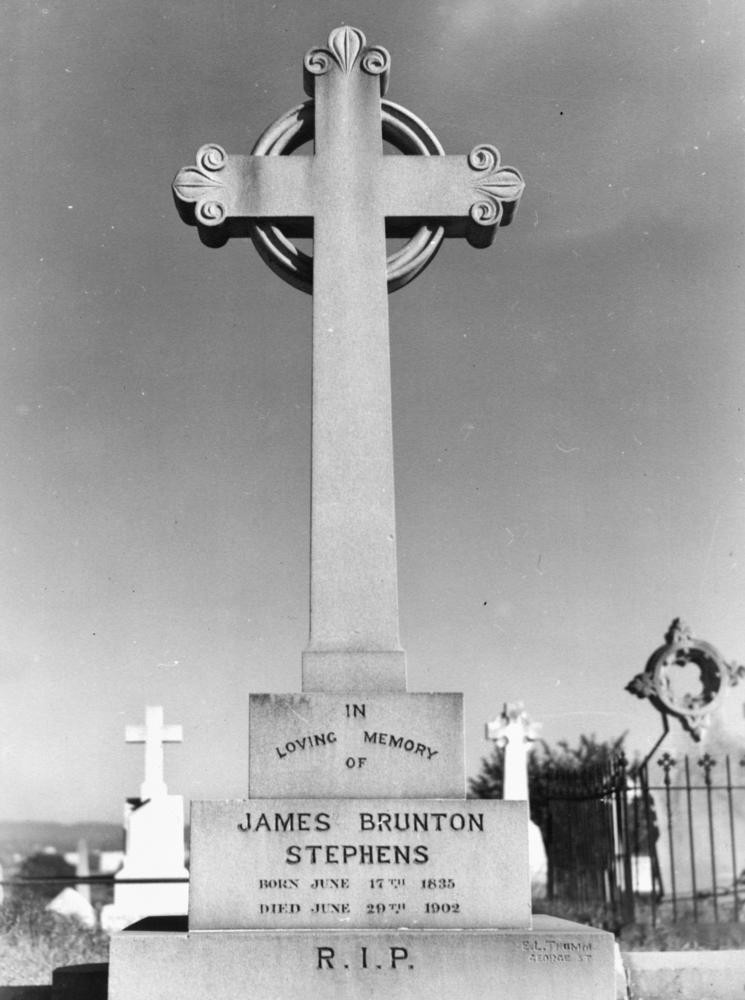 Tombstone of James Brunton Stephens, Dutton Park, Brisbane
Tombstone of James Brunton Stephens, Dutton Park, Brisbane
State Library holds a number of manuscripts and other papers relating to James Brunton Stephens including handwritten manuscripts and typescripts of various poems, manuscripts of a play called 'A Jubilee Pardon' and a comic opera 'Fayette'. Also in the collections are some letters and diaries and a reference, by Professor MacDougall of the Edinburgh University where Stephens was a student.
Simon Miller - Library Technician, State Library of Queensland
Comments
Your email address will not be published.
We welcome relevant, respectful comments.