Indigenous Languages Research Discovery Workshop 26-28 March
By JOL Admin | 15 May 2012
The State Library of Queensland recently hosted an Indigenous Languages Research Discovery Workshop from 26-28 March. The workshop was well-attended with 28 participants from across Queensland, including community language workers from the Torres Strait, Northern Peninsula Area, Cape York, North Queensland, Central Queensland, Fraser Coast and South-East Queensland.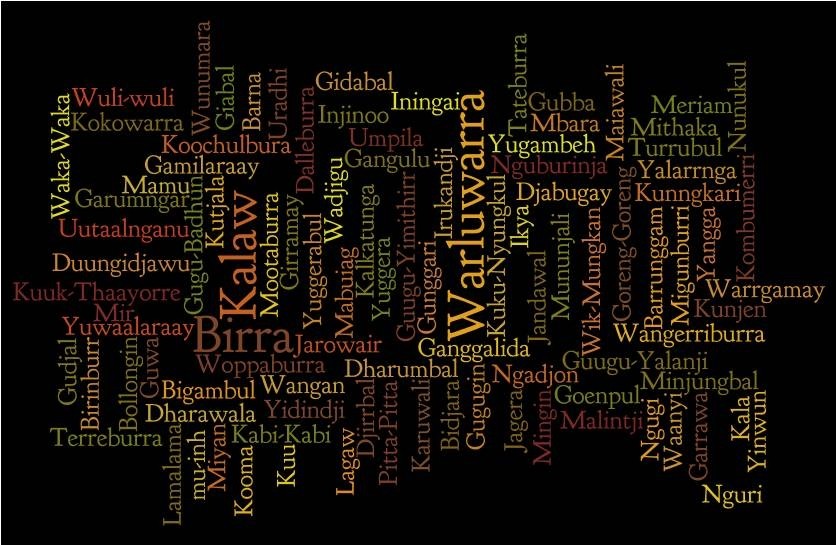 A wordle image showing the different languages of Queensland, including those researched at the workshop.
The purpose of the workshop was to provide information to Indigenous language workers so that they could help preserve or re-establish the language(s) of their communities. Australia has an unenviable reputation in the loss of language – a recent ABC Radio interview highlighted this situation and the need for urgent action in language preservation; further details at ABC Linguicide Blog.
As the group came from different communities all over Queensland, it was an excellent opportunity for participants to share information, ideas and experiences. There was a wealth of knowledge in the John Oxley Library Reading Room as individuals had great personal interest in languages and worked in schools, universities, museums, Indigenous Knowledge Centres and language centres. Several members of the group were language speakers and it was a wonderful experience to hear traditional languages spoken.
The majority of time was spent on language research activities with assistance from Queensland Memory (QM) staff. In addition to language-specific items in the collection, participants also sought information pertaining to family and community histories, notably the Tindale Collection and Indigenous Photographic collections.
Talisa and others at work researching the collections.
As the participants were actively engaged in community-based language activities, individuals tended to focus on their specific language(s) with a view to documenting and collecting additional language data. The number of languages being researched at the workshop numbered over 50 – many of these no longer spoken on a daily basis.
A page from a scrapbook in the Archibald Meston papers OM64-17/36 featuring the traditional names of Fernando Gonzales daughters.
Researching languages
Original Materials
Archibald Meston Notebooks: OM64-17 - A collection of press cuttings, notes, correspondence relating mainly to Aborigines in Queensland, in particular, to language.
Harriet Barlow Manuscript: OM91-69 – Manuscript contains information about the Aboriginal people of the Warrego and Maranoa regions.
Margaret Lawrie Collection of Torres Strait Islands Material: TR1791 – material collected by Margaret Lawrie from 1964-73 relating to Torres Strait Islander languages, histories, genealogies, cultures, customs, art, etc.
An extract from Harriet Barlow's Manuscript 'Vocabulary of Aboriginal Dialects of Queensland'
Dixon, R. (1972) The Dyirbal Language of North Queensland. J499.15 dix
Dixon, R. (1979) The Handbook of Australian Languages. J499.15 han
Haddon, A. (1898) Reports of the Cambridge Anthropological Expedition to Torres Strait. Vols. 1-6. Q994.38 cam
Holmer, N. (1983) Linguistic Survey of South-Eastern Queensland. J499.15 hol
Korrawinga Aboriginal Corporation (2004) Dictionary of the Butchulla Language. 499.15 2004
Lawrie, M. (1970) Myths and legends of Torres Strait. Q 398.2099438 myt
Mathew, J. and Keane, A. (2010) Two Representative Tribes of Queensland. J306.089991 MAT

Steele, J. G. (1984) Aboriginal Pathways in Southeast Queensland and the Richmond River. Q994.3102 ste
Terrill, A. (2002) Dharumbal: the language of Rockhampton, Australia. J499.15 ter
Thancoupie (2007) Thanakupi's guide to language and culture: a Thaynakwith dictionary. Q 305.899 THA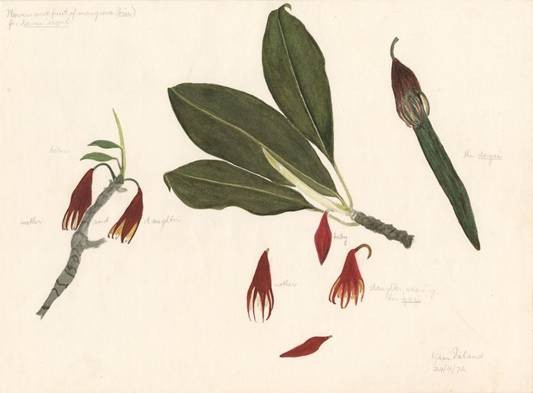 An image collected by Margaret Lawrie from the Torres Strait Islands.
For a full list of SLQ collection items and resources used at the workshop, please visit http://onesearch.slq.qld.gov.au and search for material under the "slq indigenous languages workshop" tag; or click this link Language Workshop Resources. Individual languages have also been 'tagged' to make it easier to locate items using OneSearch.
Highlights of the workshop
Pormpuraaw bilingual materials
Kuuk Thaayorre
Honey Bees by Tom Foote and Allen Hall. P A823.3 foo
Kuuk Thaayorre Dictionary by Tom Foote and Allen Hall. Q 499.153 foo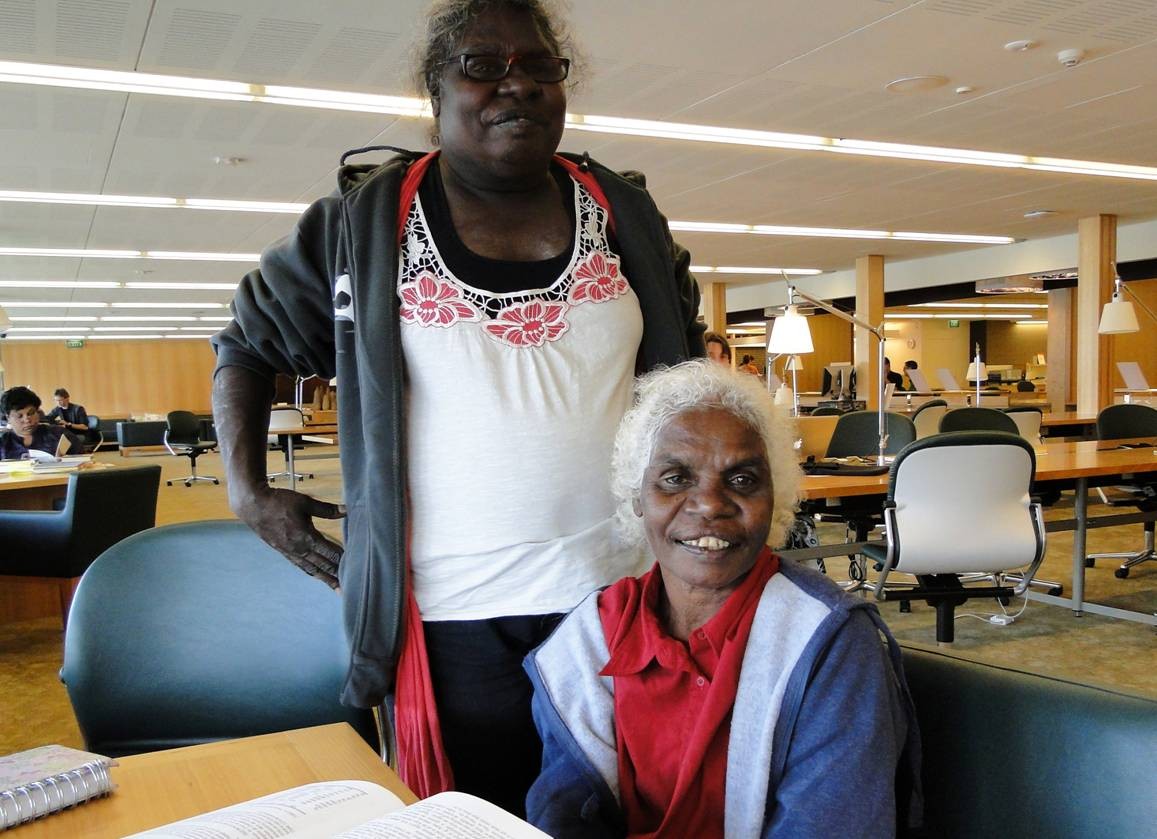 Rosie and Maggie from Pormpuraaw community on Western Cape York.
Jedda presenting Miromaa, a language software program.
Wujal Wujal Rap song/digital story – Norman and Sarah spoke about a clay animation workshop at Wujal Wujal that resulted in a rap song/video in the Kuku Yalanji language: http://vimeo.com/25371257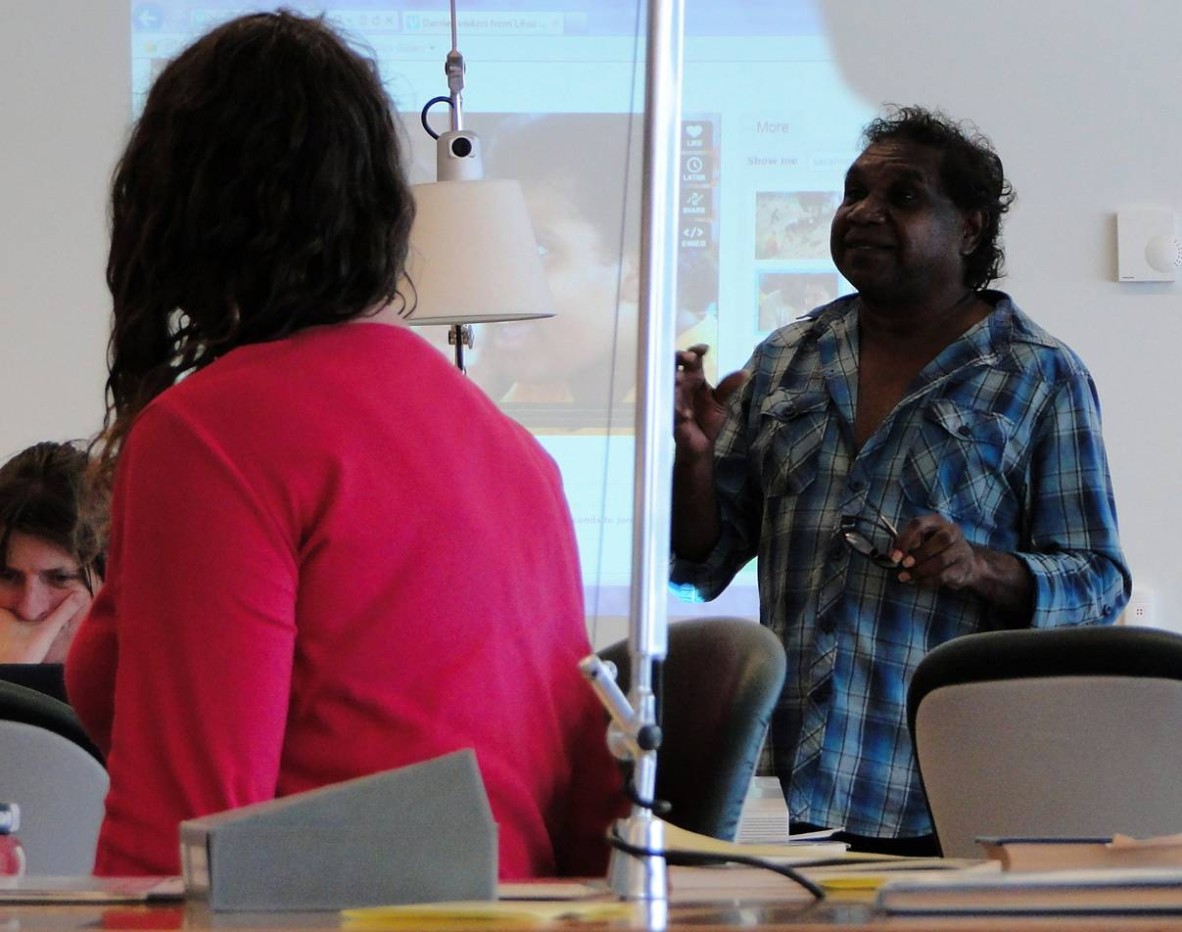 Norman Tayley showing the Wujal Wujal rap video
Tindale Genealogical Collection – Michael Aird gave an informative session on the photographs and other information collected by Tindale and Birdsell in the 1930's. The State Library of Queensland has copies of material relating to the Queensland Aboriginal communities; further details including indexes can be viewed at Norman Tindale Genealogical Collection
Michael Aird presenting a session on the Tindale Genealogical collection
Gambara Gamu Biyu – this interactive Body Chart features nine Aboriginal and Torres Strait Islander languages from across Queensland; it utilises the technology known as a language pen. These charts will be available in the Indigenous Knowledge Centres as well as selected public libraries from the nine language regions. Wordlists and other information on Gamburu Gamu Biyu can be found at the State Library of Queensland's Indigenous Language Resources webpage: www.slq.qld.gov.au/info/ind/languages/resources
Norman Tayley (Wujal Wujal) and Jenny Warrack (North Queensland Regional Aboriginal Corporation Language Centre)
All in all, it was a very informative three days with lots of networking and sharing of language ideas – the workshop and the language journeys of participants were documented through a digital story. There are two versions of the digital story; a two-minute snapshot and the full seven-minute story; both versions are viewable on the SLQ Vimeo Channel.
http://vimeo.com/40637189
Something to think about
What is the name of your local language group?
Do you know any Aboriginal or Torres Strait Islander words?
Are there any Aboriginal or Torres Strait Islander place names in your community, town or suburb?
Indigenous languages map
State Library of Queensland Indigenous languages of Queensland Map
As part of the State Library's Indigenous Languages Strategy, we value programs like these so that we can gain share the collections but also link with the knowledge found in community. Please feel free to comment on this blog if you have any further information, ideas, feedback or experiences relating to Indigenous languages.
Des. Crump and Gemma Hayes
This initiative was supported by funding from the Australian Government Department of Prime Minister and Cabinet, Office of The Arts to support the documentation and promotion of Indigenous Languages.
Comments
Your email address will not be published.
We welcome relevant, respectful comments.