The Immigrant's Journey to Australia
By JOL Admin | 8 August 2009
The John Oxley Library collection includes an extensive range of material relating to immigration and ships, particularly 19th century immigration vessels associated with the history of Queensland.
The collection consists of photographs, newspaper cuttings, published histories, shipboard newspapers, immigration records and original shipboard diaries. Original materials are listed on the State Library's One Search catalogue at: http://onesearch.slq.qld.gov.au/.
Try typing "William Smith" into Manuscripts Queensland and see an example of one of these diaries that has been fully digitised from an 1864 voyage to Australia on the ship "Young Australia".
 William Smith Diary 1864  The Young Australia
You can also type the words "Young Australia" into our Onesearch catalogue to discover photographs of the ship and published accounts of this particular voyage: http://onesearch.slq.qld.gov.au/action/search.do?vid=SLQ&reset_config=true
On Friday 7 August a seminar including speakers from the Queensland State Archives and the State Library of Queensland's Reference Library and John Oxley Library was held in auditorium 1 at the State Library of Queensland.
 Stephanie Ryan, Senior Family History Librarian.
Senior Family History Librarian Stephanie Ryan provided an excellent overview of the resources held in the State Reference Library and focused on why people decided to start a new life in Australia and what it was like on the voyage out. Information Guides such as Immigration and Shipping: getting started and Immigration and Shipping: more than lists are available on the State Library's website at: /research-collections/family-history/family-history-research-guides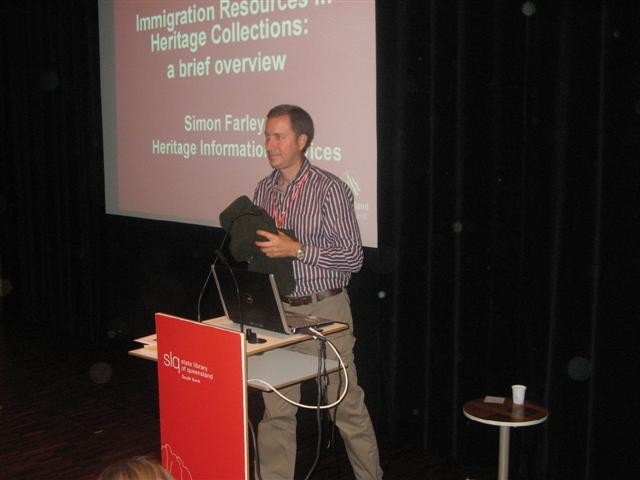 Simon Farley, John Oxley Library.
Simon Farley highlighted the rich array of resources held in the John Oxley Library collection including original shipboard journals, shipping registers, and hundreds of photographs of ships and immigrants. The audience were interested to hear excerpts from a number of these original diaries.
 Louise Howard, Queensland State Archives.
Louise Howard from the Queensland State Archives concentrated on the fascinating public records held at QSA including immigrant's files, photographs of new arrivals while at the immigration depot, and letters to government authorities relating to conditions on board ship during voyages to Queensland. The State Archives have a Brief Guide on this topic at: http://www.archives.qld.gov.au/downloads/BriefGuides/BG16Immigration.pdf.
Many thanks to the presenters and all who attended this interesting seminar.
Comments
Your email address will not be published.
We welcome relevant, respectful comments.