"If it isn't in the Longreach Leader, it hasn't happened"
By Guest blogger: Tony Brett Young, writer | 20 September 2019
My Aunt Thora gave it the rather dismissive description 'The Two Minute Silence'. That's how long she reckoned it took to read the Longreach Leader, the weekly newspaper that has circulated through a wide area of the central Queensland outback for almost 100 years. Mind you, my Aunt Thora lived in Barcaldine, 67 miles down the road from Longreach, and she always believed the Leader didn't give enough coverage to Barcy affairs.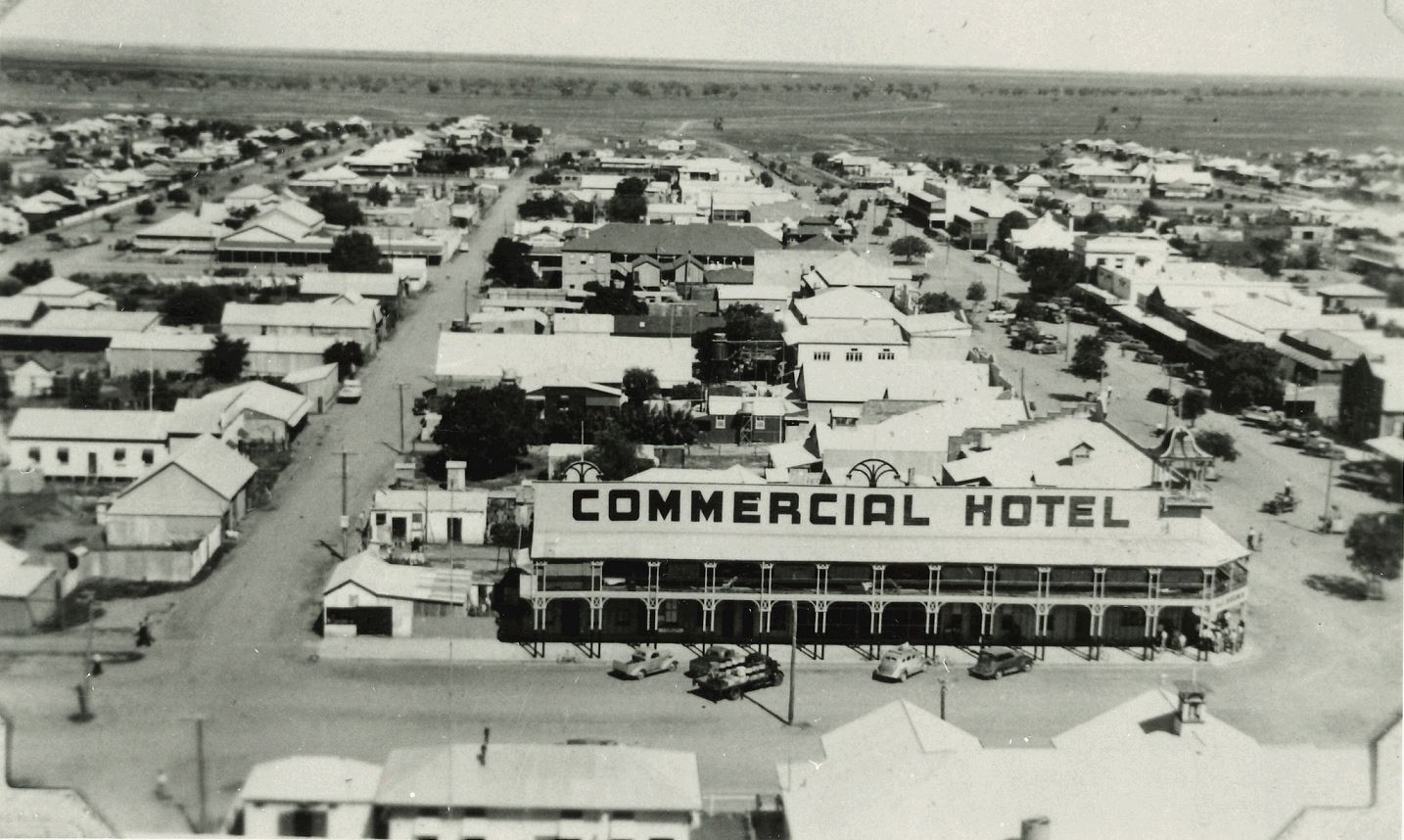 View of Longreach, ca.1950. John Oxley Library, State Library of Queensland. Neg 157497
I'm talking about the early 1950s when my family lived in Longreach, and the Leader was the region's main news and advertising outlet. As I grew up, I came to love our local paper, an early pointer to my future, a lifelong career in media. In its own way the paper painted a comprehensive picture of those outback towns and their proud communities – towns such as Barcaldine, Blackall, Aramac and Muttaburra – through its reporting: of local council affairs, police and the courts, of school events, through its social columns, and of the local churches and the CWA; and through its rather clunky advertisements, the small ads and its notices.

Longreach Leader banner from 20 February 1953
There was a section for the 'man on the land' with information about wool yields and prices, about sheep blight and rainfalls. There was a memorable headline which seemed to incorporate two of the most significant interests for Aussie bushmen – rain and betting: 'Rain chances within three months improve to even money'.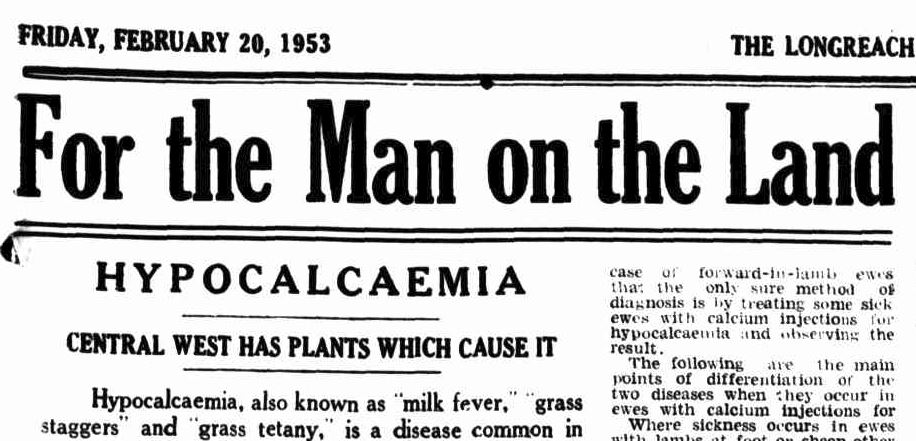 'For the Man on the Land' column in the Longreach Leader, 20 February 1953, p.23
There was also another section, 'Mainly for Women', the style of which would be frowned on today. It carried tips for cooking and sewing and dressmaking. And of course I was a regular reader of Uncle Peter's rather formal 'Children's Corner'. He rather quaintly referred to us readers as 'Cornerites'.
'Mainly for Women' column in the Longreach Leader, 19 March 1954, p.4
It seemed from the Leader that much of Longreach life was focused on the town's Shire Hall. The Council did its business and held its meetings there of course, but it was also the venue for balls, fancy dress events, fetes, receptions for visiting dignitaries, school concerts, and when the Roxy Cinema burnt down, for films. The Leader would report council plans for extensions of the local sewage system, decisions about road improvements, its library services and so on – all the activities which are important to local people. And the Council would use the Leader for important notices. For example it would occasionally publish a blacklist of names of landowners who had not paid their rates. There was the stark warning that their land would be sold if the outstanding dues were not repaid by a certain date.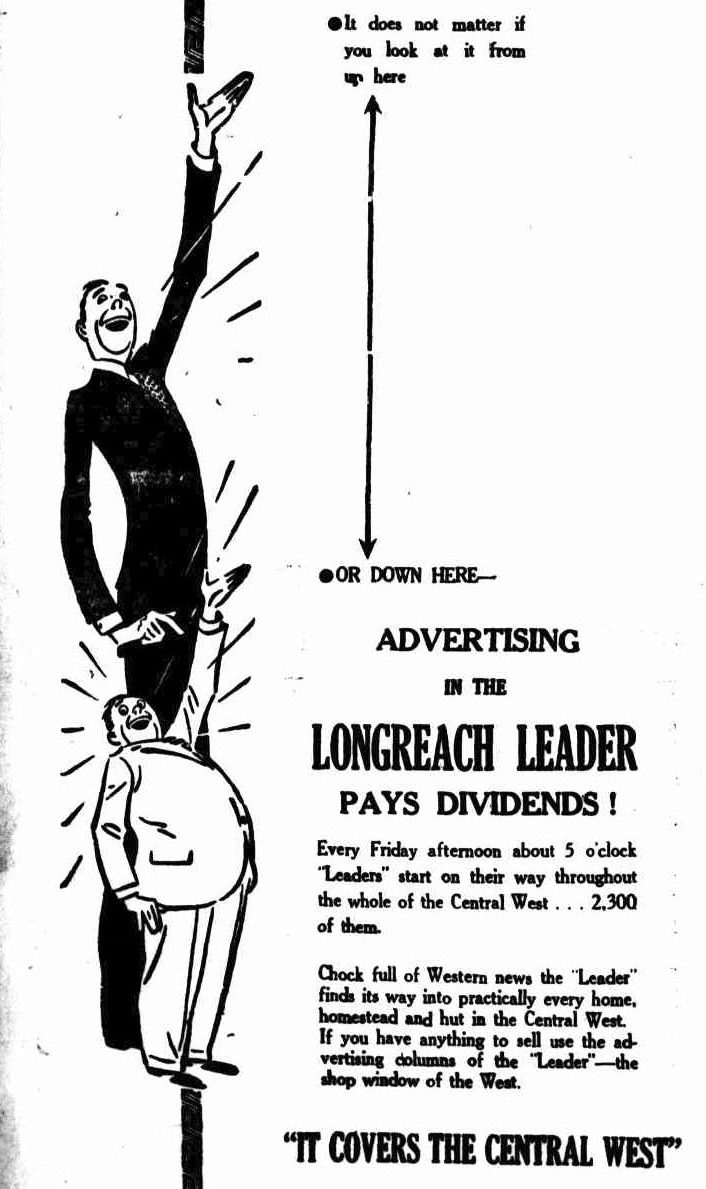 Longreach Leader advertisement, 10 October 1952, p.2
But of course the town's shops and businesses were central to the local economy, and the Leader reflected this with its advertisements for a range of local outlets from around the region. There was the usual mix of stock and station agents such as Dalgety, machinery merchants like Winchcombe Carson, and local pubs including the Imperial and Commercial. Then there was 'the house for hardware', Meacham and Leyland, Comino's Cool Comfortable Central Café where you could always 'enjoy a cold drink', and Mynette Salon, run by the kindly Mrs Coar where you could buy "teenage frocks in plain, waffle and floral nylon…".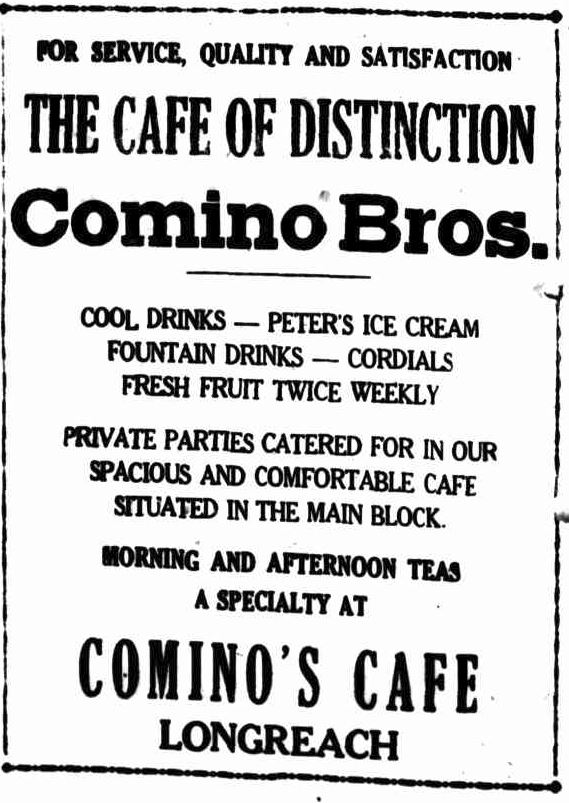 Advertisement for Comino's Cafe published in the Longreach Leader, 19 May 1950, p.20
Sport played a big part in the Leader's coverage with details of the many local race meetings – previews and results - but also of national racing events such as the Melbourne and Caulfield Cups. I remember a big fuss being made in 1953 of a visit to Longreach by the so-called Yankee All-Stars Rugby League team who came to play a Central Western side. This was part of a trailblazing attempt to try to make Americans aware of Rugby League, but the tour ended in something of a disaster. None of the 22 tourists had played the game before and it showed. In 18 matches in Australia, the All Stars won just three, lost 13 and drew two. The Central Western side was also too good for the Yankees and in front of a big crowd at the Longreach Showground the visitors were easily defeated.
The Leader didn't just confine itself to the big sporting occasions. It faithfully reported school events, such as cricket matches. There was one memorable match between the Reds and the Blues when a boy called Rossberg took eight wickets for his team, including four in four balls. The Leader confessed it did not have the full bowling analysis for Rossberg.
Not a lot escaped the beady-eyes of the Leader's reporters, both staff and its network of correspondents. The Personal columns would report in detail on the comings and goings of local people, those who had been on holiday and where they had been, visitors who had come from the 'big smoke' to stay with family and friends, and those who had come for Show Week. You would even be given an indication of the comparative affluence of visitors and locals as the reports told how they had travelled, by car, train or plane.
Then there were the small ads that covered every topic from staff vacancies to church services, from house sales to entertainment events. Particularly forbidding were those notices to trespassers, mainly placed by local graziers: "Warning! Trespassers on this and surrounding sheep properties, or those interfering with stock, will be prosecuted without respect of person or persons." And the final threat: "No excuses accepted."
As an avid reader of the Leader, I was particularly thrilled on one occasion to see my name published, as the winner of the school fancy dress competition. I went as Atlas, the mythological Titan who held the world on his shoulders. I carried a globe and was dressed in leopard-skin swimming trunks borrowed from a family friend. It was the idea of my father, who had been educated in the classics in England. I suppose Atlas was a change for the judges from the usual fancy dress parade of cowboys and Mexicans. On reflection, it's fortunate the Leader did not publish a photograph of my winning outfit. In another year (also at the suggestion of my Dad), my brother, a friend and I went as the three wise monkeys – 'Speak no evil, see no evil, hear no evil.' We won first prize for that as well, but I can't remember if it made the paper that year.
On occasions, the Longreach Leader could be saucy. I remember one story – with no real local angle to justify its inclusion – about Antarctic humpback whales swimming north and 'making love off the West Australian coast'. That was certainly bold stuff for the '50s.
Yes, there was always lots to read in the Leader, in spite of my Aunt Thora's description of it as the 'two minute silence'. I think secretly she actually loved it, and on one occasion I remember her saying: "If it isn't in the Leader, it hasn't happened." Long after she'd left Barcaldine having retired to Toowoomba, she would continue to subscribe every week to the Longreach Leader. And after reading them from front to back she would place them in a pile ready for the regular visits of her son, Rob, from Sydney. I suspect it was just to make sure he remembered where he came from, and didn't become too superior about his life in the big city.
Tony Brett Young
The Longreach Leader newspaper is available to search online between 1923 and 1954 via Troveopen_in_new. Editions from 1923 to current day are also available on microfilm and hardcopy at State Library of Queensland.
Further reading from Tony Brett Young
Comments
Your email address will not be published.
We welcome relevant, respectful comments.