Ida Maria Axelson - a Post War Connection to Central Queensland
By JOL Admin | 4 May 2015
Guest blogger: Ashley Reid - Vice President, Rockhampton Country Hospital Museum.
Ida Maria Axelson
Several nurses returning from service in "The Great War" made Central Queensland their home. Included in this group was Ida Maria Axelson.
Miss Axelson was born in Maryborough Queensland in 1878, one of six girls, all of whom were nurses. After completing her General Nurse training in Maryborough and her midwifery training in Melbourne she went on to work in various hospitals in Brisbane.
In June 1915 aged 37 she enlisted as an AANS Sister and embarked for overseas on service HMRT "Orsova" in July of the same year. Until her return to Australia and subsequent discharge in September 1918, Sister Axelson served aboard "Kanowna" making 9 voyages from the Middle East to bring wounded soldiers back to Australia.
On returning to Queensland she was appointed Matron of St. Helen's Private Hospital in Brisbane, previously located where the Gallery of Modern Art now stands.
In August 1919 Miss Axelson was appointed Nursing Superintendent of the newly built and opened sixty four bed Westwood Sanatorium, fifty kilometres South West of Rockhampton. The sanatorium was built by the Mount Morgan Mine to treat miners suffering from Miners Phthisis, a lung disease acquired by working in dusty conditions. With a population of 16,000 many men in Mount Morgan worked as miners in the underground Mount Morgan gold, silver and copper mine thirty eight kilometres South West of Rockhampton.
Ida's sister Clara, who had worked for 22 years at the Diamantina Hospital in Brisbane, soon joined her sister at Westwood where Ida went on to work until August of 1923.
Never marrying, Ida in later years moved to live with her father in Brisbane and died there in 1967.
A photograph taken in the early 1920s and held in the Rockhampton Country Hospital Museum archive shows Nursing Superintendent Axelson with patients and nursing staff at Westwood Sanatorium.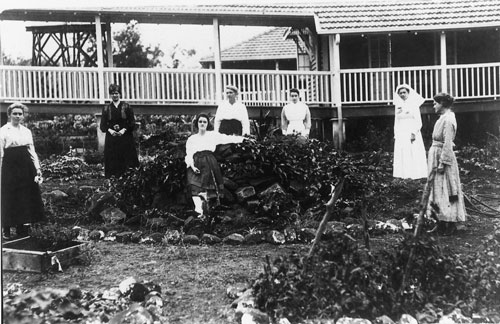 Nursing Superintendent Axelson (second from right) with nursing staff and patients, Westwood Sanitorium, 1920s
Nursing Superintendent Axelson (second from right) with nursing staff and patients, Westwood Sanitorium, 1920s
Central Queensland Nurses. Who Were They?
How could a small museum located within the Rockhampton Heritage Village contribute to the Q ANZAC 100 Project? As part of the Australian Country Hospital Heritage Association, Inc., the Rockhampton Country Hospital Museum decided to identify and honour nurses who trained at local hospitals, enlisted and served in WW1.
Who were they? Where did they serve? What Awards and Decorations did they receive? What stories did they write home? What of their life Post War?
These questions resulted in a year long search for answers. The research area was limited from Rockhampton to Gladstone and included Mount Morgan.
Soon the names added to a list became "REAL PEOPLE" as stories of their experiences were uncovered. The need now was to find evidence.
The names of thirty two nurses have been found to date. Eighteen training at Rockhampton General Hospital, six from the Mount Morgan Hospital, five from the Rockhampton Children's Hospital, two who completed midwifery at the Rockhampton Women's Hospital and one from the Gladstone Hospital.
The search continues and any additional information on these or as yet unfound local nurses would be gratefully received by our committee.
Email: ashleyreid@outlook.com
Comments
Your email address will not be published.
We welcome relevant, respectful comments.