Hughenden – a Flinders Historical photographic project
By JOL Admin | 7 February 2014
Aerial view Hughenden, 1925
While searching Trove (NLA) for content I stumbled across the Flinders Shire Historical Photographic Project
The project involved the Hughenden District Historical Society, the community and Flinders Shire Council working together to assemble a collection of more than 1,000 images showcasing the district, early settlement, people, industry, businesses, buildings and events. Sponsored by a Regional Arts Development grant, the funding enabled project research and detailed descriptions, verifying the contents of each image were accurate.
Members of the Elliott family drive across the 5 mile grid on Muttaburra Road, Hughenden c 1900 -1920
The result is a magnificent collection of early images of Hughenden and district assembled in the one place able to searched by theme, tag or decade.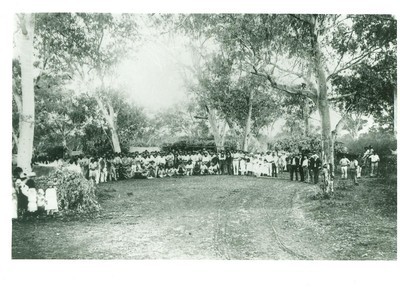 Families gather together during the Shearers strike of 1891, near Hughenden
Even the families of the Shearers Strike of 1891 are represented in the collection, but what is particularly poignant is the image of the tree blaze marking the location of the Shearers camp somewhere on the banks of the Flinders River, Hughenden. The tree was destroyed in a fire in 1944.
The digital images are truly worth sharing! State Library of Queensland has a collection of more than 1.5 million images in the John Oxley with approximately 70,000 of them digitised for wider access, including 200 or more images of Hughenden and district.
Anne Scheu - Collections Engagement, State Library of Queensland
Comments
Your email address will not be published.
We welcome relevant, respectful comments.