Howzat! Priceless cricket memorabilia discovered in 1920s Pugh's Almanac
By JOL Admin | 22 July 2013
Disappointed in Australia's Ashes performance so far? So am I...although our Ashton Agar's brilliant knock in the 1st Test was at least one great revelation.
Another fantastic Ashes discovery occured last week. I thought I'd share with you:
My father's friend Phil Imison had lent him a 1922 edition of Pugh's Almanac to show him the businesses that were operating at the time in the Central Western Queensland town of Blackall. This annual publication, founded by Theophilus Parsons Pugh, provided information for Queenslanders about the events of the previous year. It also included several directories of commercial and non-commercial organisations as well as the usual sundry facts and figures that you find in almanacs including phases of the moon etc. It was published from 1859-1927. The 1862 edition contains the great engraver Thomas Ham's map of Queensland. This was the first map produced in the colony to be engraved, printed and coloured by the process of chromo-lithography.
The John Oxley Library holds a complete set of Pugh's Almanac and a host of other Queensland almanacs that we are currently digitising, including Slater's Qld Almanac, the Western Champion Almanac and Yearbook, Willmett's North Queensland Almanac Directory, Groom's Darling Downs Book Almanac, Blake's Central Queensland Almanac and many more.
My mother took Phil's old and decaying tome into work to show her colleagues at Griffith University. They were all quite interested to have a look at the curiosity. Mum's friend and workmate Helen Blessing, a self confessed cricket tragic, was carefully turning the book's yellow and brittle pages when she came across something amazing that it's owner was not yet aware of...signatures of the Austalian and English cricket teams from the time of England's hugely successful Ashes Tour of Australia in 1928/29.
Then, as now, the news was not good for Australia. England won the series 4-1 -which included a mammoth 675-run victory in the First Test at Brisbane, where 20-year-old Don Bradman made his debut for Australia. Bradman scored just 18 and 1. He would be dropped for the next Test. The real star of the tour was 25-year-old Gloucestershire batsman Walter Hammond, who scored double centuries at Sydney and Melbourne. In five consecutive Test innings he scored an incredible 779 runs.
Two of the Australian team signatures are of Queenslanders Ron Oxenham and Percy Hornibrook. Read more about the 1928/29 Ashes series here.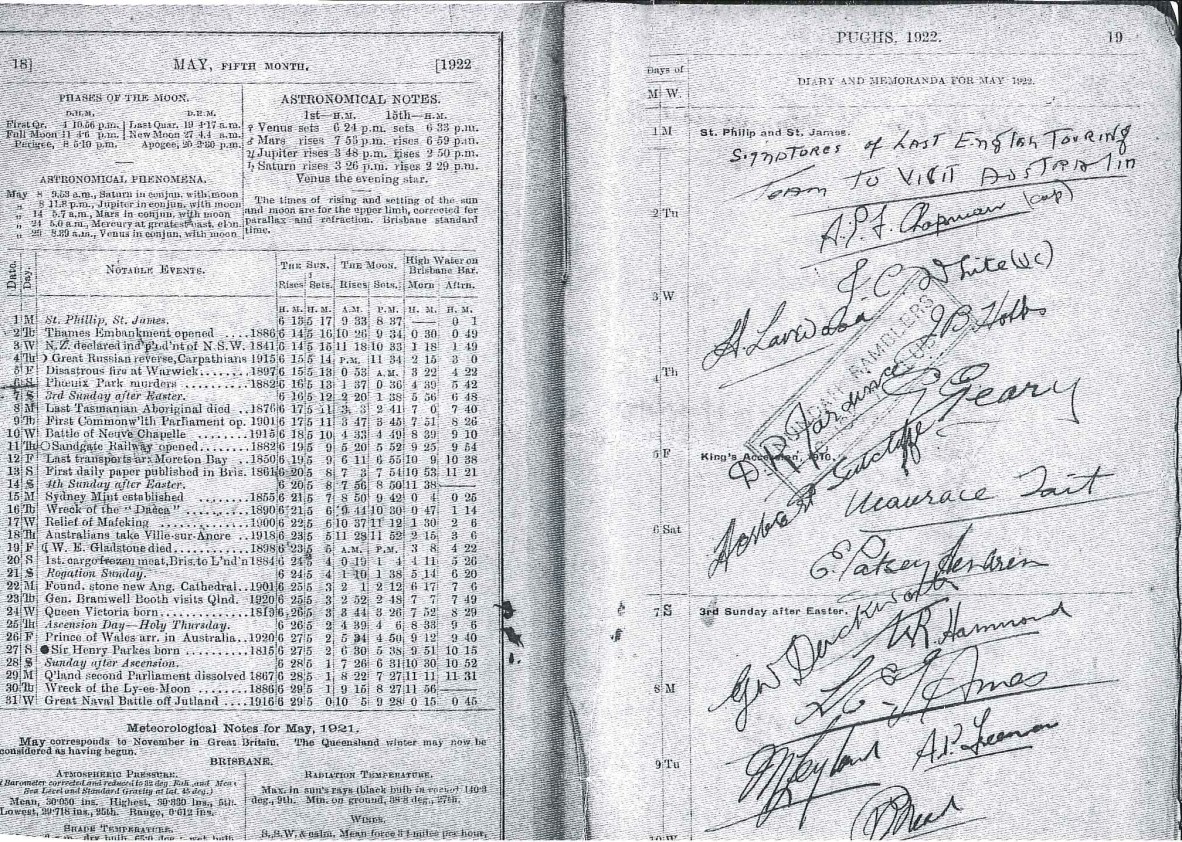 Phil's uncle Ted, who always said he was one year younger than Bradman when asked his age, was a member of the Nundah Ramblers Cricket Club. He had attended the Fifth Test and collected the signatures in the club's copy of Pugh's Almanac from 1922. The Almanac had been in his Phil's mother's shed until she recently moved into a retirement home.
Simon Farley
Manager, Arts Portfolio, State Library of Queensland
Comments
Your email address will not be published.
We welcome relevant, respectful comments.