The House of Winston Blaker : business front and centre in a 1947 novel
By Simon Miller, Library Technician, State Library of Queensland | 26 July 2013
Last month State Library hosted a fascinating symposium on Navigating our business history. Generally sources for discovering the histories of commercial enterprises consist of official histories commissioned by businesses to commemorate significant anniversaries or dry collections of papers that no doubt contain much useful and interesting information but can only hint at the personal stories behind the successes and failures of the businesses involved. Sometimes works of fiction can provide a different kind of insight into history.
Trams and other vehicles on East Street, Rockhampton, 1923, John Oxley Library, State Library of Queensland Neg: 167977
The house of Winston Blaker : a novel of Queensland was written by Rockhampton born author Edith McKay. The novel is set in the fictional central Queensland town of Claxton, closely based on Rockhampton, in the late 1930s. The central character, Winston Blaker, is a businessman. Overcoming impoverished circumstances, Blaker has built up a drapery business until he owns the biggest and most modern commercial enterprise in town. Three stories of the finest in up-to-date retailing practice capped by a popular rooftop terrace and cafe. Blaker has built up his business using every advertising gimmick and publicity strategy that he can think of. His modern flashy store is contrasted with the very traditional Graves and Sons.
Before the advent of Blaker's, Graves and Sons' had been the store in Claxton. To conservative people it still was. It was a store of refinement and distinction. It didn't believe in vulgar advertisements, or flaunting offers, or catch-penny bargains. Graves and Sons' had the goods and sold them, displaying nothing cheap or shoddy. Whereas Wins Blaker was always having sales, Graves and Sons' had but two a year - summer and winter - and the public could depend on getting value for its money.
Shop interior at Rockhampton, Queensland. 1910-1920, John Oxley Library, State Library of Queensland Neg: 124151
The novel is essentially a family drama. One of the key themes of the novel is the relationship, fraught with difficulties, between Blaker's oldest daughter Peta and Graves' youngest son Hugh. Peta shares her fathers enthusiasm for business and, in the absence of a Blaker son to take over, has been promised a partnership when she turns twenty-one. Hugh is forced to give up his job as a sales representative for a wholesale company when Win Blaker picks a quarrel with him and he can no longer represent the company with the towns biggest buyer. In the meantime Win Blaker's restlessness leads him to undertake a buying trip to Sydney. On the steamer south he meets a sophisticated and much traveled woman who first becomes his business partner in a small salon in Sydney and later, his mistress.
Blaker starts spending a lot of time away in Sydney and in the mean time Hugh Graves, financed by his older brother, starts a cheap cash-and-carry business which draws customers to the end of the street occupied by Graves and Sons' and takes trade away from Blaker's. The increased business at Graves and Sons' allows the younger Graves to persuade their father that they should modernise and enlarge their shop. With business falling off at Blakers' and the re-opening of Graves and Sons' looming, Peta writes to her father to ask him to come home and save the business. Blaker realises that the situation is becoming dire and hits on a strategy to upstage his rivals. Old Mr Graves and his oldest son Monty arrive at the shop for the grand reopening to find the streets thronging with people but soon realise that something is amiss.
Already the band was there, the brass instruments shining in the sun, the scarlet on the uniforms making a splash of gay colour. The caterers were at work rattling cups and glasses in the marquee at the back, and each incoming bus and tram pulled up to disgorge its load of eager humanity.
But there was something about the massed throng that Monty and Mr. Graves didn't understand. Something that sent quick doubt mounting in each of them. Why were the crowds moving in the one direction, and why were they moving away from Graves and up the street to Blaker's?
Monty drove the car round to the back. Mr. Graves, the furled umbrella on his arm, walked through the amused crowd, which parted to make way for him, like the sea rolling back before Moses.
It was then that he saw the huge footmarks, leading from the door of Graves and Sons' shop up one side of the pavement, across the street, and futher on towards Blaker's, the imprints startling white and unmistakable. They were great, splaying footprints that read: Follow the footprints to Blakers, All feet lead to Blakers. Along the middle of the street, Hans and another sandwich man paraded, flaunting the announcements: COUNTER-ATTRACTION AT BLAKER'S ; FOLLOW THE CROWD TO BLAKER'S AND TAKE PART IN THE BIG SURPRISE.
Mr. Graves stood petrified. It took a moment for the meaning of the footprints to dawn fully on him, then anger, slow and terrible mounted in him. For the first time in his life he allowed it to over-ride dignity. without hesitation, he strode up the street to Blaker's store - tall, sparse and quivering with rage. Wins Blaker was standing at the door, where the footsteps entered and ended, his hat pushed to the back of his head, the flaunting invitations plastered on hoardings outside the windows. GRAND OPENING OF BLAKER'S BASEMENT STORE. NOTHING OVER A SHILLING, AND TO-DAY EVERYTHING GIVEN AWAY.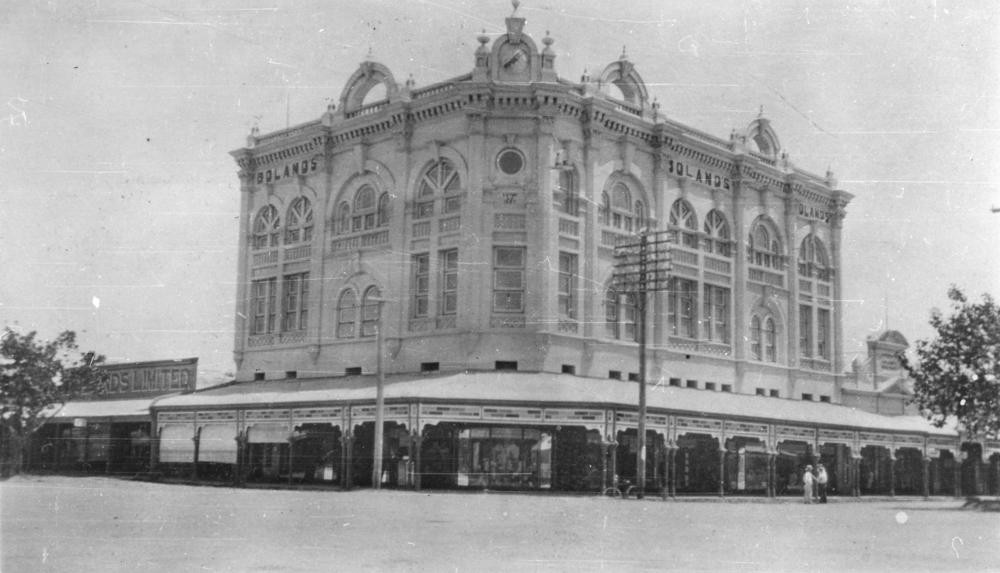 Bolands' Limited in Cairns, ca. 1928, John Oxley Library, State Library of Queensland Neg: 27731
Blaker's ascendancy is restored and buoyed by his triumph he decides to take a long trip overseas. His wife declines to accompany him and he takes his mistress on his year long jaunt through Europe. On his return he unwisely installs his mistress in a house in Claxton. He runs for Mayor but when unstoppable rumours circulate about the mysterious Mrs Vivers, and Blaker's relationship to her his campaign is derailed. He not only loses the mayoral race but his customers begin to desert him. He has badly misjudged the power of small town moral outrage and his business is destroyed. Peta demands the share of the business promised to her and promptly uses the money to marry Hugh Graves and rebuild Graves' shop which has burnt down, killing old Mr Graves. Blaker's business goes from bad to worse. He is forced to move into smaller premises and eventually to close the drapery business altogether. His mistress leaves him, being unable to face renewed poverty, and he is reduced to running a small corner store and living in a room over the shop.
The real Rockhampton retailers James Stewart & Co. suffered no such disasters. Founded in 1862, the company continues to serve the citizens of Rockhampton to this day. The company was founded by Scottsman, James Stewart who later brought out his brother-in-law Robert Macfarlane to join him. Five generations of Macfarlanes have since been involved in the running of the store which became a limited liability company in 1916. After initally renting premises, Steward built a shop in 1864, known as Criterion House on the corner of East and Denham Streets, Rockhampton which is still operating on the same site today.
East Street in Rockhampton, ca. 1887, John Oxley Library, State Library of Queensland Image number: APO-049-0001-0009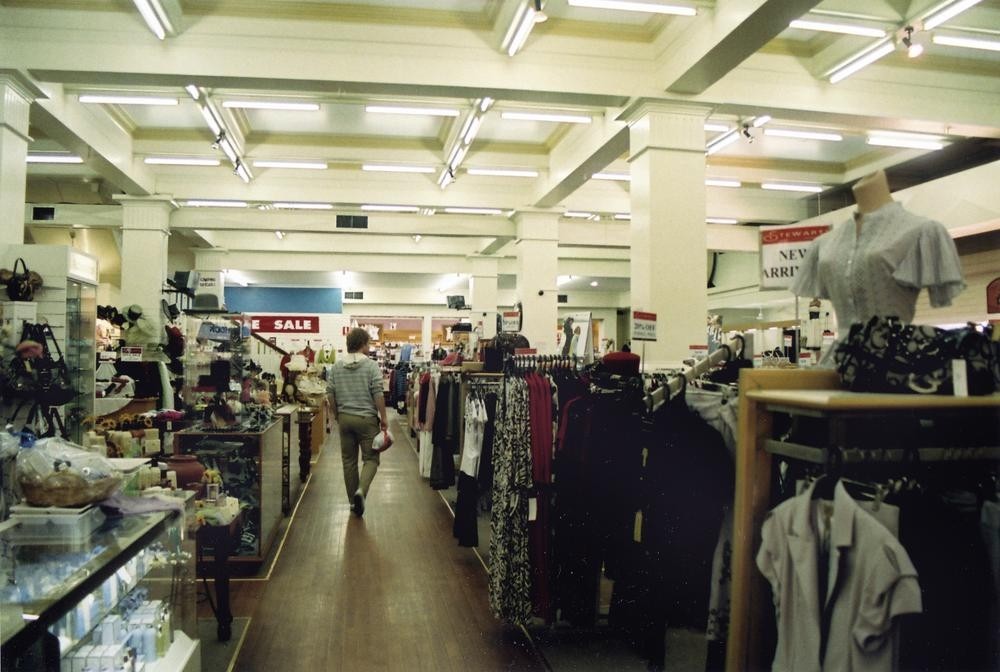 Internal view of Stewart's Department Store, Rockhampton, 2007, John Oxley Library, State Library of Queensland Image number: 7483-0001-0059
The original building from 1864 was replaced in 1927, reopening in 1928. I was particularly struck by this rather poetic description of the brass vacuum tube system installed to carry cash around the building, the Lamson Pneumatic Tube Cash Carrying System.
The pipes burst through the office wall of the Corner Block taking a graceful forty-five degree bend before running down the face of the office wall like the windpipes of a pipe organ in a majestic cathedral. Each pipe had a patina with the colour tapering up the brightness scale to a quite gleaming radiance at its destination. The overhead lights that were powered by the firm's own dynamo caused reflections to bounce from the patina on the tubes in such a way as to impart a slightly surreal ambience.
These pipes, as they reached their destination, each found their way into a finely worked embossed brass collar. The collar in turn was connected to a beautifully tooled, deliciously ornate brass mouthpiece complete with a piece of burnished leather which hung on its spring loaded clapper like the tongue of a great St. Bernard dog. This sculptured work of art, some 120mm or so long, did not just stop like the end of a railway line at its set of buffers.
No! At a suitable and aesthetically pleasing angle, just before reaching the cashier's desktop, the mouthpiece curved gracefully upward into a section that had, for all the world, the appearance of Cinderella's open topped glass slipper, even down to the 5mm brass rod heel, which supported it.
They just don't make shop fittings like that any more.
Winston Blaker would not have had much chance to join the Queensland Business Leaders Hall of Fame but congratulations are due to the 2013 inductees Charles Chauvel OBE, Paula Stafford OAM, The Brett Family, QUF, Mackay Sugar, and the Queensland Country Women's Association (who celebrated their 90th anniversary last year).
Simon Miller - Library Technician, State Library of Queensland
Comments
Your email address will not be published.
We welcome relevant, respectful comments.