History the Winner at State Library Awards in Q150 Year
By JOL Admin | 12 June 2009
On Friday 5 June Premier and Minister for the Arts Anna Bligh announced three leading historians and the University of Queensland as the winners of the prestigious State Library of Queensland (SLQ) Awards.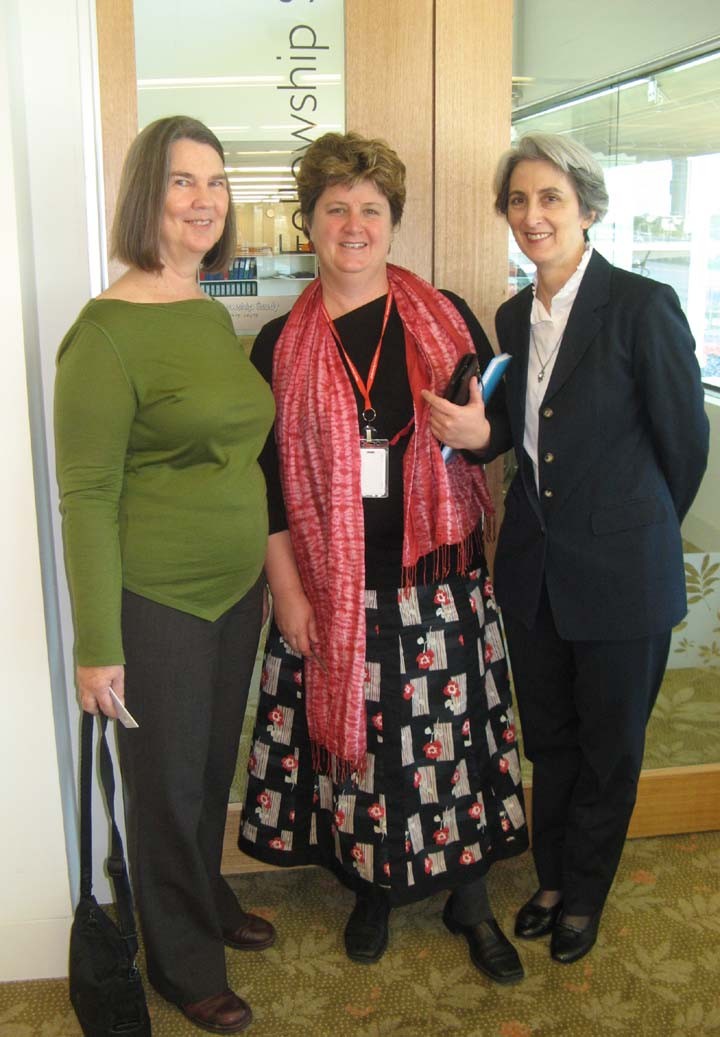 New John Oxley Library Fellows Susan Addison (left) and Dr Judith McKay (right) with Executive Manager of Heritage Collections Louise Denoon.
The John Oxley Library Fellows receive their award from Her Excellency, Ms Penelope Wensley, Governor of Queensland at the State Library of Queensland Awards Night.
Dr Raymond Evans accepts the John Oxley Library Award.
Premier Bligh said historians Dr Judith McKay and Susan Addison received the $20,000 John Oxley Fellowship to help further their research into Queensland's culinary heritage, while Dr Raymond Evans received the $5000 John Oxley Library Award for his outstanding work documenting the state's past.
The University of Queensland was awarded the $5000 Library Board of Queensland Award for the development of Cyberschool, a website that connects thousands of school students across the state to the university's library services and resources.
"The SLQ Awards acknowledge and support the individuals and organisations that make vital contributions toward recording and documenting Queensland history, and increasing community awareness of and appreciation for our history and library services," she said.
"In recognition of Q150 and the 75th anniversary of John Oxley Library, the SLQ Awards in 2009 celebrated and reflected upon the exciting events of our past and how these events have shaped our present and future."
Ms Bligh said long-term collaborators Dr McKay, a historian and museum consultant, and Ms Addison, an editor and writer, wrote the 1985 book A Good Plain Cook: An Edible History of Queensland which covered the period from early European settlement to 1945. "The Fellowship will allow them to extend their research using the resources of John Oxley Library to explore Queensland's rich and diverse culinary heritage right through to the current day - in total capturing over 150 years of our culinary history," she said.
"The John Oxley Library Award recognised Dr Evans' impressive career as an academic and author, writing about Queensland and Australian history since 1965. His recent work A History of Queensland (2007) was short-listed for the 2008 Prime Minister's Literary Award for non-fiction.
"The University of Queensland's Cyberschool program is actually making history, bridging the gap between high school and university, and providing students, particularly those disadvantaged by distance, with the opportunity to experience the university's extensive library resources and services."
Comments
Your email address will not be published.
We welcome relevant, respectful comments.