Historical collection from a WWI prisoner of war available online
By JOL Admin | 14 December 2012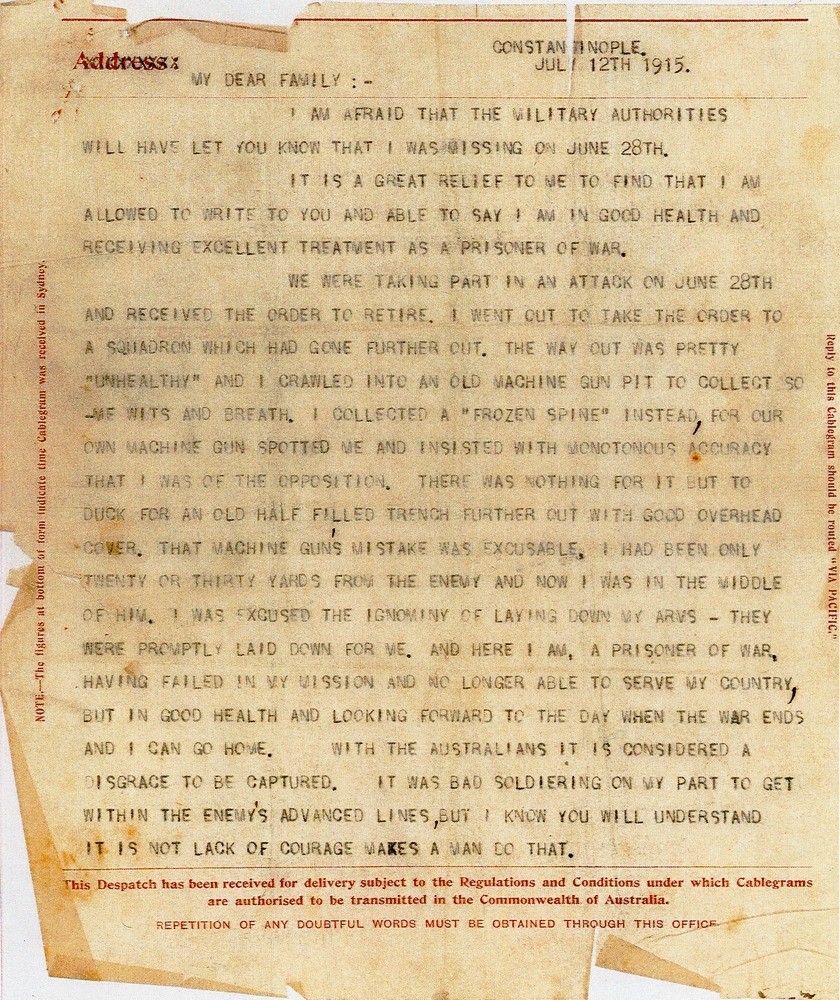 ". . . We were taking part in an attack and received the orders to retire. I went out to take the order to a squadron which had gone further out. The way out was pretty 'unhealthy' . . . I was only twenty or thirty yards from the enemy and now I was in the middle of him. I was excused the ignominy of laying down my arms – they were promptly laid down for me. And here I am, a prisoner of war, having failed in my mission and no longer able to serve my country, but in good health and looking forward to the day when the War ends and I can go home . . ."
And so reads the first letter home to Tamborine from Maurice Delpratt, World War One prisoner of war, letting his family know that he was alive. Sergeant Delpratt was captured at Gallipoli and remained a prisoner of war in Turkey for three and half years. The collection is now available through SLQ's One Search Catalogue.
Queensland Memory staff at State Library received this poignant and unique collection, of almost 200 letters and documents about Sergeant Delpratt's experiences, from his family and have now made the collection accessible online. Librarian Lynn Meyers received the collection on behalf of the library and arranged it with collaboration from Sergeant Delpratt's three daughters: Professor Emeritus Janet Delpratt AM, Mrs. Barbara Johnson and Mrs Catherine Hambling. Sergeant Delpratt's extended family, including great-grandchildren were on hand at SLQ for a recent commemoration of the collection with State Librarian Janette Wright.
This significant archive provides a rare and intimate look into the life of the Turkish prisoners of war, including how they were treated, illnesses suffered and other hardships. The archive also shows how the prisoners were able to receive packages and money from home and how much those packages meant to them. The collection provides access to many related items of interest including International Red Cross correspondence, censor forms, stamps, and how to send post cards to prisoners of war.
State Library is gearing up to make more World War One collections available in time for world-wide commemorations starting in 2014, with special emphasis on Queensland's experience. The library encourages families to discover World War One private collections, letters and materials that may be hidden away and to think of ways to make the material accessible in communities throughout Queensland.
Other articles on the Delpratt collection:
Comments
Your email address will not be published.
We welcome relevant, respectful comments.