Hammond Island: Headline news!
By Indigenous Services | 15 December 2022
Noticing how other communities in the Torres Strait were benefitting from their Indigenous Knowledge Centres (IKCs), Torres Strait Island Regional Councilopen_in_new (TSIRC) partnered with State Library of Queensland to establish an IKC on Hammond Island.
The Hammond Island IKC opened on on 15 December 2009. It was the first IKC established by the newly created Torres Strait Island Regional Council, the ninth established in Torres Strait and the eighteenth in Queensland.
Situated in what must be one of the most beautiful island locations, the Hammond Island IKC was opened by Former Premier, the Honourable Anna Bligh who was particularly impressed that the IKC had the first publicly available internet on the island. Before the opening, young men from the Hammond Island Dance Group performed several traditional dances for the large crowd in front of the IKC, which was blessed before the ribbon-cutting.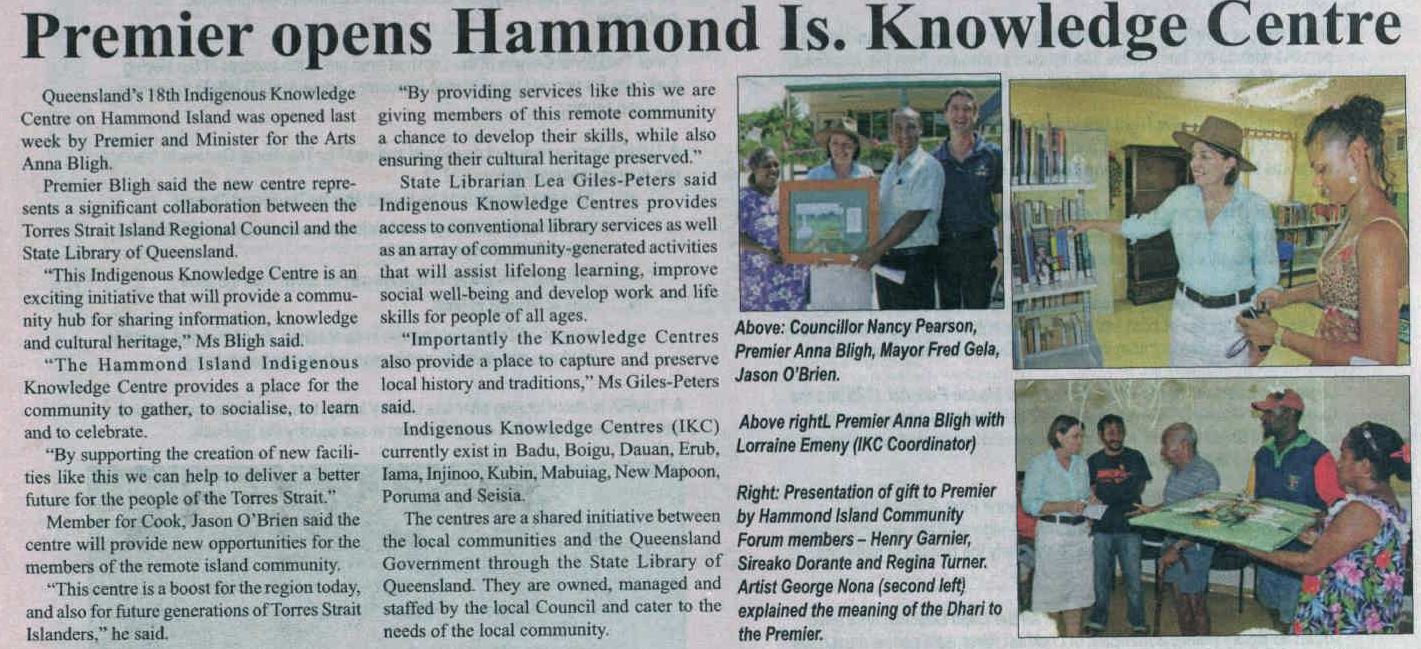 Torres News, Wednesday 23 December 2009, Page 11
"I think all of us are feeling proud…"
In 2011, State Library partnered with TSIRC and Arts Queensland to create a community arts experience through the Culture Love school holiday program. Culture Love programs provided opportunities for children and young people to work alongside Elders, local artists, local knowledge experts and visiting arts workers to celebrate the arts and their cultural heritage.
The theme of the Hammond Island Culture Love program, 'Life Cycle of Turtle', was particularly important as it aimed to spread a strong environmental message about protecting turtle habitats. The significant role of turtles in Hammond Island culture was the focus of activities such as screen printing, storytelling and singing, led by Project Facilitator Josephine David-Petero.
The Hammond Island IKC still features the beautiful 'Life Cycle of Turtle' mural created by talented local artist, the late Ceferino "Nino" Sabatino in collaboration with other local artists and community members. In 2019, TAFE Queensland's Thursday Island campus recognised Nino by naming an art studio in his honouropen_in_new. We are privileged we had the opportunity to work with Nino as part of the Culture Love program and as Nino says in the video below, we certainly are feeling proud.
Exploring the collection
If you'd like to explore some of State Library's collection items relating to Hammond Island, we have a few suggestions in the links below:
30394 Elaine Sinnamon Collection ca. 1969
Collection of Torres Strait artifacts, slides and postcards acquired during Elaine Sinnamon's time in the Torres Strait which includes: 5 hand-carved wooden faces acquired on Daru; two fishing spears; two turtle shells; one handmade juju shaker made from juju seed pods; one hand-carved wooden drum with snake skin acquired on Boigu; 177 coloured slides which depict various Islands in the Torres Strait as well as Bamaga and the Cape York Peninsula; slides that mostly contain images of views and buildings and some are of the "Coming of the Light" festival; one postcard of a traditional dance being performed on Thursday Island; a postcard showing Hospital Point, Thursday Island; and a postcard showing a village scene on Boigu Island.
APE-74 Torres Strait Islands Photograph Album 1935
Album of photographs of the official visit of the Attorney-General to the Torres Strait Islands and the Gulf of Carpentaria.
TR 1791 Margaret Lawrie Collection of Torres Strait Islands Material 1964-1998
Material relating to Margaret Lawrie and the Torres Strait Islands, including the book, Myths and Legends of the Torres Strait, which includes a section on Boigu Island.
Celebrating 20 years of IKCs
In 2002, the first Indigenous Knowledge Centres (IKCs) were developed in partnership with Aboriginal Community and Island Councils across Queensland. Seven IKCs were opened in 2002 with many more to follow over the years.
This year thirteen Aboriginal and Torres Strait Islander Shire and Regional Councils will celebrate the role their IKCs play in their communities as libraries, meeting places, hubs and keeping places.

Comments
Your email address will not be published.
We welcome relevant, respectful comments.