Graceville Estate, 1885 (Map of the Week)
By Myles Sinnamon - Engagement Officer, State Library of Queensland | 5 October 2016
State Library of Queensland has an extensive collection of historical maps of Queensland, some of which have been digitised and can be viewed online.
Graceville Estate, Brisbane, 1885. John Oxley Library, State Library of Queensland
This real estate map from 1885 advertises 232 allotments of land for sale at the Graceville Estate in the Brisbane suburb of Graceville. The allotments were situated along Graceville Avenue and two unnamed government roads (later called Verney Road East and Oxley Road).
Prior to the sale extensive publicity was published in Brisbane newspapers.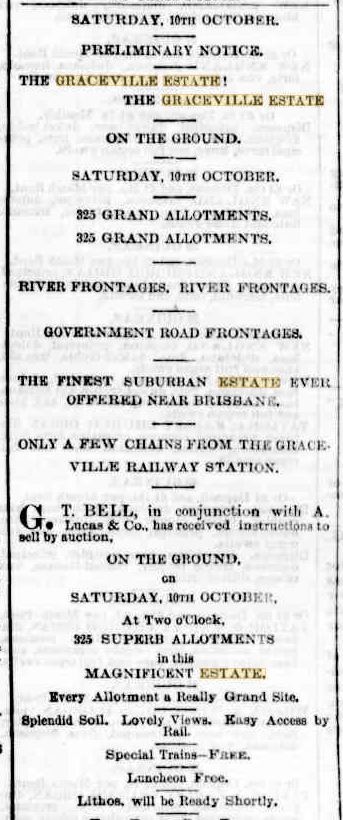 Advertisement from the Brisbane Courier, October 1, 1885
"The Graceville commands the most lovely views obtained in this beautiful district....32 passenger trains pass daily. The Graceville Estate is only a few chains from the Graceville Railway Station... For health, situation, choice sites, magnificent scenery, easy access, prolific soil, and nature's advantages, the Graceville is par excellence the finest estate yet offered for public competition." (Queensland Figaro and Punch, October 10, 1885)
A public auction was held at the site on the afternoon of October 10, 1885. The Telegraph newspaper reported the results of the sale –
"Mr G.T. Bell (in conjunction with A. Lucas and Co.) reports a successful sale on Saturday last of the Graceville Estate. Considering there were several large land sales on same day, the attendance was numerous, and bidding fairly brisk, resulting in the disposal of 87 allotments at an average of nearly 20 each; total sales, £1,728. The balance of this really magnificent property will be for private sale at the office of the auctioneers for one month." (The Telegraph, Oct 12, 1885)
A higher resolution image of this map can be viewed through our One Search catalogue.
Prints of this map are also available through the Library Shop.
You can browse a compendium of our previous maps of the week on our blog.
Myles Sinnamon – Project Coordinator, State Library of Queensland
Comments
Your email address will not be published.
We welcome relevant, respectful comments.