Gaul Estate, Gatton, 1902 (Map of the Week)
By JOL Admin | 12 April 2017
State Library of Queensland has an extensive collection of historical maps of Queensland, some of which have been digitised and can be viewed online.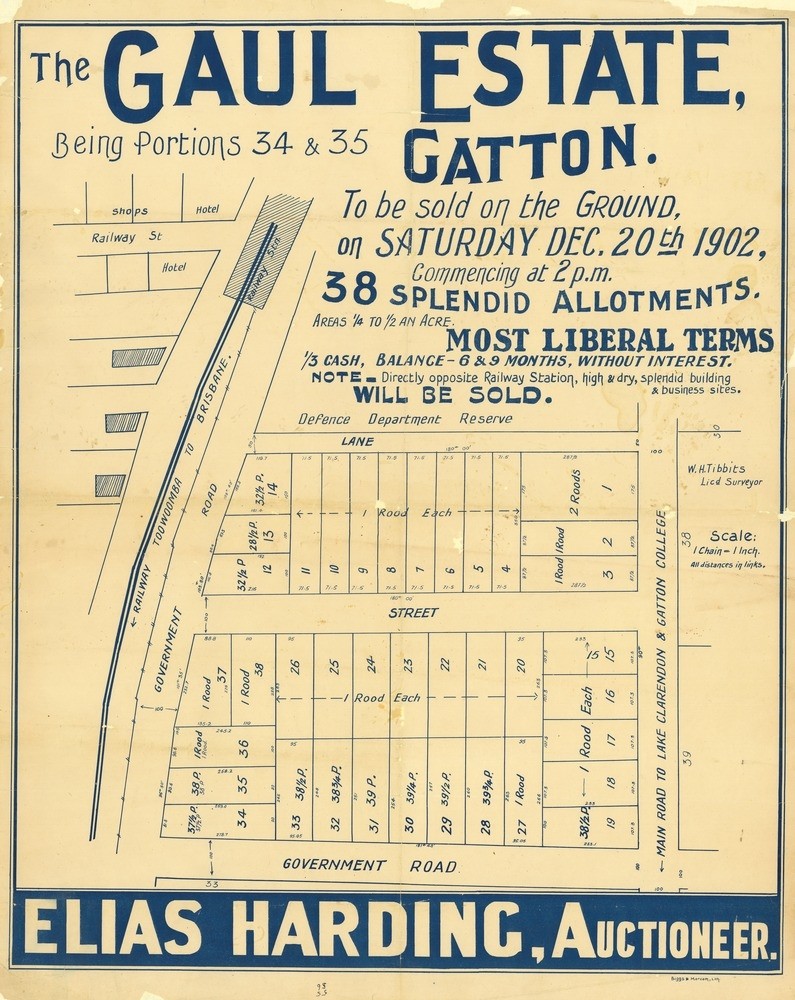 Gaul Estate, Gatton, 1902. John Oxley Library, State Library of Queensland
Advertisement, Queensland Times, 13 December 1902
Advertisement, Queensland Times, 13 December 1902
A public auction was held at the site on the afternoon on December 20, 1902. The Queenslander reported the results of the auction.
"Yesterday Mr Elias Harding offered for sale by auction what is known as the Gaul Estate, at Gatton. The estate is divided into thirty-six allotments, but owing to the sparse attendance only four lots were submitted.Of these three were sold. Lot 1, a half-acre allotment, with a frontage of 175 links to the College-road, was bought by Mr M. Donoghue for £50; lot 2, a quarter-acre allotment, similarly situate, and lot 3, a like allotment, went for £20 and £22 respectively." (The Queenslander, 27 December 1902)
A higher resolution image of this map can be viewed through our One Search catalogue.
Prints of this map are also available through the Library Shop.
You can browse a compendium of our previous maps of the week on our blog.
Myles Sinnamon – Project Coordinator, State Library of Queensland
Comments
Your email address will not be published.
We welcome relevant, respectful comments.