Frederick MEREDITH #3340
By JOL Admin | 19 April 2018
Indigenous Australian, Frederick MEREDITH, 41st Infantry Battalion
Fred Meredith, was born in Georgetown, far north Queensland in 1895 to Richard Meredith and Lillian Downs, he was just 22 years old when he volunteered to serve with the first AIF in May 1917
Meredith was first allotted to the Light Horse Training Depot, at Rifle Range Camp, Enoggera, just outside the city of Brisbane, but was selected to join the 8th Reinforcements for the 41st Infantry Battalion, which left Sydney aboard the troopship Horarta in June 1917.
The 41st Infantry Battalion included several other known Indigenous servicemen - Augustus Davies, Alfred Jones, Billy Richards, Percy Harward, Wilfred Clayton, and William Exton.
While at sea, Meredith contract Mumps, which was commonly spread amongst men in confined quarters, and was admitted to the ships hospital. While undergoing training in England Meredith was hospitalised several times, at one time being reported seriously ill. It was not until July 1918 that Meredith joined his battalion in the field, taking part in the German offensive on the Somme in August - engaged at Sailly-le-Sec and Curlew.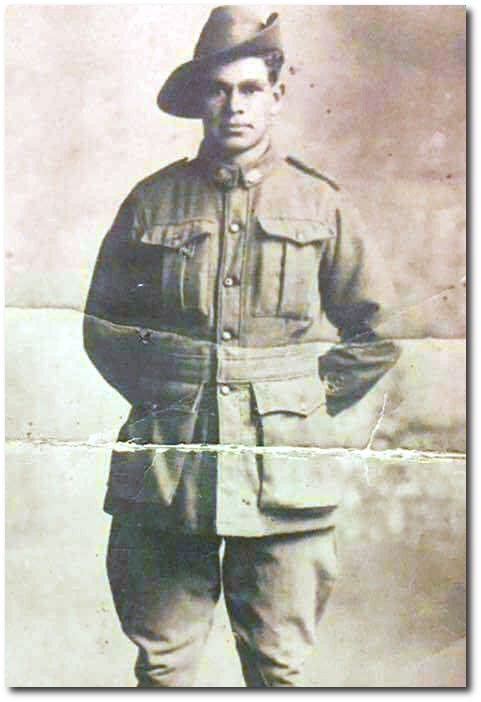 Frederick Meredith 41st Infantry Battalion (supplied by Meredith family)
After suffering gas poisoning on 1 September, he was evacuated to hospital in Rouen, then to England where he spent several months recuperating before returning to Australia in February 1919.
Fred Meredith was granted permission by the Chief Protector of Aboriginals to marry Rose Baxton when he returned. They resided in Cairns and later Charters Towers, and raised 8 children, Ethel, Gordon, Mavis, Frederick, Hazel, Arthur, Cecil and Peggy. Fred was employed as a grounds man in Charters Towers for many years. Fred and Rose died within weeks of each other in September and October 1959, Charters Towers.
Read more ...
The information in this blog post has been researched by State Library staff and volunteers, it is based on available information at this time. If you have more information that you would like to share or further research uncovers new findings, this post will be updated.
Comments
Your email address will not be published.
We welcome relevant, respectful comments.