Forgotten Australians: Micah Pilot Oral History and Digital Story Project
By JOL Admin | 11 September 2014
"ar from being simply complementary to each other, memory and history tell of very different relationships to the past than we can or do possess" - Dipesh Chakrabarty*
"In a room where people unanimously maintain a conspiracy of silence, one word of truth sounds like a pistol shot." - Czesław Miłosz
This week marks Queensland Child Protection Week (7-13 September 2014) which seeks to promote the "value of children" and highlight "issues of child abuse and neglect" in order to foster a network of support and create a framework around child protection across the State.
When we think about child protection, one of the major advancements in this area was around the acknowledgement of Forgotten Australians. It is timely then that a collection donated to us called the "Forgotten Australians: Micah Pilot Oral History and Digital Story Project" has recently gone live on the State Library on line catalogue.
This contemporary collection includes two oral histories and one digital story exploring the experience of individuals who identify as Forgotten Australians. The stories can be accessed here: link to the itemopen_in_new.
The oral histories and digital story were recorded as part of a pilot project in 2011 for Micah Projects Inc and their Lotus Place Micah Projects Forgotten Australians Services. It was achieved in collaboration with Red Thread Stories, through a Forde Foundation grant.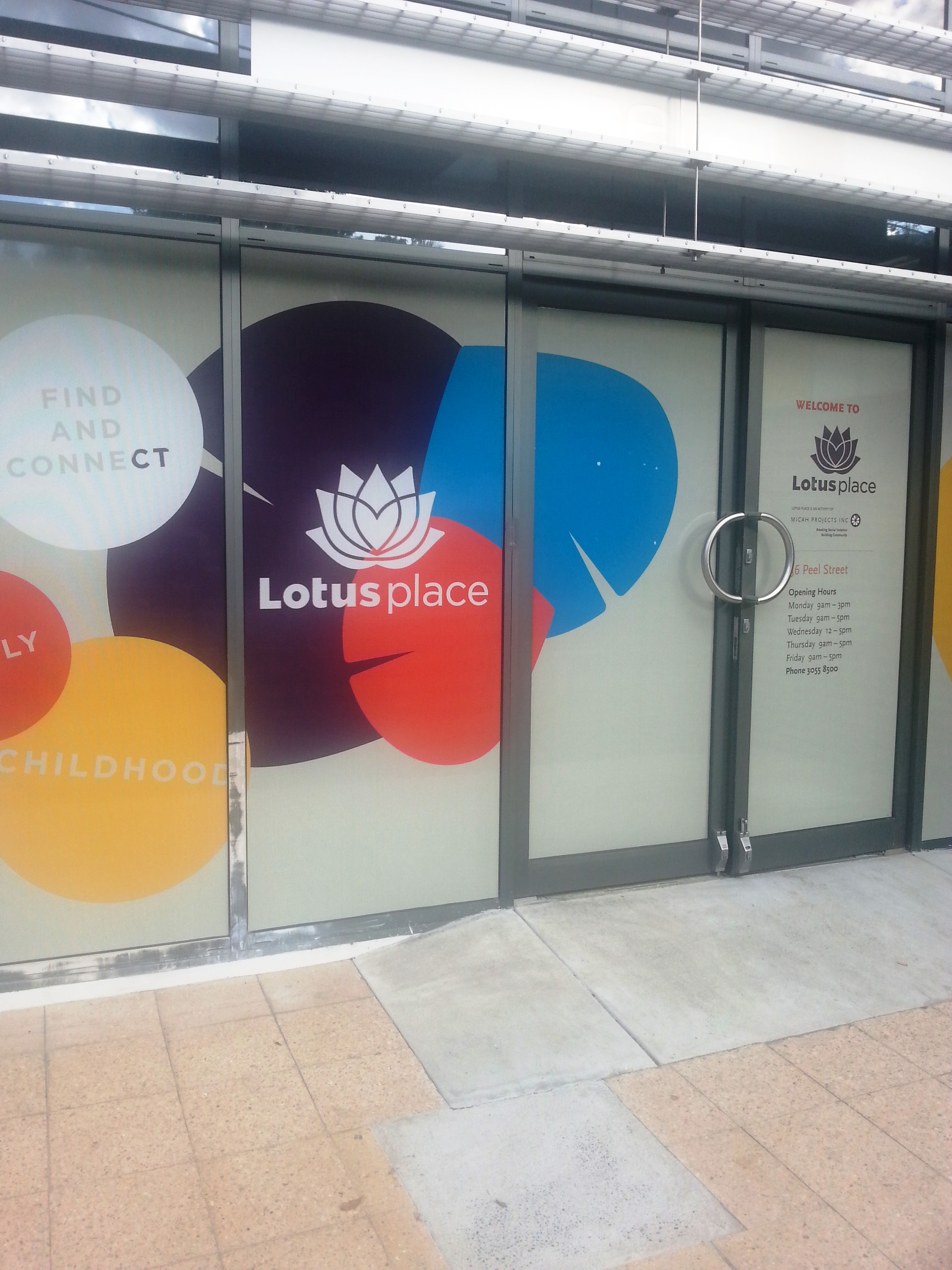 The services provided for Forgotten Australians through Micah Projects are based at Lotus Place. Lotus place is a dedicated support service and resource centre for Forgotten Australians and Former Child Migrants.
The term, "Forgotten Australians", refers to the more than 500,000 Australians who experienced institutional or out-of-home care for a number of reasons during childhood for most of the 20th Century. They include Indigenous children, non-Indigenous children and child migrants. Many of these children were the victims of abuse and assault as identified by the Senate inquiry into institutional care.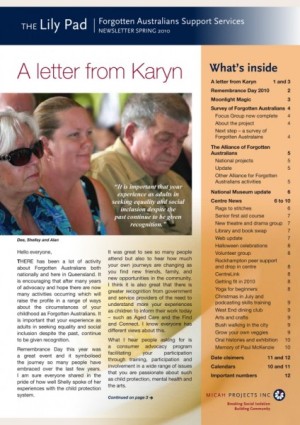 A page from The Lily Pad, Forgotten Australians Support Services Newsletter, Micah Projects Inc
In their 2004 report, the Senate Community Affairs Committee explained that through their inquiry, they "…received hundreds of graphic and disturbing accounts about the treatment and care experienced by children in out-of-home care. Many care leavers showed immense courage in putting intensely personal life stories on the public record. Their stories outlined a litany of emotional, physical and sexual abuse, and often criminal physical and sexual assault. Their stories also told of neglect, humiliation and deprivation of food, education and healthcare. Such abuse and assault was widespread across institutions, across States and across the government, religious and other care providers." (p xv)
Forgotten Australians: a report on Australians who experienced institutional or out-of-home care as children (2004), State Library of Queensland, Open Access, level 2, G 362.730994 2004.
The library holds a hard copy of the report as well as the 1999 Queensland report (The Forde Report) into the Abuse of Children in Queensland Institutions and subsequent follow up reports.
Youth Justice Commemorative Artwork, Kurilpa Point, South Brisbane. Several commemorative memorials were established to recognise the experiences of former residents of Queensland institutions. This artwork, which is a short walk away from the State Library includes rosemary - which has been an emblem of love and symbol of remembrance for thousands of years.
The powerful stories captured through this important Micah Pilot project reflect on these difficult histories. Participants in the project recounted their experiences from childhood into adult life with deep honesty and openness including their attendance at the Federal Government's apology on 16 November 2009. This was when the Australian Government acknowledged and apologised for the experiences of Forgotten Australians, their treatment and ongoing trauma.
The State Library of Queensland holds a DVD copy of the apology and it can be viewed on site.
On 16 November 2009, then Prime Minister Kevin Rudd, along with then opposition leader Malcolm Turnbull apologised to the Forgotten Australians on behalf of the Australian Federal Government.
The stories unearthed through the Micah Pilot project continue to add to the important record of these traumatic experiences as part of our understanding and reconciliation of the past. As a repository offering access to these histories, the State Library continues to provide an opportunity for the public to hear the voices of Queenslanders once forgotten.
As issues arise for Forgotten Australians in terms of identity and piecing together the past, records and other materials become an important component in that quest. The State Library provides a list with links to organisations holding records and to materials relating to orphanages, institutions and child migrants, to assist those attempting to locate such records.
At times, however, access to official records can be restricted. Thus other materials become important when people such as Forgotten Australians look for ways to reclaim their past. This excellent blog story by my colleague Brian Randall provides an example of such material.
Zenovia Pappas - Contemporary Collecting Coordinator, State Library of Queensland
__________________
* Dipesh Chakrabarty, 'Reconciliation and Its Historiography: Some Preliminary Thoughts', The UTS Review, vol. 7, no. 1, 2001, pp. 9–10.
Comments
Your email address will not be published.
We welcome relevant, respectful comments.