First Birdsville Races
By JOL Admin | 21 July 2008
We receive many interesting enquiries at the John Oxley Library. One recent enquiry asked when the first Birdsville Races were held. Several books about Birdsville gave a date for the first race meeting as 31st December 1886 however upon checking the Queenslander newspaper no articles appeared, thereby raising doubt about this date being correct. Further research, involving searching backwards through the Queenslander, revealed an article about the first race meeting at Birdsville in the November 18, 1882 issue. The actual dates of the first Birdsville Races, as shown in this article, were 20th to 22nd of September, 1882.
Here is a transcript from the Queenslander article.
"Birdsville (Lower Diamantina Race Meeting)
The first race meeting held at the newly formed township of Birdsville, situated on the Diamantina River, eight miles north of the South Australian border, was held on the 20th, 21st, and 22nd of September (1882), and was largely attended, nearly 150 station owners, managers, stockmen, and other employees being present, accompanied by a large retinue of blackboys. The weather was delightful, the entrances for the various events good, and the finishes in most of the races close and exciting. Nearly 200 pounds was raised by public subscription, which speaks well for the prosperous condition of the district...
The settling took place in Mr Tucker's hotel, where the amounts were paid over to the respective winners, the usual toasts proposed and duly responded to, after which a meeting was held in Messrs. Burt and Co.'s large iron store, when a jockey club was formed, to be called the "Border Jockey Club", forty-two names being enrolled as members. Stewards were appointed, a working committee elected, and the next race meeting fixed for July, 1883". (Queenslander, November 18, 1882, p.702)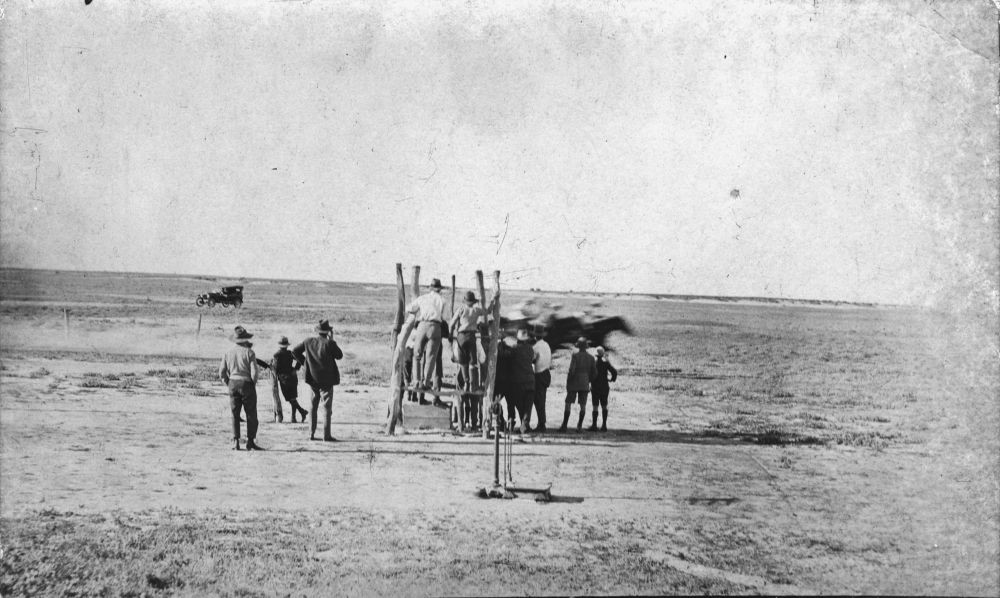 Birdsville Racecourse in the Queensland outback, ca. 1926. John Oxley Library, State Library of Queensland. Neg 63004
Weighing in at the Birdsville Races, Queensland, ca. 1926. John Oxley Library, State Library of Queensland. Neg 63003
Comments
Your email address will not be published.
We welcome relevant, respectful comments.