Fiesta Gardens 1948 – a touch of Hollywood at Slacks Creek
By JOL Admin | 25 January 2018
In this entry for the Centaur Memorial Fund Series, Dr Madonna Grehan, 2015 John Oxley Library Fellow and Dr Hilda Maclean, Logan City Council Libraries Local Heritage Specialist, re-discover a post-WWII entertainment venue.
Fiesta Gardens at Slacks Creek opened on Saturday 12 June 1948. Described as a colourful new resort with 'quite a Hollywood touch',1 Fiesta was located south of Sid Floate's store on the Southport Road (Pacific Highway). The complex had extensive facilities: a ballroom, a restaurant and outdoor cafeteria, a floodlit pool, room for golf, tennis, bushland walks, lawn areas, plus spaces for quiet and solitude.
During WWII the area was used for recreation by some American soldiers based at Camp Cable, now the suburb of Yarrabilba. By May 1946, it was the site of the Log Cabin Pleasure Resort, also known as the Log Cabin Picnic & Pleasure Grounds.2 It doubled as the Slacks Creek Garage, the 'best known roadhouse in Brisbane'.3 Log Cabin's main business was dances on Saturdays with Slacks Creek a pleasant 30 minute drive by bus which left Holland Park's tram terminus at 7.30pm and returned at 11pm.4
In late 1946, the Log Cabin added a swimming pool,5 offering relief from Brisbane's oppressive humidity. Even in winter the venue was open until 3am every night with private rooms and log fires available. It was a place to 'Eat, Drink and Be Merry…somewhere to go when Brisbane goes to bed'.6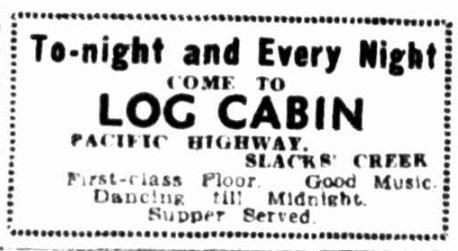 Advertisement - Telegraph (Brisbane), 14 December 1946, p.15
Advertisement - Telegraph (Brisbane), 11 January 1947, p.11
Advertisement - Telegraph (Brisbane), 1 July 1947, p.13
The Log Cabin was advertised for sale in January 1948 for £7,500 cash. The business consisted of 25 acres freehold, lawns, gardens, a large floodlit swimming pool, Dance Hall, Café, Milk Bar, separate Cottage, outbuildings and an unlimited water supply. The main building alone had 8,000 square feet in floor space. Log Cabin's sale followed a direction from the Tingalpa Shire Council: to comply with Health Department requirements or close. These stipulations were to clean out the pool, install septic services and screen off the toilets.7
Re-badged as Fiesta Gardens in 1948, the resort's opening night was a gala dance with all proceeds to the Centaur Memorial Fund for Nurses. Brisbane's Telegraph newspaper, an official partner of the Centaur Fund, sent a reporter to inspect the site. Miss ME "Bobs" Robinson's account featured in the Telegraph on 3 June 1948, accompanied by an image of Fiesta Gardens' main entrance.
Advertisement - Telegraph (Brisbane), 7 June 1948, p.9
Fiesta Gardens' main entrance, 1948. From OMEG Centaur House Records 1948-1979. John Oxley Library, State Library of Queensland
A copy of this photograph is held at State Library in the Centaur Memorial Fund collection. The man and the dog were not identified.
For Brisbanites Fiesta offered a novel cultural ambience. The ballroom was decorated with a hand-painted frieze depicting Mexican scenes which harmonized with the room's Mexican-motif curtains. Waitresses dressed in Mexican costume and Mexican food was on the menu. The Mocca Room was decorated with Turkish rugs, reputed to be more than 200 years old. For Fiesta's owner, the complex would provide a 'rendezvous of happiness' for families, staff picnics, and reunions, and an ideal location for business executives to hold conferences or formal gatherings.
Advertisement - Beaudesert Times, 25 June 1948, p. 13
Like its predecessor, Fiesta ran dances and concerts. In 1948, ABC star Percy Roberts and singer Colleen Cahill, formerly of the Trocadero night club in Sydney, performed regularly. In December 1948 Fiesta hosted a ball for Shirley Horsley and Joyce Mahoney, two of Beenleigh's entrants in the Miss Australia Quest. By late 1950, the resort had its own a Hawaian Band with dances that began at 11pm.
Advertisement - Telegraph (Brisbane), 2 September 1949, p.15
Advertisement - Telegraph (Brisbane), 24 June 1949, p.18
Slacks Creek School pupils had their swimming lessons in Fiesta's pool. Water was drawn from the creek, with chlorination applied before the weekends and lessons.8 Drought in the 1950s affected how often the water could be topped up and in 1952 parents complained about the pool's condition. The Director General of Health and Medical Services was called in. Two years later the same problem arose. Treatment with soda ash, chlorine and copper sulphate produced satisfactory results.9
Declining in popularity by the mid-1950s, Fiesta closed. From 1959 to 1972, Fred Dencher operated the Blue Gum Caravan Park at the site. Fred Dencher recalls his memories of the business in an oral history recording held at SLQ (Logan District Oral History OH 116). The site is now home to a car sales business.
We are keen to hear from anyone who can identify the man in the photograph of Fiesta Gardens June 1948. We welcome your recollections of Camp Cable, Log Cabin Resort, Fiesta Gardens or Blue Gums Caravan Park.
Dr Madonna Grehan and Dr Hilda Maclean
Dr Madonna Grehan was the recipient of the 2015 John Oxley Library Fellowship. Her research articles on the Centaur Memorial Fund can be found here:
Could you be one of State Library's 2018 Fellows?
Applications for a range of research fellowships and awards totalling $100,000 are now open, as part of the Queensland Memory Awards. The Awards recognise the valuable contribution of individuals and organisations across Queensland to the investigation, preservation and celebration of Queensland's memory - past and present.
State Library invites applicants to imaginatively respond to our unique collections and resources including manuscripts, maps, music, newspapers, oral histories and rare printed material. Researchers and creatives from all backgrounds and disciplines are encouraged to apply.
References
1 Truth, 13 June 1948, p.22
2 Commonwealth of Australia. Telephone Directory. Brisbane - February, 1947, p.185
3 The phone number Beenleigh 128 was also used by the Slack's Creek Garage in an advertisement for AA Motorists (South Coast Bulletin, 26 March 1947, p.14)
4 Courier-Mail, 15 June 1946, p.11
5 Telegraph (Brisbane), 26 December 1946, p.9 Advertising "Holiday Resorts".
6 Telegraph (Brisbane), 14 June 1947, p.13
7 South Coast Bulletin, 14 January 1948, p.19
8 South Coast Bulletin, 20 February 1952, p.1
9 Beaudesert Times, 26 March 1954, p.7
Comments
Your email address will not be published.
We welcome relevant, respectful comments.