Family History Week 2012: the Pittsworth event
By JOL Admin | 4 September 2012
Family History Week 2012 seminar at Senior Citizens Rooms, Yandilla Street in Pittsworth.
During Family History Week held annually, the State Library typically supports the hard work and enthusiastic activities of libraries and groups, usually outside Brisbane. Anne Swain from Queensland Family History Society and I were invited to speak at a presentation for Family History Week in Pittsworth this year.
Pittsworth is a centre of an area first explored by Allan Cunningham in 1825. It is a small, well established, pretty town, west of Toowoomba, on the Darling Downs based on farming and grazing activities in the surrounding area. The main street features attractive buildings and the well-cared for look that testifies to an active community.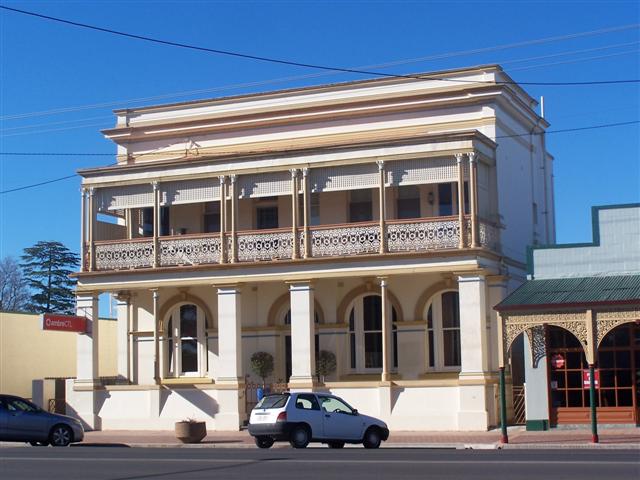 This two storey building was the Union Bank, designed by the Brisbane architects Addison & Corrie in 1904
As I drove into town I noticed the council sign announcing the family history seminar. It was well advertised: there were flyers in the Toowoomba Local History Library, where I had stopped en route; around Pittsworth and on the local radio news. The hall was comfortably filled as a result.
The program was due to start at 9:30 am but when I arrived at 9:00 to set up, the hall was already filling and buzzing. This was a group of people who knew each other. It was not only a seminar but a social occasion.
I spoke about the basic strategy for family history, some of the State Library's special resources highlighting the increasingly online nature of our guidance, resources, podcasts and the enquiry service. These services are essential for a state library in reaching out to a large state with a capital in the south-east corner if the far-flung places are to get access to information on a par with those in the cities.
Anne covered an extensive list of family history resources and the value of the Queensland Family History Society. She moved onto the role of DNA research in family history, the importance of understanding genetic factors for a family's well-being and how an understanding of inheritable conditions can explain significant aspects of our ancestors. This is an aspect of family history which has gained increasing value as an understanding of DNA has grown. She handed out an extensive list of inheritable diseases which saw my hypochondriacal instinct rise considerably.
Pittsworth Shire Hall was design by WP Copp, the first chairman of the Shire, who was a builder-contractor
It was a day marked by discussion among a warm, lively group which continued into a convivial lunch and beyond. The value of the event lay not only in the information sessions but also in this participation. Questions were fielded about understanding German script, finding ancestors arriving from Britain and Europe, learning about the vessels on which they travelled and then there were the Sullivans! In Pittsworth there are three different families of Sullivans. Each is designated by a different colour. Years ago when I was at the desk, dealing with a tangled family tree marked by the constant repetition of first and last names, someone was keen that I knew a particular line from a wedding speech. It started to play in my head: "Now that a Ryan has married a Sullivan everyone in Queensland is related". The element of truth in this reverberated, compounded by the awareness that Sullivan movements can be difficult to trace in the gold rush days as family members chased their luck.
The whole event was a reminder of what it is to be a Queenslander today – mobile and connected to Australia with a strong interest in overseas links; not hemmed in by state borders or severely limited by regional dispersal; increasingly well-served by the electronic media but still enjoying coming together socially with a common interest.
Stephanie Ryan - Senior Librarian, Family History, State Library of Queensland
Comments
Your email address will not be published.
We welcome relevant, respectful comments.