Experience Queensland on Flickr Commons
By JOL Admin | 30 May 2018
Did you know State Library of Queensland holds approximately 1.5 million photographic resources – negatives, slides, original photographs, copy prints and original albums dating from 1859 to the present day relating to Queensland?
In 2003, State Library launched its digital image library Picture Queensland, populating the online catalogue One Search with 6,000 digitised photographs - each one recording aspects of Queensland's social history and development.
Since then the number of historical and contemporary images displayed online has increased to more than 50,000.
Anyone can access the image collection for research or for pleasure. They are free to download and those not in copyright can be used without permission. State Library asks that it be acknowledged as the source.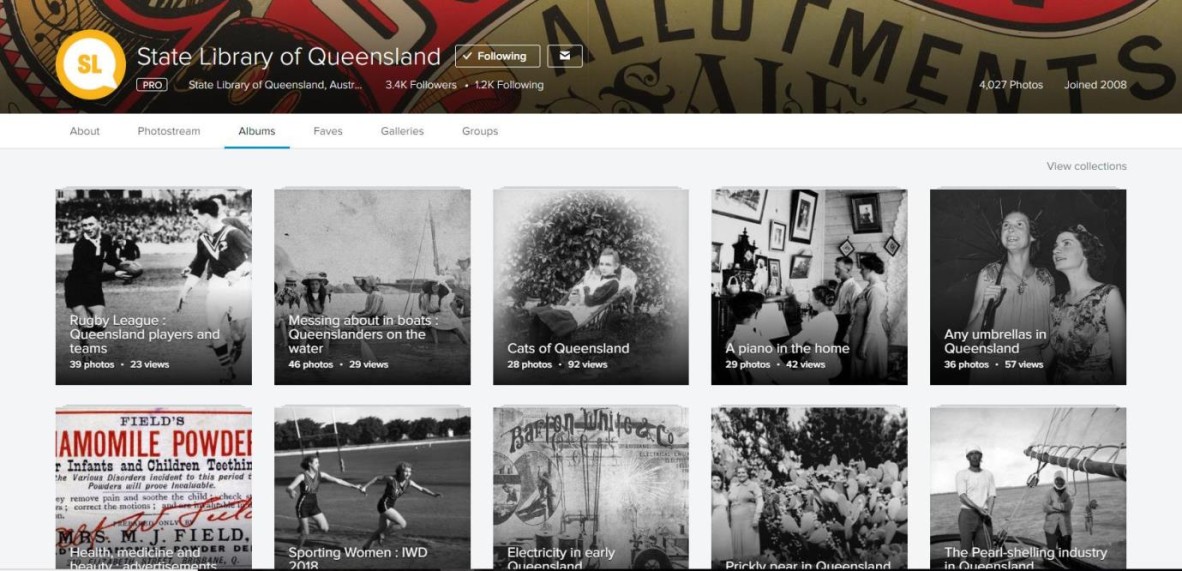 State Library of Queensland encourages access to the images posted in Flickr Commons.
In 2008, State Library joined with other cultural institutions world-wide, uploading a selection of images linked to Queensland's people and places on Flickr Commons. This global initiative was an exciting new phase for sharing Queensland content - increasing exposure to the collections of the State Library of Queensland.
By placing out-of- copyright images about Queensland into Flickr Commons, State Library is inviting wider sharing, encouraging new audiences to access curated content in albums and explore the vast collection of the State Library.
Everyone is welcome to contribute feedback; add relevant information in the comments field; and add search tags – helping to enrich everyone's experience of Queensland.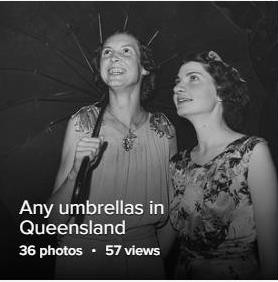 Mrs. E. WW Easton (left) and Miss Ann Willand shelter under an umbrella as they arrive at All Saints Hall to attend a dance raising funds for the Sailors and Soldiers Church of England Help Society, 1940. Image 203425, John Oxley Library, State Library of Queensland.
More than 20 million external visitors have viewed the collections of the State Library uploaded to Flickr Commons. This number continues to grow as more and more people choose to access the images State Library shares with a global audience.
Word tags attached to the images enable them to be searched by popular keyword making them more discoverable.
Where possible a geo-location marker is added to each image identifying where on the map of Queensland the photo originates. It is not always possible as some images have little information attached.
Have you viewed the State Library of Queensland's image collections on Flickr Commons? It is an enjoyable way to view the unusual, the unique and intensely Queensland experience.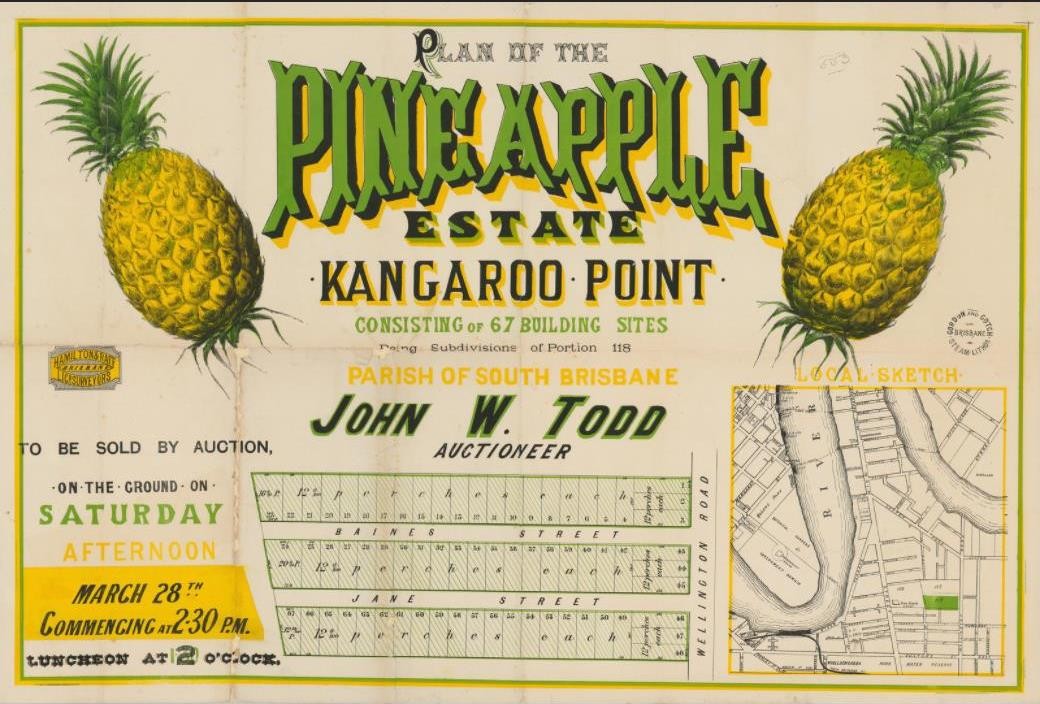 Pineapple Estate, Kangaroo Point, Brisbane, ca. 1890, Subdivision of Portion 118, Parish of South Brisbane.
Have you seen the images that have proven to be popular over time?

L- R: Owen McVey, Walter Grant, James Grant and Carl Vaughan ride their goats at Isisford, c. 1918. Young women jump off a sand dune on an unidentified beach, ca. 1935. John Oxley Library, State Library of Queensland.
Whether it is rugby you are interested in - Union or League; or messing about on boats; or studying suburban estate maps or observing the quaint and quirky, State Library invites you to be part of the online community and experience a part of Queensland's unique social history on Flickr Commons.
Anne Scheu, Engagement Officer, State Library of Queensland
Comments
Your email address will not be published.
We welcome relevant, respectful comments.