Ernie Lane: The Making of a Queensland Rebel
By JOL Admin | 22 July 2011
In this month's Out of the Port session, 2010 John Oxley Library Fellow, Brisbane author and historian, Dr Jeff Rickertt presented his findings on journalist Ernest Henry Lane, one of Queensland's early labour movement pioneers. Dr Rickertt is presently working on a political biography of Ernie Lane.
Ernie Lane in later life. Photograph courtesy of Iris Lane.
Ernie Lane in later life. Photograph courtesy of Iris Lane.
Born in Bristol England in 1868 to a poor working class conservative family with a hard drinking father, Ernie followed his dreams of a better life to Australia, only to be met by the hard realities colonial Queensland. Although Ernie came to Australia in 1884 a bible carrying traditionalist, he had a propensity for rebellion and became a passionate opponent of the wage earning system (wherein people had become to quote Shelley, "scarce living pulleys of a wage machine") and a thorn in the side of the Labor Party moderates. Unlike many before him Ernie remained "a dangerous believer in pipe dreams and a splendid example to the youth of the Labor party."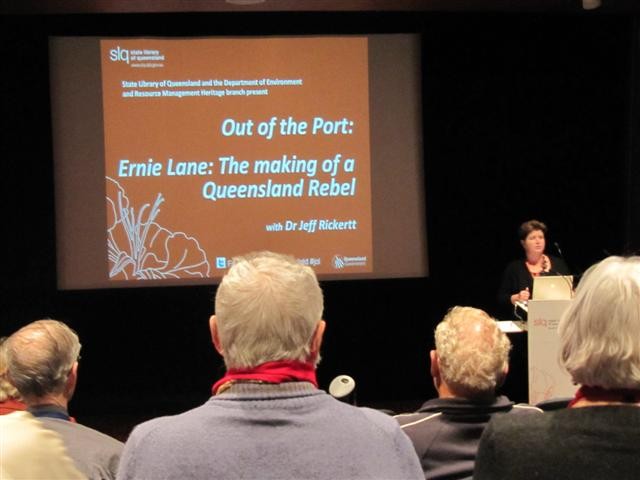 The State Library's Louise Denoon introduces Dr Jeff Rickertt.
According to Jeff, Ernie's greatest influences were poverty, migration, work and the constant voices of those around him. Those voices included his brother William Lane founder of Cosme, the breakaway utopian colony established in Paraguay, political idealists Marx and Engels, William Morris, Francis Adams and poet Percy Bysshe Shelley...Shelley was memorably described by Jeff as the "Bob Dylan and Rage Against the Machine of his generation" and the importance of literature and particularly poetry for idealistic socialists in the nineteenth century was foregrounded.
Ernie started as a grocer's assistant and earned a pittance. He later became an A.W.U. delegate and a political journalist writing for The Daily Standard and The Daily Mail. His political activism in a time of positive change made it easy for him to believe in the strength of collectivism. He was buoyed by the success of early activism such as the Brisbane painters who stuck by their demands for restricted hours and higher wages. Lane became disillusioned with the Labor Party he helped to found but remained optimistic with the workers' movement.
The audience listened intently to the presentation and many questions followed. The talk included a description of the influence of political and social events in Brisbane as well as internationally (such as the "Haymarket Affair") on the development of this Queensland rebel.
Thanks to Jeff for his lecture, the fruits of many hours of research carried out in the John Oxley Library during his Fellowship and indeed in other libraries and archives around Australia.
Join us on Wednesday 24 after the August Exhibition holiday for our next talk by Trish Fielding. Trish will explore how people once lived in Townsville's main street in "Beating Heart: exploring the role of the main street in the life of a regional Queensland City". Trish Fielding works for CityLibraries Townsville and her first book Flinders Street, Townsville: A Pictorial History was awarded a High Commendation at the National Trust of Queensland Awards in 2010.
Out of the Port free lunchtime talks are held from 12.30 - 1.30 and are presented once a month by the State Library's John Oxley Library and the Department of Environment and Resource Management.
Jeff's Out of the Port presentation, as well as previous talks, are available on the State Library's website as webcasts for those who were unable to attend on the day.
Karen Hind
Librarian, John Oxley Library
Comments
Your email address will not be published.
We welcome relevant, respectful comments.