Eleanor Roosevelt's visit to Rockhampton (1943)
By Myles Sinnamon - Project Coordinator, State Library of Queensland | 4 September 2015
At 5pm on September 9, 1943, Eleanor Roosevelt - wife of then US president Franklin D. Roosevelt - arrived by plane at Rockhampton on the seventh day of her tour of Australia. The main purpose was to visit American troops stationed here and convey to them the thanks of the president and herself.
Eleanor Roosevelt arriving in Rockhampton Queensland 9 September 1943. She was welcomed to Rockhampton by the Army Minister, Mr Forde and attended by Lieut.-General Robert Eichelberger. John Oxley Library, State Library of Queensland. Neg 102789
Mrs Roosevelt arrived wearing the uniform of the American Red Cross and was accompanied by several army and navy aides. During her tour, she recorded her observations and experiences in her syndicated six day a week US newspaper column, My Day. Of Rockhampton, she wrote: "My first impression is of the most beautiful and elaborate gardens I have ever seen".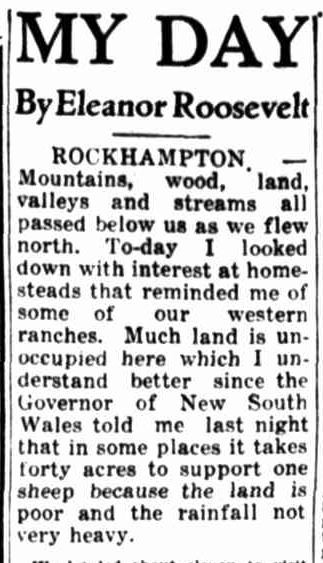 Segment of Eleanor Roosevelt's regular column during her visit to Australia
The First Lady worked tirelessly during her brief stay, visiting US Army camps and soldiers, delivering several speeches as well as attending a dinner at the American Red Cross. During a visit to one camp she observed a US soldier visiting the dentist's tent to have a tooth extracted. The soldier later admitted, "It hurt like hell, but with Mrs Roosevelt watching I had to act tough". At the close of her visit she addressed about 1,000 women at the Earl's Court Theatre, where she spoke of the important function women played by stepping into the roles previously occupied by men.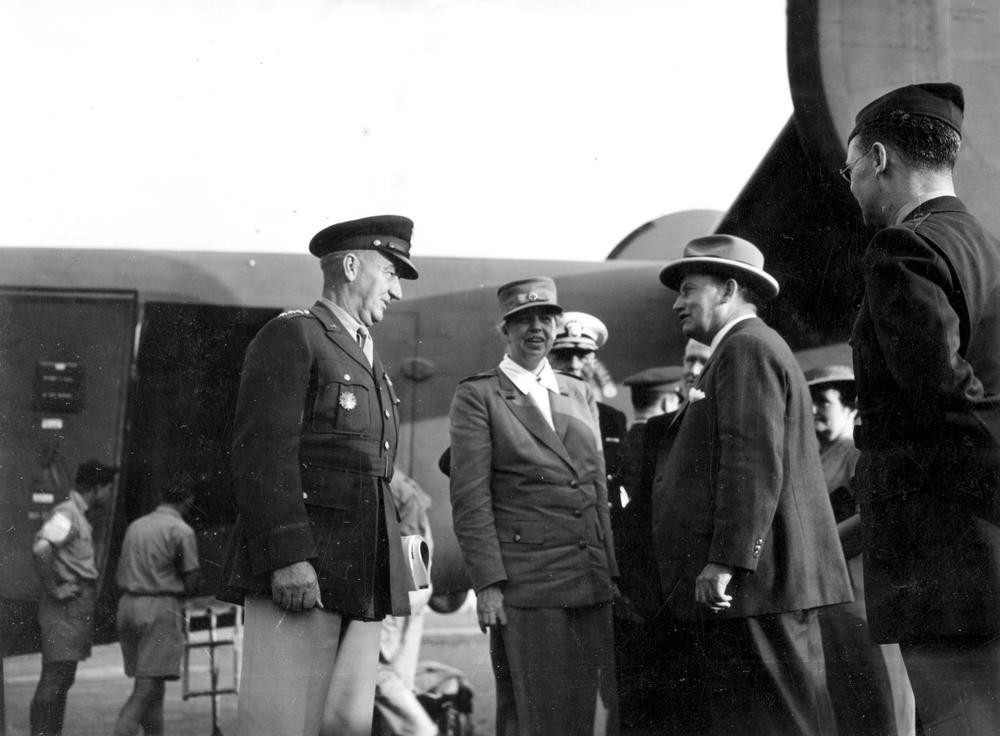 Eleanor Roosevelt greeted on arrival to Rockhampton by officials 1943. John Oxley Library, State Library of Queensland. Neg 204196
Prior to her departure from Rockhampton, Mayor Henry Jeffries presented Mrs Roosevelt with a special gift on behalf of the citizens of Rockhampton. According to the Morning Bulletin, this gift was "an engraved emu egg in a design representing native animals and birds of Central Queensland, in the shape of an electric globe". It would be interesting to discover where this object is now.
Myles Sinnamon - Project Coordinator, State Library of Queensland
Comments
Your email address will not be published.
We welcome relevant, respectful comments.