Einbunpin Festival 2016
By JOL Admin | 27 July 2016
Einbunpin Lagoon, Sandgate. Photograph courtesy of Janette Garrad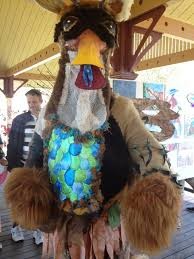 Bunpin. Photograph courtesy of Janette Garrad
Bunpin. Photograph courtesy of Janette Garrad
It's time to dust off your dancing shoes and join in the fun with Bunpin, the monster from the Einbunpin Lagoon as Sandgate celebrates the twenty-fourth Einbunpin Festival on Sunday 31st July 2016. I'm told that Bunpins are as true as any other magical creature we read about but we think of them as living in faraway places like Ireland or Bavaria, but this is not so with the Bunpins, they live smack-bang in the middle of the village of Sandgate on Bramble Bay in Queensland.
Join Bunpin for a fun filled exciting event that includes the "Little Bay of Sunshine" annual Magic Canvas Competition, with local artists and aspiring artists who are encouraged to submit their entries to the completion. Also look out for Domino the Jester, Phoenix Fire Tribe and Ormiston Pipes and Drums who will be out and about around the Festival during the day.
The organizers have been encouraging schools, community groups and individuals to participate in creating a fabulous patchwork of canvases in the 'pop up' Bridge Gallery.
The day is expected to be packed full of exciting things to see and do as well as delicious food to sample and a great opportunity for the community to come together to show-off the vibrancy and artistic talents found in the district. It's a great chance to learn more about the local community, and catch up with friends.
For a full list of the activities click here to enjoy a terrific day out by the bay.
Janette Garrad - Senior Technician, Published Content, State Library of Queensland
Comments
Your email address will not be published.
We welcome relevant, respectful comments.