Edward Hudson and family of Albion
By JOL Admin | 19 December 2013
The name, Hudson has some prominence in Albion. It is the name of a main road and the first stage of the recent apartment development is named The Hudson. Who was he?
Edward Hudson was born in Wootton in the Ellastone parish of Staffordshire in 1824, the son of a farmer, Samuel Hudson and his wife, Elizabeth Ball. Edward's father declared in the 1851 census that his farm in Waterfall, where the family then lived, was 79 acres. In the 1861 census the Hudson family was in Tittesworth Staffordshire on a farm of 216 acres. Edward Hudson, aged 37 years was a carter living at home.
In the early 1860s he moved to the young colony of Queensland where he worked at Kedron Brook ploughing land for Judge Lutwyche. Relatively old for a new immigrant, he progressed speedily, purchasing 10 acres for £10 in 1863 at Albion. On 3 June 1865 he married Margaret Common; they had six children. From 1866 to 1870 he became the fourth licensee of the Albion Hotel taking over from Judge Lutwyche's step-son, Fred Morris. The photograph of the hotel shows what Albion was like when he was a publican - a basic bush settlement.
Albion Hotel Brisbane ca. 1866. John Oxley Library, State Library of Queensland. Neg 99714
A successful fruit farmer specifically of pineapples, he later purchased Reid's paddock along Bridge Street adding to his growing wealth. The Railway Department resumed part of this land for Hudson Road and for the new railway line but he continued to acquire land so that his estate became a landmark as various large properties were sold around it for housing. The local sketch of the Albion Hill estate map in 1899 illustrates where his property was and indicates its importance.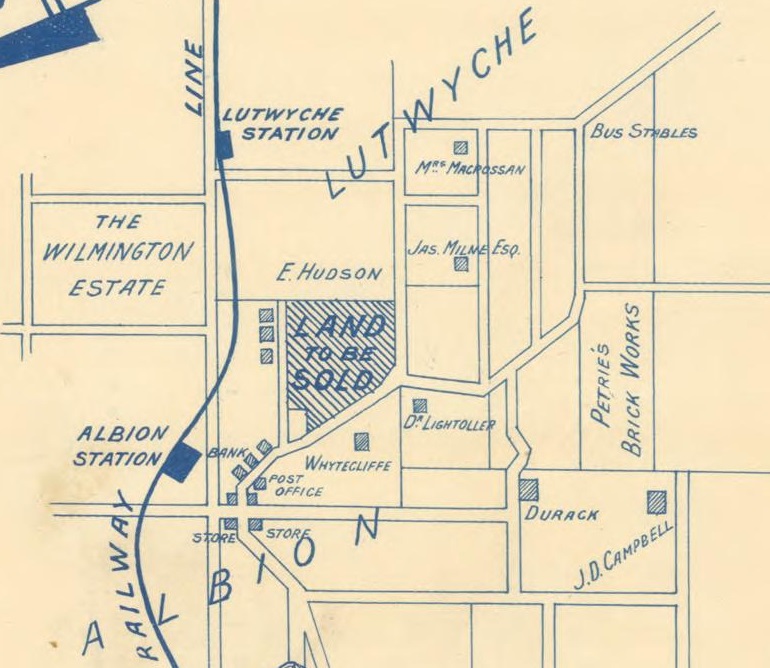 Albion Hill : being re-subdivisions 1 to 60, of subdivision of section 3 of portion 162, Parish of Enoggera. John Oxley Library, State Library of Queensland
Edward Hudson participated in community affairs. He signed the petition for the districts of Lutwyche and Albion to be constituted a Municipality, to be called a Shire in January 1880. It was eventually formed as the Shire of Windsor. In January 1893 he was sworn in as a magistrate.
In the Brisbane Courier 26 July 1895 he publicly thanked the Manager of the New Zealand Insurance Company for "prompt settlement" and assistance in dealing with the fire at his premises, Thomas Street, Albion.
In 1906, the Brisbane Courier acknowledged him as being the longest established pioneer after Robert Lane who had arrived in 1854. He died in 1908 aged 84. His era in Albion saw huge changes in the area from his time as publican in 1866, as the 1909 photograph of Albion shows.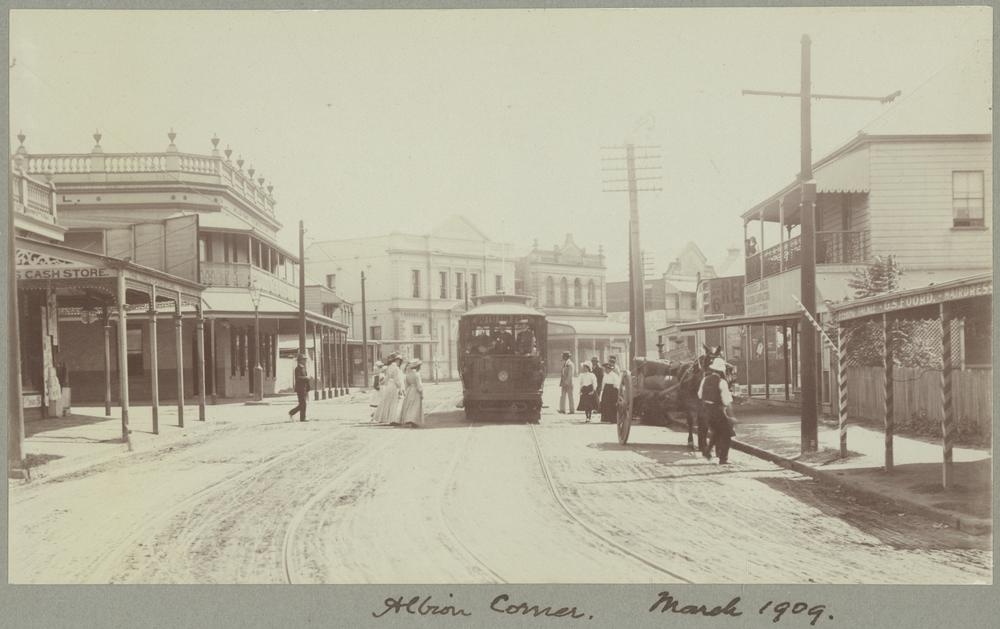 Tram halted at the Albion Corner March 1909. John Oxley Library, State Library of Queensland. Image APO-034-0001-0026
The Hudson Estate known for the "famous Hudson pineapple gardens" was advertised for sale in the Brisbane Courier for 3 June 1911. Hudsons continued to live in the area. William Hudson, Edward's son, and his family, resided in the family home. In 1922 they all gave their address on the electoral roll, but not in the post office directory, as Henley Old Sandgate Road.
In an era when most people entertained at home and the "tea" was often the significant social event, the Brisbane Courier provided accounts of the "smart teas". On 13 March 1926 it reported that Pearl Hudson, William's daughter, had a tennis tea at Henley for her friend, Lyn Fotheringham who had recently married. At this time the Henley-on-Brisbane was a popular rowing regatta and carnival held annually so the name was a familiar one.
William Hudson's unmarried daughters, Mabel and Pearl stayed in the family residence until the 1960s. The family had lived in the area for over 100 years. The name of the house changed to Hudson. It was no longer needed in directories or electoral rolls to locate a particular address but along with the road and the new building development, it was an acknowledgement of early pioneers with a long-standing presence in the area.
Hudson, Albion. c2012. Image courtesy of Adrian and Moyra Ryan; Judy Newlands, Place West Realty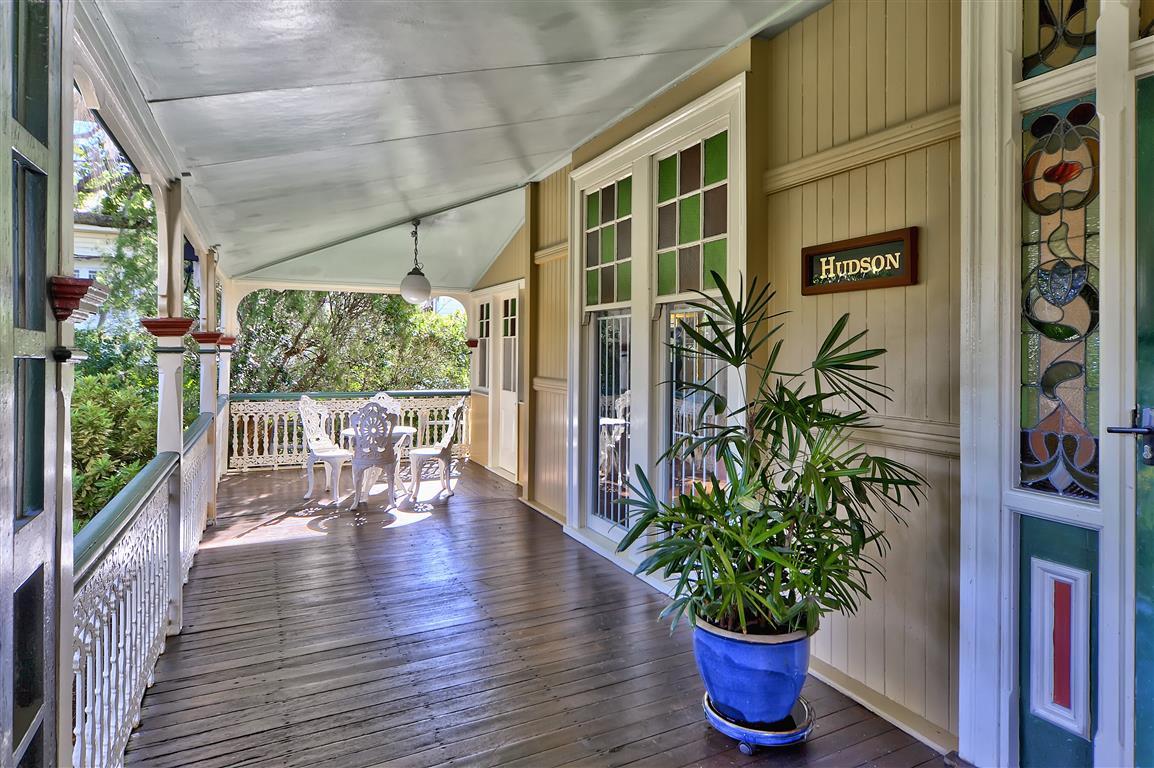 Hudson, Albion. c2012. Image courtesy of Adrian and Moyra Ryan; Judy Newlands, Place West Realty
Comments
Your email address will not be published.
We welcome relevant, respectful comments.