'EDIBLE ARCHITECTURE'.
By Christene Drewe | 19 February 2018
Our guest blogger artist, Normana Wight begins the year with a nod to celebratory food with an architectural flair. Her subject for review is Edible architecture, a book published by Libanus Press, Marlborough England in 1987. The press was established as a letterpress workshop thirty years ago and used Heidelberg letterpresses and its own foundry for printing. Normana first encountered the book during the early nineties when researching in the special collections of State Library of Queensland. Her notebooks provided the reference to back up her memory of a book which has left a lasting impression. The work is held in the History and Art of the Book Collection which includes examples from English and American private presses, examples of fine book production and designer bindings amongst the holdings.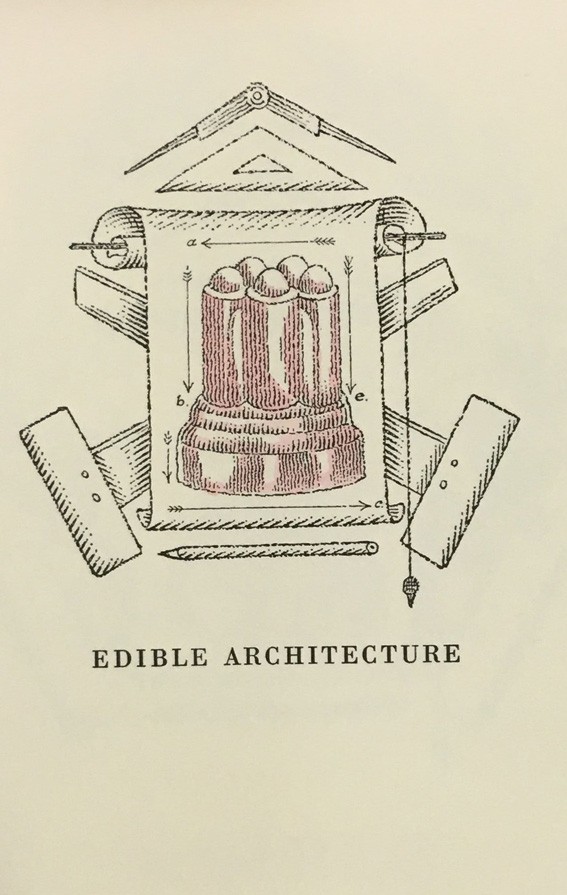 There are books that are rare and special, but not necessarily labelled as 'artist' books.' . . .
In the History and Art of the Book Collection there is a limited edition book, 'Edible Architecture' by Margo Coatts, with drawings by Ian Beck.
The edition is 300 copies, printed on Vélin d'Arches rag paper. The SLQ copy is number 229.
Especially if you are a 'foodie,' you will love this elegant and very English book.
The British have a long standing reputation for illustrated books, (think of Tenniel – 'Alice's Adventures in Wonderland, and the endearing illustrations for 'Winnie-the-Pooh,' which I wrote about last year.)
As well as being interesting to look at, the book also provides you, the reader with some real recipes, and instructions 'to go.'
Here is a sample from the book under 'Helpful Hints' pp.36-37;
'Making Jellies, Blancmanges & Creams.
Use gelatine sparingly. Nothing is worse than the immobile masterpiece.'
'Turning Out
Digest a glass of aperitif and breathe deeply.
Find a suitable foundation on which to landscape your jelly.'
The author writes a brief history of the subject, from medieval England, through the eighteenth and nineteenth centuries, and into the present day.
The story of jelly takes on an architectural or sculptural effect; which is combined with a vivid imagination and passionate taste buds, and makes for a lot of entertainment. For example, instructions a la landscaping!
Art is never far away from anything!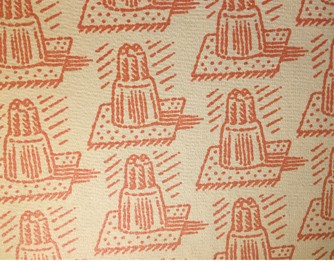 Comments
Your email address will not be published.
We welcome relevant, respectful comments.