Early rain-making experiments in Queensland
By Myles Sinnamon - Project Coordinator, State Library of Queensland | 22 February 2017
In Australia, water can be a scarce commodity, with various areas of the country suffering through prolonged droughts at times. Its no wonder then that several 'cloud seeding' (rain-making) experiments have been conducted in Australia. Here are the tales of two unsuccessful Queensland rainmaking experiments -
Brisbane, 1882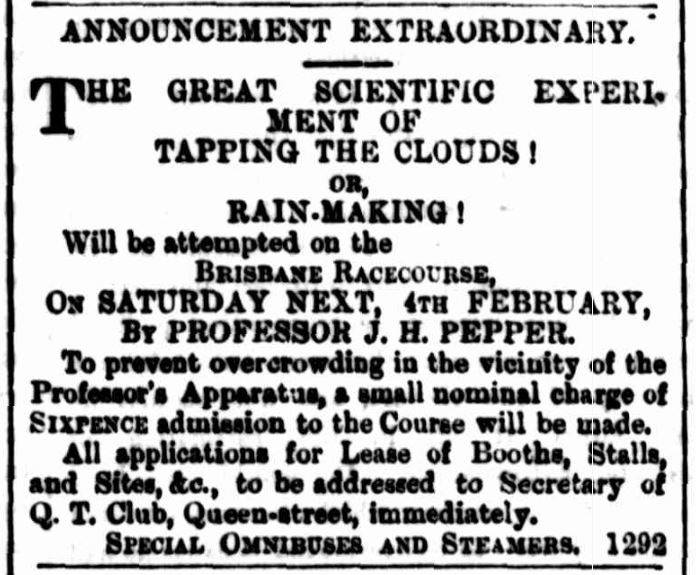 Advertisement, The Brisbane Courier, January 31, 1882
In January 1882, advertisements began appearing in the Brisbane Courier newspaper promoting a public scientific experiment at Eagle Farm racecourse in the city's inner north. To be conducted by Professor John Henry Pepper, the experiment was an attempt at rain-making, also known as "tapping the clouds". The opportunity to witness such a feat came at a price, sixpence to be exact, although the stated reason for this was to "prevent overcrowding the vicinity of the professor's apparatus".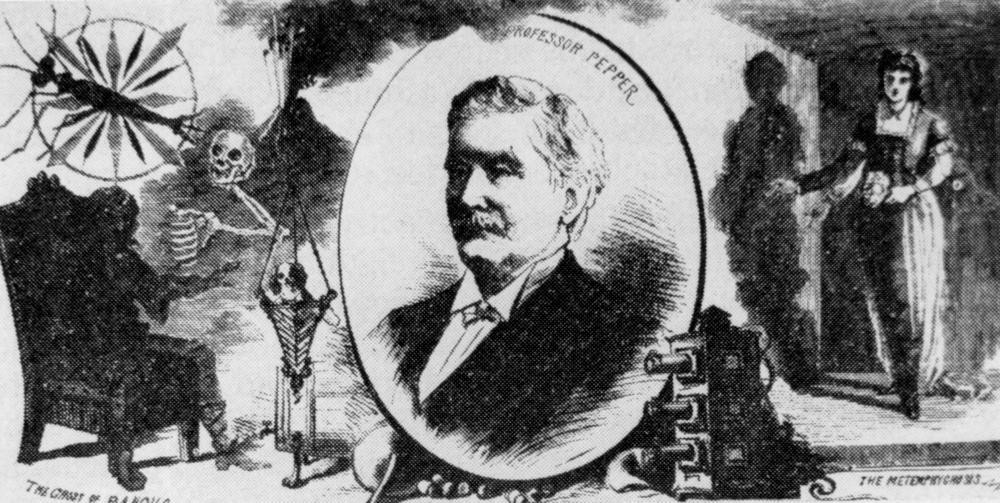 Illustration of Professor J. H. Pepper. John Oxley Library, State Library of Queensland. Neg 110744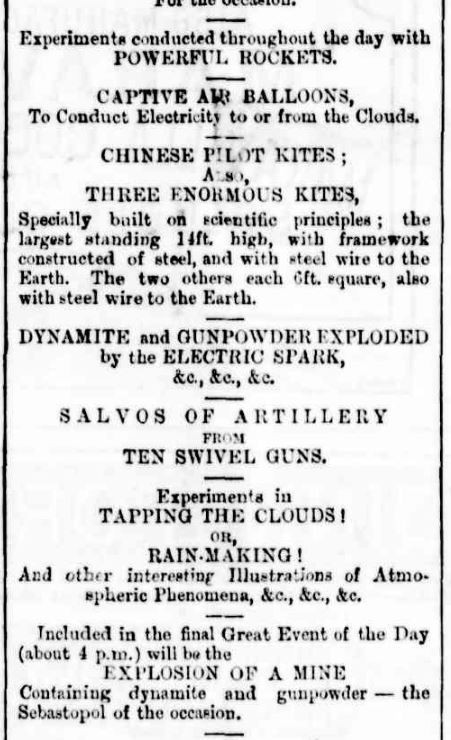 Excerpt from advertisement, The Brisbane Courier, February 4, 1882
Nearly 700 turned up on February 4, hoping to see the creator of the famous "Pepper's ghost" illusion make it rain.
The experiment began with the firing of rockets into the sky. The crowd got more than it bargained for when two of the rockets took horizontal trajectories - one flew over a fence and the other close to spectators.
Next, the professor attempted to raise a 4.2m kite into the clouds, whereupon a landmine attached to the metal-framed kite would be detonated. Alas, every attempt to raise the kite failed, with even members of the crowd trying in vain.
The Brisbane Courier stated that "nothing short of a hurricane" would have been strong enough to lift it off the ground.
While the experiment was a fizzer, someone had the foresight to provide additional entertainment in the form of a woman with a trained and obviously disgruntled donkey that dislodged all who attempted to ride it, and music was supplied by an artillery band. The Courier reported both entertainments "induced to regard in a merciful spirit the pseudo-scientific fiasco they had come to witness".
Charleville, 1902
In the midst of one of the worst droughts in recorded history, in September 1902 the Queensland town of Charleville pinned its hopes on rainmaking by means of firepower. Enter Clement Wragge, government-appointed meteorologist, who was fascinated by the Steiger Vortex Gun. These cannons had been deployed throughout Europe, where they were fired into storm clouds to prevent hail forming and damaging crops. Wragge believed the scientific theory could be extrapolated and the Steiger Vortex Gun used to bring rain to Queensland.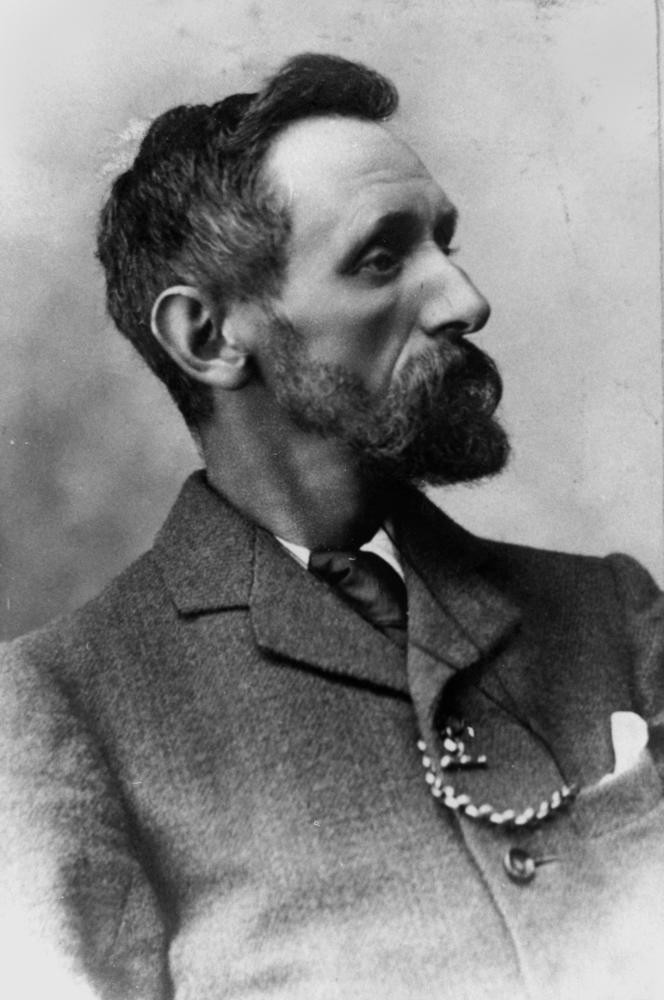 Clement Wragge ca. 1901. John Oxley Library, State Library of Queensland. Neg 161210
In January 1902, a meeting of the Charleville municipal council agreed to partly fund the manufacturing of six guns, with the shortfall to be raised through public subscriptions. In mid-September, Wragge travelled to Charleville to supervise the installation of the six cannons. He left operating instructions, after which it was a matter of waiting for a suitably cloudy day.
Battery of Steiger Vortex rainmaking guns at Charleville 1902. Clement Wragge on the right. John Oxley Library, State Library of Queensland. Neg 85049
That day came on September 26. At midday, ten shots were fired from each gun in quick succession. Soon after there were a few drops of rain followed by a small shower. A second firing at 4.30pm yielded no rain but resulted in two of the guns exploding. Wragge was interviewed by the Brisbane Courier newspaper and blamed the failure on too much explosive powder coupled with insufficient rounds:
"I distinctly stated that the guns only be charged with 7.2 ounces of powder ... if the Charleville people will not carry out my instructions, I cannot help it." Wragge maintained they should have continued firing for ten minutes at the rate of two shots a minute from each gun, not just ten shots in total.
Boy scouts sitting on top of a Steiger Vortex gun, Charleville. Undated. John Oxley Library, State Library of Queensland. Neg 48092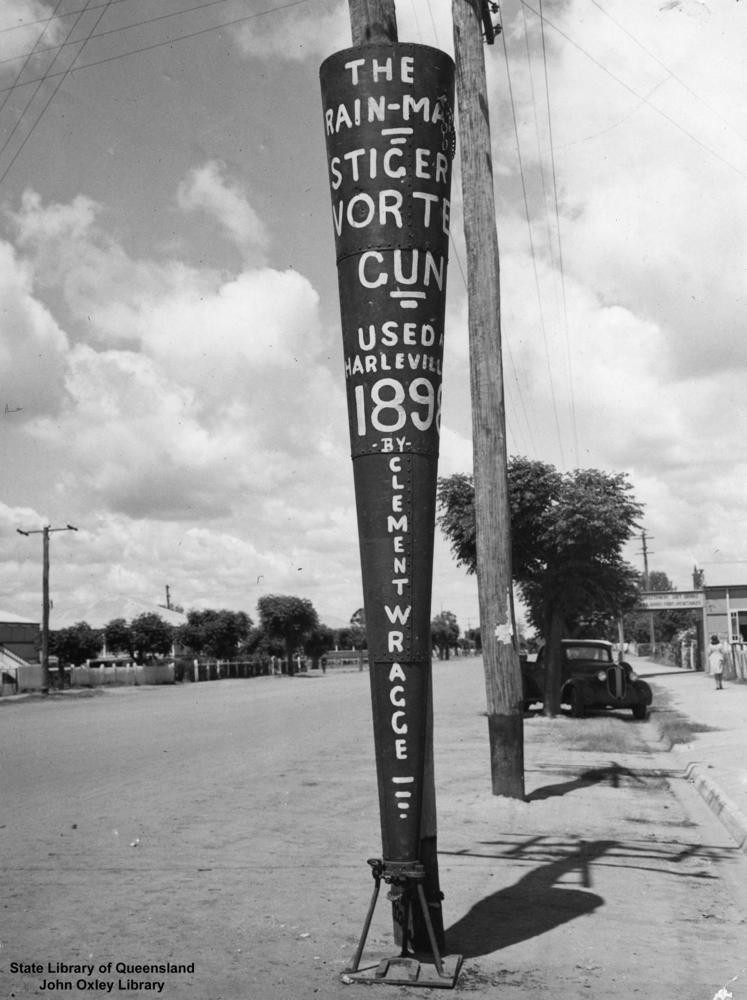 Rain making equipment, Charleville, 1947. John Oxley Library, State Library of Queensland. Neg 183826
Steiger Vortex Raingun on display in Charleville 1987. From 7435 Ron and Ngaire Gale Collection. John Oxley Library, State Library of Queensland. Image 711-01-08
Comments
Your email address will not be published.
We welcome relevant, respectful comments.