Early racing history in the Brisbane River Valley
By Anne Scheu | 26 July 2018
Guest Blogger: Elizabeth DeLacy, Brisbane Valley Heritage Trails
The pioneers of the Brisbane River Valley were renowned horsemen. Articles uncovered in the Moreton Bay Courier and Sydney Morning Herald reveal interesting facts about local identities and settlement in the district.
Colin Mackenzie of Kilcoy Station was a steward at the first meeting of the Moreton Bay Racing Club (1843). Francis Bigge of Mt. Brisbane, John Balfour of Colinton and William O'Grady Haly of Taabinga Station were also active.
Four of the nine provisional committee members named for the inaugural (1850) Ipswich Jockey Club (later renamed the Northern Australian Jockey Club) were Messrs. Francis Bigge, James Ivory of Eskdale, John Balfour and William Haly. Francis Bigge made his point when he entered a bay gelding renamed 'Dirty Brisbaneite' specifically for the first Ipswich meeting.
Francis Edward Bigge, n.d. John Oxley Library, State Library of Queensland, Neg 2942
In 1850, William Haly provided a race track on Taabinga station in an attempt to encourage a Burnett Race Club. It later became known as the Nanango Races, first held in December 1859 at Nanango for grass fed horses only and later at Clapperton's property on Tarong Station.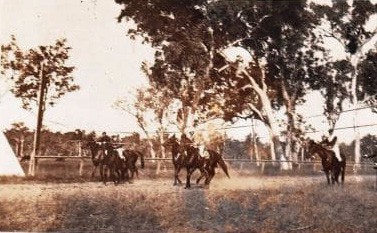 Horses line up at the starting point as part of early racing at Tarong station, photo courtesy of the Clapperton family, n.d. Photo supplied by Brisbane Valley Heritage Trails
Robert Vernor of Cluen and Robert North of Fairney Lawn initiated the Upper Brisbane River races in 1872 at Wivenhoe, followed by Mt. Esk and Fernvale. William Bowman managed Mt. Esk station and loved racing his stallion 'Westminster' - his eulogy published in 1898. A eulogy for Mr Ed McDonald in 1899, known as the grandfather of Esk racing listed the names of the horses that made his stable so successful including 'Clarence', a regular winner of the Selling Race at Esk who was purchased by his owner every time – money being no object!
The first Kilcoy races (1887) were run in the Glen Fern Hotel paddock with guidance from Secretary John McPherson of the Glen Fern Hotel, and Treasurer Thomas Walker who raced Spondulix, an American slang word for money! William Butler of Kilcoy Station presided over the newly registered Hopetoun Racing Club in 1904 alongside Fred Hill, father of famous Queensland saddler, Syd Hill.
Alexander McPherson and family outside the Glenfern Hotel, Kilcoy, 1878John Oxley Library, State Library of Queensland, Image 21220427320002061
New race courses were established in the Brisbane Valley over the next 29 years as the rail line opened between Wulkuraka in the south and Yarraman in the north. Meetings are held today in Nanango, Esk and Kilcoy.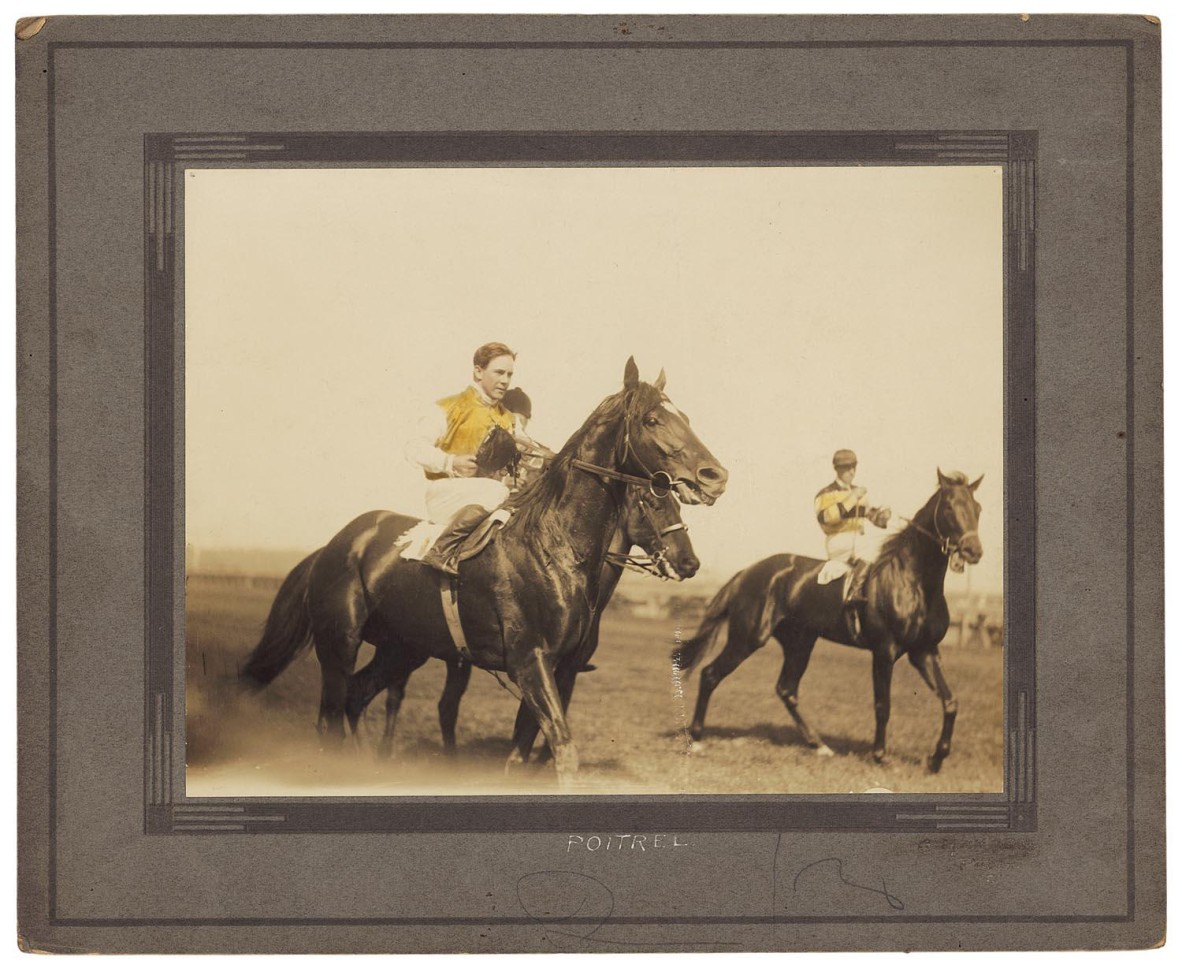 1920 Melbourne Cup winner Poitrel in stable colours. Photo courtesy of Brisbane Valley Heritage Trails.
Local folklore and stories abound, such as the pony mare Wait-a-while that didn't; 1920 Melbourne Cup winner Poitrel standing stud at Eskdale; and Yandilla King , known as the "Bernborough of the Brisbane Valley".
Elizabeth DeLacy, author and local historian, Brisbane Valley Heritage Trails Inc.
Sources:
Comments
Your email address will not be published.
We welcome relevant, respectful comments.