Dracula terrifies Brisbane (1929)
By Myles Sinnamon - Project Coordinator, State Library of Queensland | 30 October 2016
When author Bram Stoker wrote his Gothic horror novel Dracula in 1897, little did he realise that his creation would become an enduring pop culture phenomenon of the 20th century and one of the most recognisable characters in the horror genre.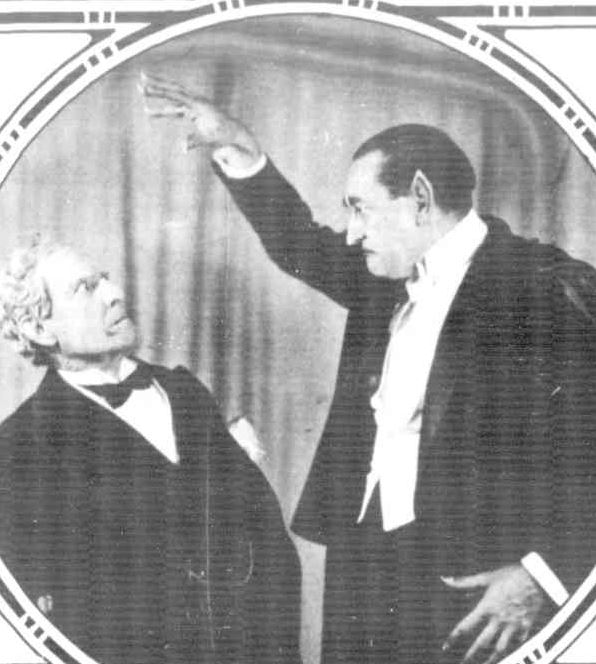 Van Helsing (Andrew Mony) & Count Dracula (Ashton Jarry). From The Australasian, July 13, 1929
Aside from his novel, Stoker had intended Dracula to be adapted for the stage. He was the business manager of London's Lyceum Theatre as well as being the personal assistant to one of Britain's most famous actors of the period, Sir Henry Irving.
Irving is believed to have been the inspiration behind some characteristics of the Count. Unfortunately any hopes that Irving would perform as the titular character were dashed during the one-and-only reading of Stoker's theatrical adaption Dracula, or The Undead at the Lyceum Theatre in London in 1897. When asked for his opinion of the play, Irving famously responded, "Dreadful".
Australian cast of Dracula, 1929. From His Majesty's Theatre programme, SLQ collection
It wasn't until the 1920's that Dracula was officially adapted for the stage by Irish playwright Hamilton Deane, who obtained the dramatic rights from Stoker's widow, Florence. After much success in Britain and America, J.C. Williamson Ltd secured the rights to bring Dracula to Australian theatres in 1929. The cast included several noted stage actors such as Jarry Ashton in the title role and Nat Madison as the fly-eating Renfield.
After successful seasons in the southern states, Dracula finally arrived in Brisbane in late September 1929 with much publicity and anticipation. A large audience, which included Queensland Premier Arthur Edward Moore, attended the opening performance at His Majesty's Theatre on September 21, 1929.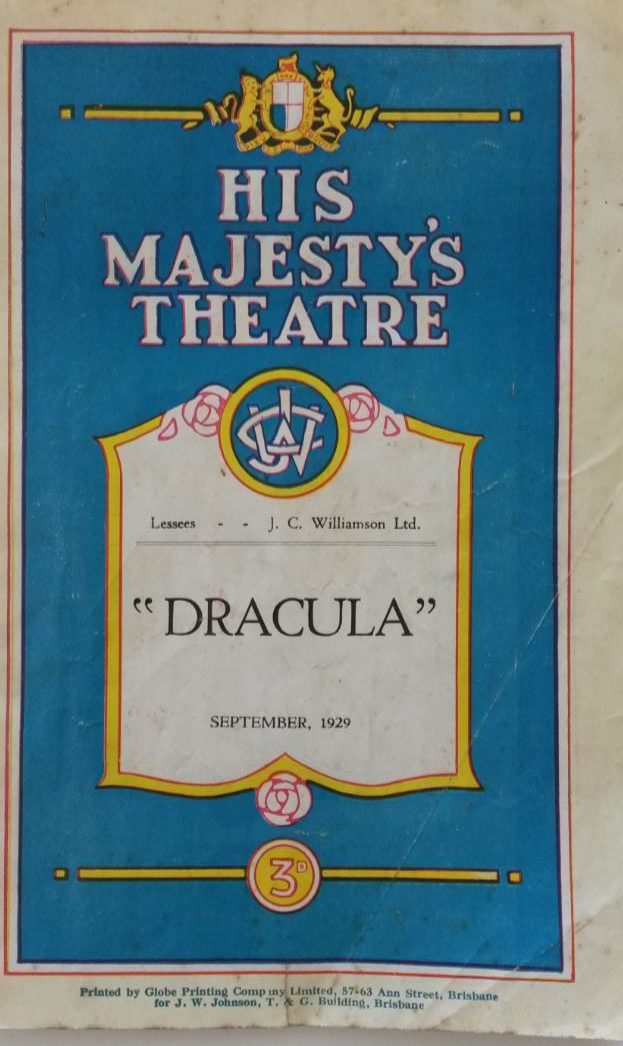 Programme for His Majesty's Theatre, Brisbane, 1929. SLQ collection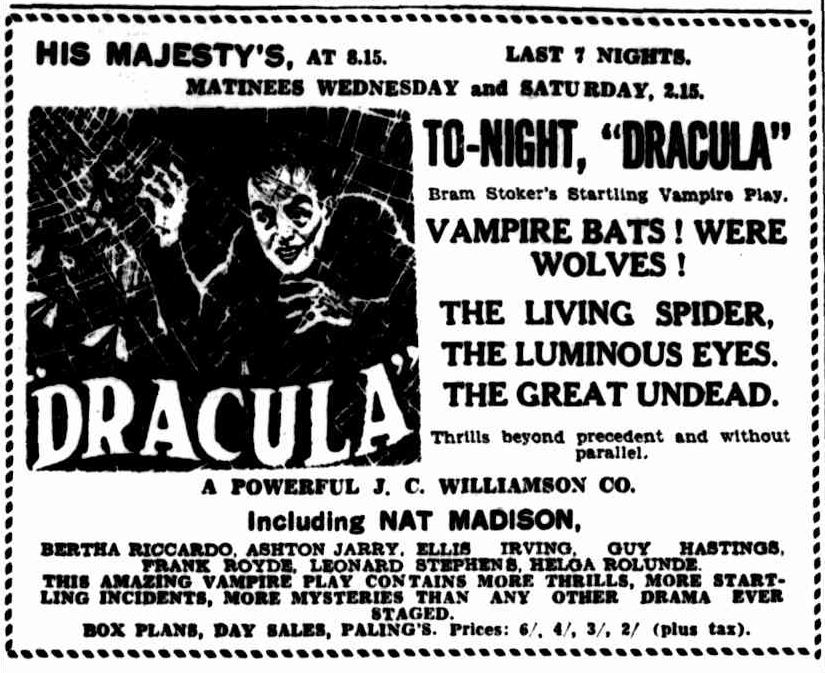 Advertisement from the Brisbane Courier newspaper, September 21, 1929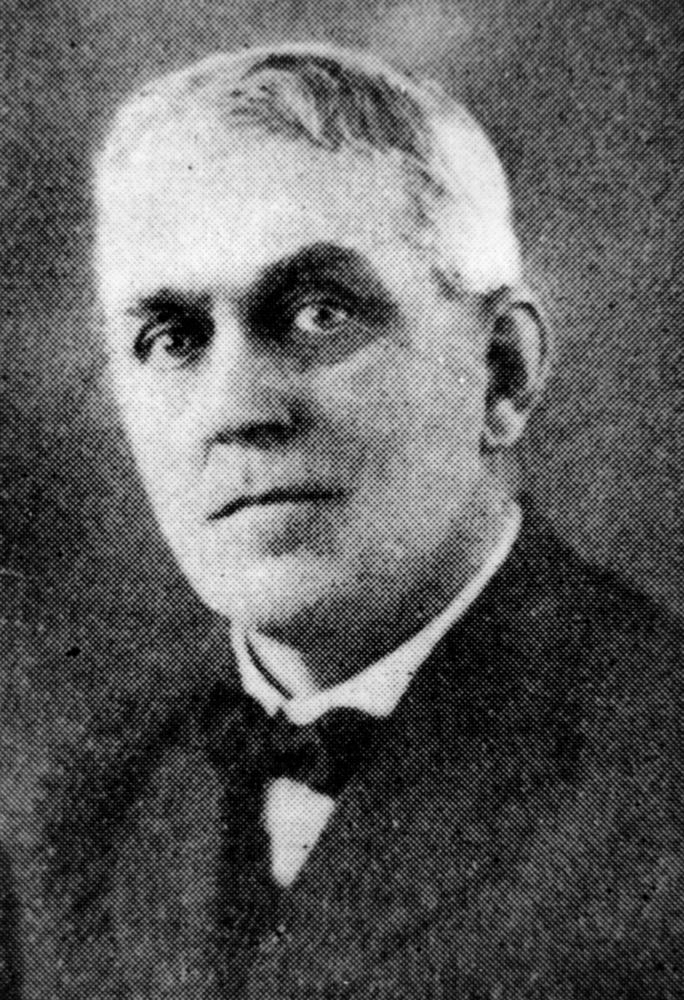 Queensland Premier Arthur Edward Moore attended the opening night of Dracula at His Majesty's Theatre. John Oxley Library, State Library of Queensland. Neg 185477
Clever marketing techniques were employed to entice a curious Brisbane public.
"In connection with the presentation of the vampire play, 'Dracula'...J.C. Williamson Ltd notify patrons that they will be admitted to this drama AT THEIR OWN RISK. A duly qualified, trained nurse will be in attendance at each performance, but it must be distinctly understood that the undersigned accept no responsibility whatsoever" warned one advertisement.
Newspapers gleefully reported a fainting incident on opening night - "owards the end of the second act a scream was heard distinct from those that frequently arose from the throats of startled women...The nurse immediately went to the rescue, and a young lady was helped out of sight of the stage."
State Library of Queensland holds the September 1929 programme for His Majesty's Theatre which advertises the up-and-coming play Dracula.
In 1931 Hollywood capitalised on the success of the stage play with the release of a motion picture with the memorable performance of Bela Lugosi as Count Dracula. Stoker's character had become a marketable commodity, resulting in countless films, books, comics and other merchandise thrilling horror devotees for decades to come.
Myles Sinnamon - Project Coordinator, State Library of Queensland
Comments
Your email address will not be published.
We welcome relevant, respectful comments.