Discovery and exploration of the Bremer River - a brief overview
By JOL Admin | 25 June 2010
The Bremer River was discovered during an exploratory journey up the Brisbane River, in 1824, from the newly established Moreton Bay Penal Colony at Redcliffe.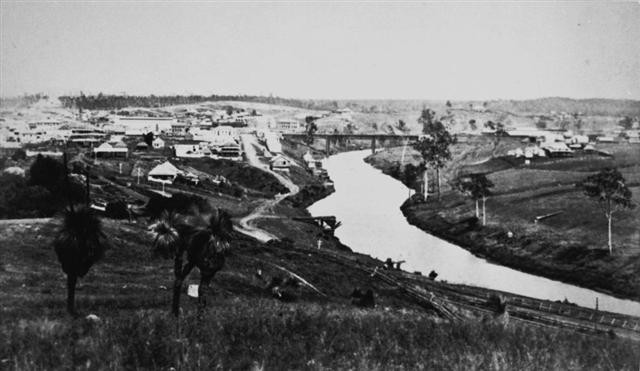 Early view of the city of Ipswich, 1872. Image number 4884
Those who took part in this journey of exploration included John Oxley, Alan Cunningham, Lieutenant Butler of the 40th Regiment as well as the boat's crew members. At 5pm, on 25th September 1824, the party landed and made camp on the bank of the Brisbane River, directly opposite a tributary which John Oxley named Bremer's Creek. The creek was so named in honour of Captain James Gordon Bremer who was in charge of HMS Tamar, then stationed in New South Wales.
Portrait of Captain Patrick Logan.
Captain Patrick Logan, the Commandant of the Moreton Bay Penal Colony, is believed to have been the first to undertake a detailed and systematic survey of the recently discovered tributary of the Brisbane River, eventually to be known as the Bremer River as well as the surrounding area, including the present site of the city of Ipswich. Patrick Logan's journal records the journey..."June 7th, 1827 - left the settlement (Moreton Bay Penal Colony at the present site of Brisbane) at 4 o'clock in the morning, proceeded up the Brisbane and arrived at Limestone Hills on the left branch at 10 o'clock; distance 57 miles". The left branch referred to by Logan was the Bremer River.
Whilst exploring along the Bremer River, Logan recorded seeing kangaroos, emus and parrots in abundance and was very pleased with the country he travelled through, with his journal noting..."I may safely rely that there is in this beautiful vale at least half a million acres excellently watered, and fit for any purposes to which it may be applied".
Comments
Your email address will not be published.
We welcome relevant, respectful comments.