Discovering Queensland - State Library's History Course
By JOL Admin | 27 April 2009
After six thoroughly enjoyable sessions the first of the Discovering Queensland courses have now come to an end.
Professor Raymond Evans (left) discusses items in the collection with participants from the Wednesday evening group.
Raymond distributes certificates and congratulates participants in the Friday group.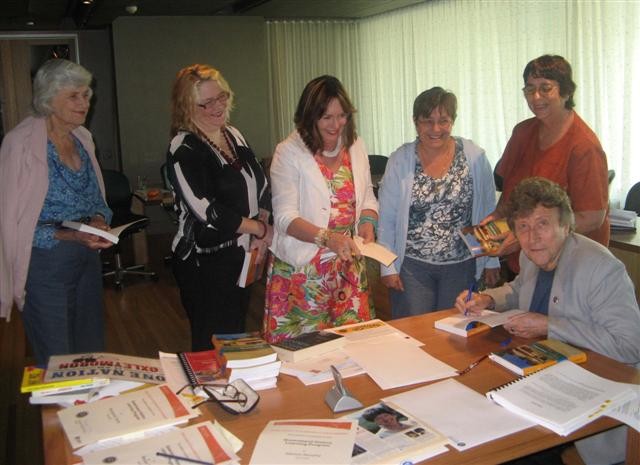 After the last session Raymond signs books.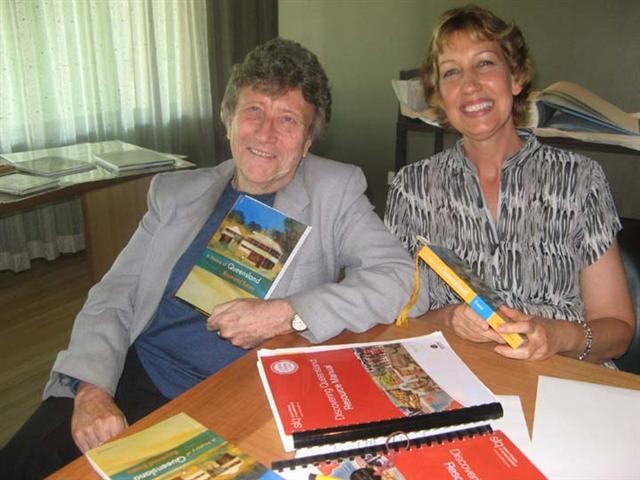 Course leader Professor Raymond Evans and facilitator Dr Leanne Day.
Acclaimed historian and author, Professor Raymond Evans, led the course and attributes its success to its unique blend of Book Club, Meet the Author and Tutorial. It delivered a slightly modified version of the 3 Rs:
• Reading (participants were required to read the relevant chapters of A History of Queensland prior to the meetings)
• Writing (the author was present to discuss his book with the participants)
• Raw Material (participants had the opportunity to peruse items from the John Oxley Library's collections that were displayed each week to complement discussion on the focal chapters)
Participants comprised staff from various Indigenous and other cultural organizations, high school and primary school teachers, undergraduate and postgraduate students, a sculptor; family historians and other members of the general public. The binding element was an interest in Queensland history and the diversity of the group meant that discussions were always lively and informative. The gathering together of people with this common interest in Queensland history also provided great network opportunities for participants to catch up with one another before and after each of the sessions while viewing the displayed items from the Library's collection.
After the final session all participants were awarded a Certificate signed by Raymond.
Due to the sell out success of the first two sessions, the course will now be repeated in October, so if you missed out last time, here are the details:
DISCOVERING QUEENSLAND
LEARNING PROGRAM
Professor Raymond Evans will lead further Queensland history courses for the public. His fascinating book, A History of Queensland, will be the focal text of the course and will inform the course outline. State Library's Queensland Authors Librarian, Dr Leanne Day, will assist Raymond by acting as facilitator and together they will spend time during each session to reveal some of the State Library's treasures that link into the themes of the chapters being discussed. Participants are asked to read the relevant chapters of Raymond's book prior to their examination across the six weeks of the course.
WHEN SIX WEEK COURSE
EVERY MON FROM MON 5 OCT TO MON 9 NOV, 6PM – 7:30PM
OR
EVERY WED FROM WED 7 OCT TO WED 11 NOV, 6PM – 7:30PM
WHERE JOHN OXLEY LIBRARY READING ROOM, LEVEL 4
TICKETS $280 on sale Mon 3 Aug (PRICE INCLUDES COPY OF PROFESSOR. EVANS' CRITICALLY ACCLAIMED BOOK & COURSE MANUAL).
BOOKINGS 3842 9293 FROM MON 3 AUG
ENQUIRIES: LEARNING@SLQ.QLD.GOV.AU
Comments
Your email address will not be published.
We welcome relevant, respectful comments.