Discovering Brisbane's heritage
By JOL Admin | 25 September 2012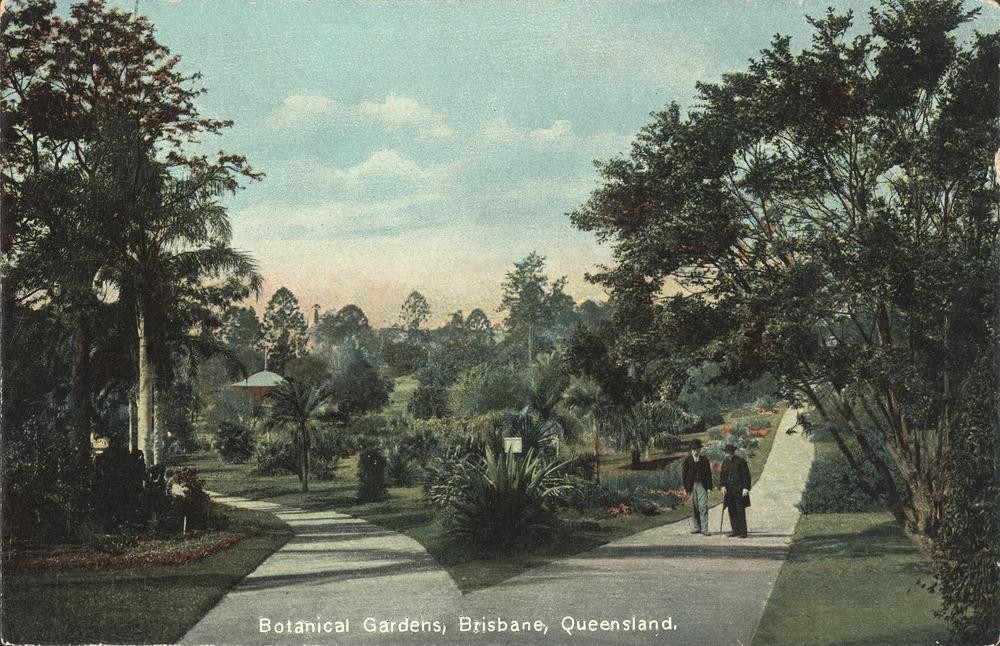 Strolling through the Brisbane Botanical Gardens from 4831 Postcard Collection. State Library of Queensland
On September 5 Principal Lecturer Maurice Wilson and a group of his horticultural students from the Grovely TAFE paid their annual visit to the John Oxley Library. Maurice Wilson is the principal teacher in parks, gardens, conservation and land management.
Every year it has been my pleasure to introduce these TAFE students to the treasures available to them in the John Oxley Library: resources such as photographs, the records of the Acclimatisation Society (whose primary interest between 1862 and 1956 was the cultivation of exotic plants both for economic and ornamental purposes), files of newspaper cuttings, Post Office directories, and other items such as estate maps. Each one of these things is a window into the past, and as such they are an excellent means of enabling researchers to trace the transition from the Brisbane of old to the modern Brisbane as we know it.
As these treasures show, the history of Brisbane is ever- evolving; it is not a fixed thing, frozen at some point in time. For this reason, it is important that the John Oxley Library continues to collect material relating to this wonderful city of ours, and preserve our heritage for future generations.
Trudy Bennett - Librarian, State Library of Queensland
Comments
Your email address will not be published.
We welcome relevant, respectful comments.