"Digital born" Australian History Cradled in Electronic Archives
By JOL Admin | 12 November 2010
History is often now published in the first instance in digital form. Many academics now publish directly to electronic journals and archives and this material is referred to as "Digital born" history.
Are you missing out on finding these rich sources of historical writing? In the State Reference Library, Christina Ealing-Godbold has been undertaking research into Australian digital archives and portals.
Australian Research Online (http://research.nla.gov.au/) is such a treasure trove. All of the major Australian university eprint publishing archives are included. At ARO online, you can search by subject or keyword and be presented with a list of material from Australian eprint archives. A quick click on the URL will take you to the full thesis or article in most cases. An example of wonderful Brisbane history available on Australian Research Online is the full text of the following thesis -
A cultural history of Brisbane 1940-1970
Author/Creator: Hatherell, William
Resource type: thesis
Date: 2003
Subject: Language, Communication and Culture (20), Literature and society -- Queensland -- Brisbane -- History -- th century. (20), Brisbane (Qld.) -- Intellectual life -- th century. (20), Brisbane (Qld.) -- Social life and customs -- th century. (20)
Record contributed by: Australasian Digital Theses Program, The University of Queensland
Full Record and related resources:
http://espace.library.uq.edu.au/view/UQ:188090
Sydney Electronic Text and Image Service ( http://setis.library.usyd.edu.au/oztexts/) Digitized early records of Australian exploration, history and literature are also available in electronic archives. What about searching for Australian novels from the 1840's, or reading the journals of Oxley, Mitchell, Leichardt and other explorers. SETIS at the University of Sydney Library has digitized all of these items and more and a quick click on the PDF will instantly provide you with the full novel, journal or thesis.
SETIS is freely available on the web and includes Australian Studies Resources including content indexes for key Australian Jounals including the Royal Historical Society of Queensland Journal. SETIS also includes the Australian Federation Database, where the full text of all of the meetings and conferences leading up to Federation are included – so here is a chance to read the writings of all of the participants, not just the wisdom of the key players. From the Federation Database, this delightful observation by a participant in the proceedings gives an interesting view on supposed reasons for Federation in Australia -
Federation: or, a Machiavellian Solution to the Australian Labour Problem Haynes, H. Valentine
The meaning of the word "federation" is a union between separate parties - chiefly states - for mutual benefit and protection. It is in the family of nations what brotherhood is in the families of men. It has been the theme of poets, and the aspiration of mankind for ages. A desirable consummation, therefore - federation. But here we have a noble name applied to an ignoble purpose. For, just as two men cannot be the brothers of a third, except they two be also brothers; so cannot two parties federate with a third, except they two be also federate. But will anyone presume to say, that there is federation, that is - union for mutual benefit and protection - between the rich and the poor of these colonies; betweeen wool-grower and shearer, between merchant and docker, between ship-owner and seaman. That there is any union for mutual benefit and protection, between the squatter with his million or million and-a-half of acres, and the selector with his forty or fifty acres; whom he has hemmed in on every side with dummies, whose children dare not cross a rood of the rich man's land on their way to school. Between the landlord of ten thousand acres of rich alluvial flat, and the tenant farmer of one small section, who, by incessant toil, can barely pay the rent and live...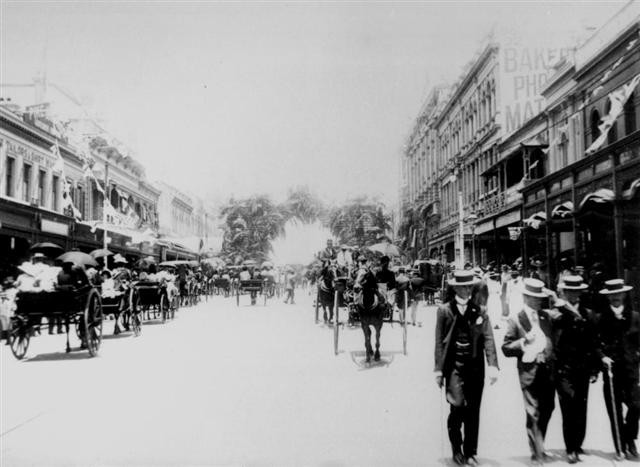 Federation Day in Queen Street, Brisbane, 1901. John Oxley Library, Image Number 185851
Federation Day in Queen Street, Brisbane, 1901. John Oxley Library, Image Number 185851
Also included on SETIS are key documents on the First Fleet and Early Settlement, on early Australian poets, and the full text of novels such as An Australian Girl by Catherine Martin, published in 1891 which gives us this delightful piece of wisdom from young Stella who does not wish to marry her suitor:
"Look here , Stella, have you ever been in love? Now, honour bright?" he asked
" Well, hardly – except with people in books" replied Stella
" But how the deuce could you be in love with people in books?"
"Oh, I assure you they are far the nicest people to fall in love with"
"Because you can put them on a shelf and leave them there."
The South Seas – (http://southseas.nla.gov.au/ )
a digital archive of documents relating to the exploration in the South Seas at the time of James Cook is another fabulous resource. Produced by the National Library of Australia, it has full text of journals including those of Cook
Reason in Revolt http://www.reasoninrevolt.net.au/
Students and researchers of Labour history and politics will love the online digital archive "Reason In Revolt: Source documents on Australian Radicalism" The archive includes primary source documents of Australian radicalism including biographical information on activists, and details of political movements, and parties. The full text of political pamphlets can provide wonderful historical information and add to an understanding of the era.
There are many digital born historical archives available. State Library of Queensland's databases, available on the State Library website, also provide a wealth of historical information in electronic form. Staff in Information Services will eagerly show you important historical sources in electronic form – helping clients to gain knowledge on the many great debates of history – modern and ancient.
Christina Ealing-Godbold Senior Librarian Information Services
Comments
Your email address will not be published.
We welcome relevant, respectful comments.