Diary of Gustavus Birch 1873-1874
By Marg Powell, Specialist Library Technician, Metadata Services | 26 November 2020
Preserving the past to inform the future ...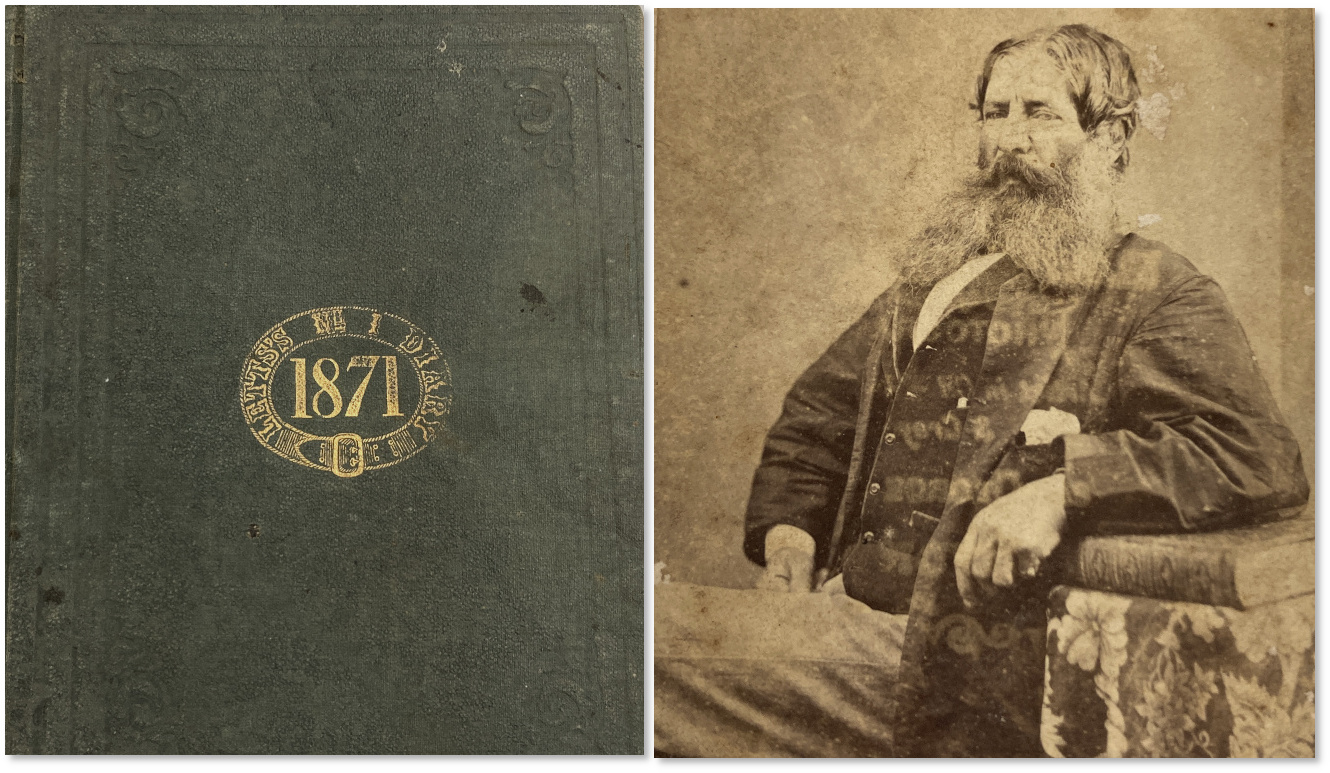 Diary and studio portrait, Gustavus Birch. M780 Gustavus Birch diary, State Library of Queensland
To fully understand the significance of Birch's diary we need to uncover the man and explore the times in which it was written - only then does it reveal its true value.
Birch was a well educated but singular fellow who found solace in the company of the Quandamooka people, the traditional inhabitants of the islands of Moreton Bay. Having relinquished his life on the mainland, he set up camp at Pulan Pulan (Amity Point) on Minjerribah (North Stradbroke Island), staying for over 30 years.
This diary is one of the few remaining artefacts of Birch's life, written in 1873, in which he recorded in detail, every day - who visited the camp, the food they caught and foraged for, weather patterns and other significant events. Mail and supplies came via regular services from Cleveland to Goompi (Dunwich) and were mostly delivered 'intact' to his hut at Amity Point - which he sometimes referred to as 'Birchville'.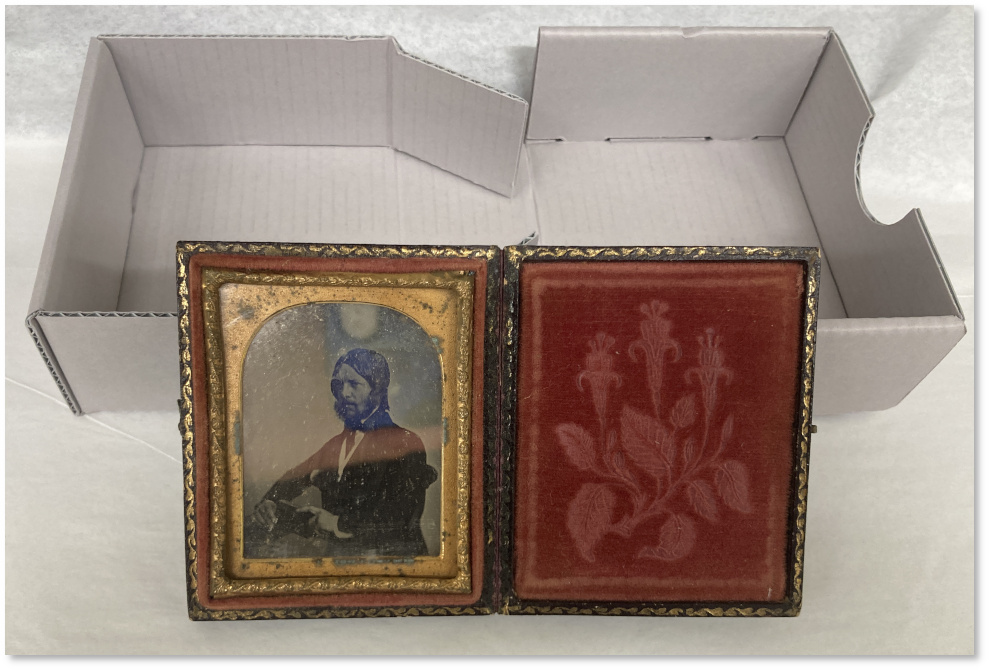 Daguerreotype image of Gustavus Birch, as a young man, taken by his brother-in-law William Gibbes. M 779 Gustavus Birch diary 1873-1874. State Library of Queensland
The community he lived among had already been disenfranchised by Europeans, but he aided their irregular interactions by writing letters for them and teaching several to read and write English. He also ministered to their wounds and sickness, providing relief with remedies he concocted from his own supplies.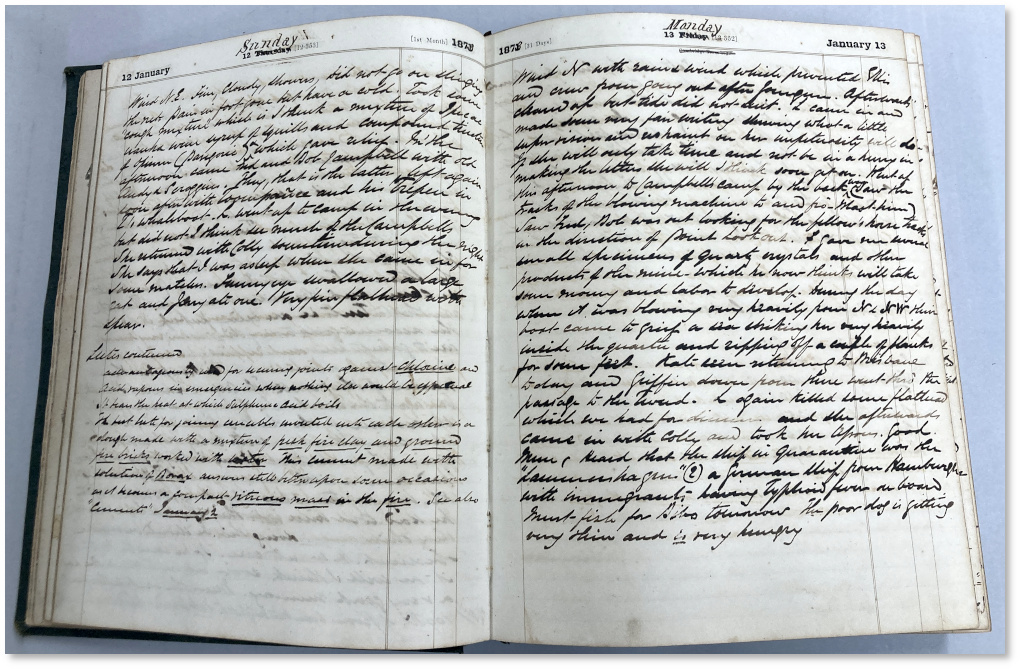 Diary of Gustavus Birch, January 1873. State Library of Queensland
Birch recorded many Aboriginal words and their local meaning, and clearly identified the men, women and children with whom he shared his reclusive life.
In recent times, this diary of everyday-things has played another role - and secured its place in history - as it now serves as a point of reference for the traditional owners of the land - documenting their society as one that has maintained its occupation, use & connection to the Island, observing laws & customs, that pre-date first contact with white settlers.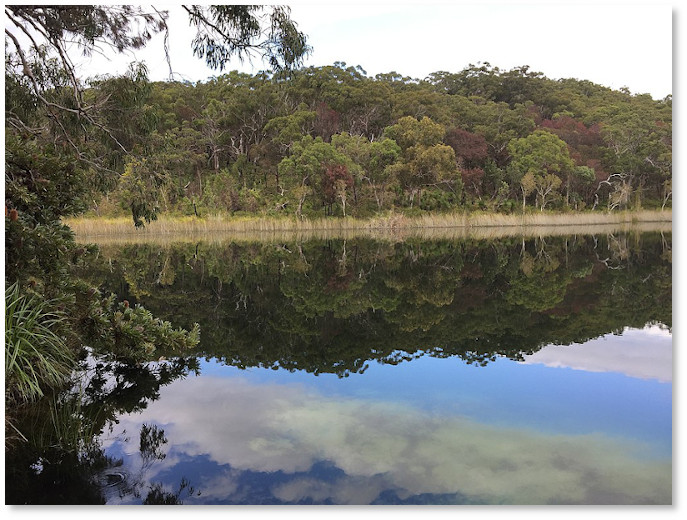 Blue Lake (Kaboora), North Stradbroke Island (Minjerribah), south-east Queensland, 2018. John Tibby. Source: Wikimedia Commons.
Birch may have been described as eccentric, but we can thank him for helping with the path to recognition of the rights and interests of the Quandamooka people, "which have their roots in times before 1788, only some of which have survived European settlement." Honourable Justice Dowsett, Federal Court of Australia, 4 July 2011.
The original diary, transcript and photographs of Gustavus Birch, can be viewed at the John Oxley Library, State Library of Queensland.
Read more …
Folkmanova, Veronica. The oil of the Dugong : towards a cross-cultural history of an Indigenous medicine. Thesis (PhD Doctorate) 2017. Griffith University, Brisbane, Queensland.
Walker, Faith. 'Useful and Profitable: History and race relations at the Myora Aboriginal Mission, Stradbroke Island, Australia, 1892-1940'. Memoirs of the Queensland Museum, Culture, Vol. 1, No. 1, 1998: 137-174
Obituary and editorial. Queensland Figaro, 3 February 1883, p.8
Comments
Your email address will not be published.
We welcome relevant, respectful comments.